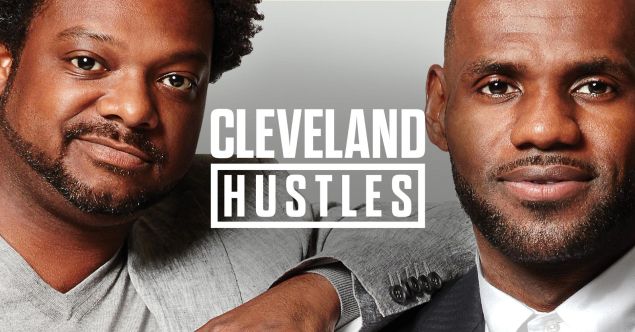 LeBron James looks sternly into the camera and says, "Nothing is given. Everything is earned." Given his success – three NBA titles, four NBA Most Valuable Player Awards, and two Olympic Gold Medals — James is absolutely qualified to talk about the role hard work plays in earning things.
Now James is hoping other people will emulate his work ethic and revitalize a tough Cleveland neighborhood.
To do this, James and his longtime friend and business partner, Maverick Carter, are giving several entrepreneurs the chance to step up their start-ups via a new reality show entitled Cleveland Hustles. James and Carter serve as Executive Producers of the series.
The duo is eager to help small business owners realize their dream while simultaneously trying to revitalize a neighborhood in Cleveland. They've enlisted the help of four successful local leaders to give the fledgling entrepreneurs the chance of a lifetime – financial backing, expert guidance, and a storefront to launch their enterprise.
It's in the opening moments of the premiere episode that James makes the aforementioned declaration, and that statement serves as the mantra for the series.
Cleveland Hustles is a hybrid of all of the elements that make reality business shows so appealing – it's part Shark Tank, with a little of The Apprentice and some bits of The Profit thrown in.
The Shark Tank part comes in as contestants present their company to be considered for the competition. Then the chosen two business owners compete head to head in a challenge, similar to the format of The Apprentice, to determine their drive, their professionalism and if they can succeed within a tight timeframe. Finally, as in CNBC's own series The Profit, an investor, based on concept and completion of the assigned tasks, decides which business has the most promise for future and continued success.
That's a lot to happen each hour-long episode, but that's one of the things that makes the series so appealing – each installment really moves!
And, like any competition show, there are people to root for. But, in an interesting twist, it's probably safe to say that viewers won't actively root against anyone because these business owners all work hard. It's just that some of the businesses are more feasible and/or ready to move to a bigger arena than others.
It's exciting to watch individuals give it their all, hear mentors talk about the importance of investing in people, and realize that these entities are what small business is really all about; that everyone has to start somewhere and even though that's a known fact, it's still inspiring to see it in action.
The head-to-head competition makes for some interesting pairings as well, with two bagel makers facing off against a stylist, and a beekeeper taking on a couple who make leather bags. All are legit businesses with interesting backstories about how they came to be and have working diligently to attain future success.
It's also stirring to see another theme of the series — people helping people. There are plenty of complicated business plans, monetary and inventory concerns and the like, but it's the human element, something that for various reasons isn't often highlighted when talking about start-ups but that definitely should be, that's shown in a new light here, and that's quite refreshing.
While this series is specifically called Cleveland Hustles the principles presented here are incredibly universal and as such could be applied to many other locales. CNBC may just have a franchise on their hands as there could be a Baltimore Hustles, a Detroit Hustles, a Sioux City Hustles and so on. By starting this in Cleveland (ok, it is the LeBron influence that's behind that) they're showing not only the tenacity it takes to be a business owner but what role this kind of entrepreneur plays in the development, building and/or revitalization of a community as a whole. Which again, is something that's rarely seen on a reality show.
With Cleveland Hustles, the investors and the entrepreneurs featured on the series have proven James right – nothing is given, everything is earned.
In this case, the result is a pleasing show about how and why the combination of an entrepreneurial spirit and hard work can create much needed positive change within a community.
Cleveland Hustles airs Wednesday at 10 e/p on CNBC. Episodes can also be seen at www.cnbc.com/cleveland-hustles.com