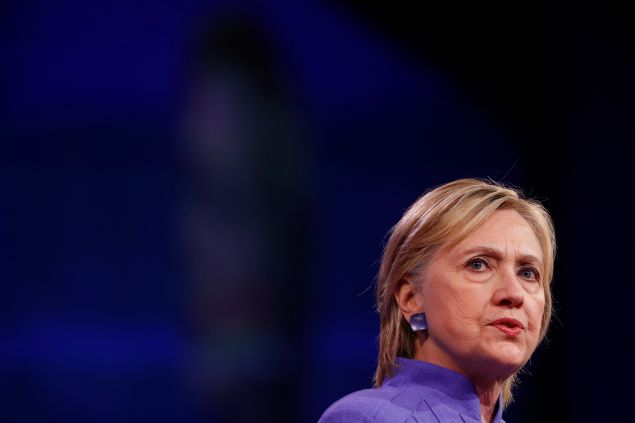 Hillary Clinton was always a deeply disliked candidate. If not for the fact that Republicans nominated Donald Trump, she would have been the most disliked presidential candidate of modern times.
Thanks to Trump's even lower favorability ratings, Clinton has been able to coast through the election with the reasonable belief that she could win in a landslide. She wasn't popular—but she was popular enough to win against someone even more unpopular.
But a new poll from ABC News/Washington Post now shows Clinton to be as disliked as Trump among registered voters. The poll gives Clinton has an unfavorable rating of 59 percent, with Trump an unfavorable rating of 60 percent. That may be the closest the two have ever been—and it has got to sting Clinton.
To think she's as disliked as a man the media regularly portrays as a racist, sexist bigot? Ouch.
The ratings change a bit when considering all adults. Fifty-six percent view Clinton unfavorably, compared to 63 percent who view Trump unfavorably. Clinton's unfavorable rating has gone up six points among this group in the past three weeks.
One of the most interesting finds in the poll was that women no longer have a net-positive view of Clinton. She went from a favorable view of 54 percent and an unfavorable view of 43 percent to the opposite—now 45 percent of women have a favorable view and 52 percent have an unfavorable view. That's a huge change in just three weeks. At the same time, Trump has gained seven points among women, though he is still more disliked by the demographic than Clinton.
Why might this change, not just among women but among all adults, have occurred?
For starters, ABC notes, Trump has recently attempted to soften some of his positions that once seemed extreme. The media also hasn't trumped up (pun intended) anything he has said for a couple weeks. The news about Trump in the past two weeks has been about his campaign shakeup—which focused more on past statements and actions of new campaign CEO Steve Bannon—and about his softening position on immigration.
In the former, the focus was not on Trump, and in the latter, the focus was positive—at least from the media's perspective. (Though they tried to chip away at Trump's popularity among his supporters by pointing out the flip-flop.)
Meanwhile, the Associated Press discovered that more than half of the people who met with Clinton while she was secretary of state donated to the Clinton Foundation. Multiple liberal media outlets noted that this was indeed a scandal, instead of trying to play it off as a right-wing conspiracy.
It was also discovered this week that Clinton deleted several emails related to the Benghazi, Libya attack in 2012, reminding people yet again of her email scandal.
Also, another Anthony Weiner sexting scandal broke, and his wife, Huma Abedin, announced she would leave him. Unlike with Bannon, where the focus remained on him and not the candidate, the Weiner saga resulted in renewed discussion of Clinton's decision to stay with Bill after he had extramarital affairs and was accused of rape by multiple women.
Women were never really that into Clinton, either, as I wrote earlier this year. Young women especially favored her rival, Vermont Sen. Bernie Sanders. A lot of the issues Clinton had with young female voters was that she didn't represent the feminism of today.
It would be very difficult to argue that we would still know the name Hillary Clinton (or, more accurately, Hillary Rodham) had she not married Bill. Hillary was hired by a prestigious law firm after Bill Clinton became the attorney general of Arkansas. She was made partner at that firm after he became governor of the state.
She became a senator after moving to New York, after she and Bill left the White House. Her position as senator helped her run for president in 2008 against Barack Obama. Her loss to Obama got her appointed secretary of state, which helped her run for president again in 2016. But it all started because her husband Bill was moving up in the world.
With many millennial women working on their career and putting off marriage and family, it's hard to connect with a woman who married a man and used his influence to get ahead.
The ABC/WaPo poll is just one of many. It could be an outlier. The losses of Clinton and the gains of Trump could disappear in a few weeks, but it is certainly interesting nonetheless and begs the question: Would Clinton be more unpopular today if the media had focused on her actual scandals instead of things Trump said?
Disclosure: Donald Trump is the father-in-law of Jared Kushner, the publisher of Observer Media.