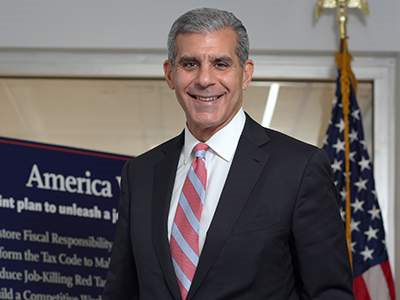 Donald Trump's candidacy will have a profound long-term effect on National and State Republican Party politics long after the November election is over. In New Jersey's Republican Party, the "Trump effect" will be transformative.
Just three months ago the conventional wisdom among New Jersey insiders was that the 2017 Gubernatorial election was a June Democratic Primary. That analysis, like any speculation about the Republican Gubernatorial primary, is out the window right now. It is anybody's guess how the New Jersey Republican Party will remake itself after November.
The only thing certain right now is that the New Jersey Republican party will most definitely remake itself and may very well re-emerge with some appeal to independents and conservative Democratic voters who have been repulsed by its current harsh reward and punishment system. Those Republicans like Joe Kryllos who refused to say "yes" to Donald Trump will be as highly prized as those Democrats who refused to say "yes" to Chris Christie and George Norcross for the last eight years.
Republican leaders like Joe Kyrillos showed a lot of courage, character and leadership to sanction and promote nonattendance at a convention whose nominee the states' Republican governor endorsed.
At the Republican National Convention, New Jersey was represented by 51 voting delegates in Cleveland. Former Govs. Thomas H. Kean and Christine Todd Whitman were notable no-shows. It was the first convention Gov. Kean has missed in 52 years. Senate Republican Leader Tom Kean Jr., the former governor's son, attended the RNC but has yet to publicly endorse Trump. Only one Republican congressman from New Jersey, Rep. Tom MacArthur, chose to attend.
"Well, listen, it's a very difficult time; there's no doubt about that," Kyrillos said. "There's a lot of Republicans that haven't completely accepted Donald Trump, that haven't warmed up to him. They want to give him a chance. Many won't. Every time I try to give him a chance, want to like him, try to like him, he says something that I can't quite deal with."
Very few politicians actually took the stage at the RNC. While New Jersey Gov. Chris Christie riled up the crowd, House Speaker Paul Ryan attempted to create a unified front heading into November. In doing so, Ryan managed to speak without actually ever endorsing the party's nominee. He ended the speech stating, "This year of surprises and dramatic turns can end in the finest possible way when America elects a conservative governing majority."
Enough has been written about the Republican National Convention, but the press has barely scratched the surface writing about the New Jersey Republicans who stayed home. Expect that to change right after Election Day.
Donald Scarinci is a managing partner at Lyndhurst, N.J.-based law firm Scarinci Hollenbeck. He is also the editor of the Constitutional Law Reporter and Government and Law blogs.