As advocates and elected officials offer mixed views on the city's appointment of a new full-time senior advisor to deal with minority- and women-owned businesses, the advisor has a herculean task ahead of him: conveying the city's progress while also addressing the needs of fed-up advocates.
Elected officials say they are impressed by the fact that the new advisor, Rev. Jonnel Doris—who has been on the job for nearly a month—will be dealing exclusively with MWBEs and by his experience working with MWBEs at the Governor's Office of Storm Recovery, though they maintain that the struggle is ongoing.
But MWBE advocates and industry leaders aren't rejoicing just yet. They're troubled by the fact that the mayor has still not appointed a full-time chief diversity officer and one did not even know about Doris' appointment.
"I can't condemn a person without knowing, but I'm also thinking that that person by this time should have reached out…and said, 'Hey, I'm in this position, this is my game plan,'" said James Heyliger, president of the Association of Minority Enterprises of New York, a minority and women business enterprise nonprofit trade organization.
Doris, a pastor who leads the Full Gospel Assembly in the Richmond Hill section of Queens with his wife, served as chief diversity officer for the Governor's Office of Storm Recovery where he managed the state's $4.4 billion recovery allocation from the U.S. Department of Housing and Urban Development for Superstorm Sandy, Hurricane Irene and Tropical Storm Lee.
"We had record numbers," Doris said in an interview at City Hall last week. "When I left, we had over 225 MWBEs participating in the program, hundreds of millions of dollars going to them and it's increasing."
Doris' job is to identify strategic policy guidance, services and accountability mechanisms and give the city advice on how to ensure the participation of MWBEs in the procurement process. He is the city's top official dealing with MWBEs until they find a replacement for Maya Wiley, who served as the mayor's counsel and MWBE director until July 15. She now heads the Civilian Complaint Review Board and teaches at the New School.
His approach to helping the city achieve its goal of awarding $16 billion in MWBE contracts by 2025 centers on four core principles, he said: access, capacity, accountability and sustainability.
He's already met with Mayor Bill de Blasio "on several occasions," he said and meets weekly with the mayor's senior MWBE team, which includes the Department of Small Business Services and the Mayor's Office of Contract Services. He also meets with MWBE directors and the advisory council the mayor launched in December 2015 each on a quarterly basis.
Doris did not shy away from acknowledging the challenges, stressing several times that "we need more, we need more." And he admits that communication needs to be better: he says the administration plans to work on better communicating the work it has done on the issue.
But he is adamantly rejecting the narrative of the city not doing anything or enough.
Doris said the progress the city has made over the last two-plus years—including the awarding of nearly $700 million more in contracts to MWBEs by mayoral agencies, a 12 percent increase or an additional $6.1 million going to MWBEs due to process changes—is thanks to Wiley's work. He says the city is on track to meeting the $16 billion goal.
"That is not something to throw away, like there's no progress. I refute that. Is it enough? No, we're doing more," Doris said. "But we cannot sit here and say, 'Oh, the mayor's not doing enough, the city's not.' No, we're doing what we're doing and have done in the last two years, made significant progress in utilization and contracting for MWBEs, more than ever in the history of the city."
And he believes that the work is more important the title.
"If you do the work, you get the results. That's all that matters," Doris continued. "MWBEs get more contracts. The system is made more equitable. That is the goal of my role and why I accepted it to come here."
De Blasio ally-turned-foe Bertha Lewis, founder and president of the Black Institute, said there had been ongoing rumors that Wiley "trying to get up out of there" ahead of her departure, and said that as an advisor Doris has no power.
She expressed disappointment that he has not yet contacted her. (Doris confirmed he has not reached out to her yet as he has been settling in the job but said he is happy to contact her.)
"It's just as bad as it ever was and in fact, it's worse because this senior advisor stuff with Mr. Doris, who failed in storm recovery when he was with the governor,…especially with the relationship between the governor and the mayor right now, he's had no effect, none," she said. "People say he's a nice guy and he tried but there's always a 'but.'"
But Brooklyn Assemblywoman Rodneyse Bichotte, chairwoman of the Oversight of Minority and Women-Owned Business Enterprises Subcommittee, lauded his experience working with MWBEs. She appeared perplexed about the criticisms against Doris' position.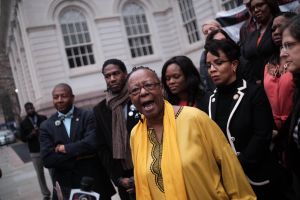 "What was she (Lewis) expecting?" Bichotte said. "I know she was expecting a chief diversity officer…I mean, is there a problem with that? Is there a problem of having a senior advisor on this particular issue?"
Although she did not say that the city should not have a chief diversity officer, she noted that the city is already working with chief diversity officers position may work for the MTA and Comptroller Scott Stringer's office.
State Senator James Sanders, who is regarded as the father of the city's MWBE laws, said Wiley had a "good energy" but had "too many other tasks."
Sanders, whose district includes the church Doris and his wife head, said he was impressed by the fact that in the aftermath of Superstorm Sandy, local committees were created under the governor's purview and that Doris' experience as a pastor was beneficial.
"It means that if done right, he's obeying a higher standard, not just what is politically expedient but what is right, what is just and that is exactly the temperament, the mindset that you need when you speak of MWBE because on one hand you can't spend your time hearing, crowing over your achievements of the past," Sanders said.
Planned Parenthood Federation of America's Melvin Galloway, who served as COO for the Governor's Office of Storm Recovery, said the number of MWBEs went from about one prime MWBE and about five subprime MWBEs before Doris started to more than 200 subprime and prime MWBEs in two years under Doris' leadership.
Doris' tactics included creating a forum where contractors engage with MWBE firms and panels that incorporated MWBEs into the qualifications process and help them "get through the red tape more quickly," he said.
"He had specific strategies to get out there and speak to the MWBE communities, but on the other hand you have to be front-and-center with the larger firms to make sure that they are making opportunities available," Galloway said.
Elected officials and advocates also differed on how the state was doing. Lewis believes the state is doing a poor job but is doing marginally better than the city, while Sanders and Bichotte believe the city is more transparent about how money is allocated as well as MWBE goals. (Sanders even said that it will be discovered that the state is doing worse than the city.)
Jonah Bruno, Empire State Development's press secretary, said the state has been working to increase opportunities for MWBEs since 2011.
"Under Governor Cuomo's leadership, New York State has increased the MWBE goal to the highest in the country and has maintained a utilization rate of more than 20 percent for several years, which means billions annually in revenues for MWBE firms," Bruno said in an emailed statement.
The chairwoman of the City Council's Contracts Committee, Councilwoman Helen Rosenthal, introduced bills that would require an MWBE consultant for city projects with budgets bigger than $10 million and another amending reporting requirements related to MWBE participation. She expects both to be passed in August.
Rosenthal said that even if Doris does not report directly to the mayor, his focus on MWBEs and his statewide experience are both pluses. She also said there were significant improvements under Wiley, noting she is unsure "how much better it would have been had Maya's only responsibility been chief diversity officer."
"The first meeting was positive," she said. "He seemed receptive to comments. You always want somebody who can hear what outsiders are saying. He seems to be fluent in the language of MWBEs and contracts and open to listening."