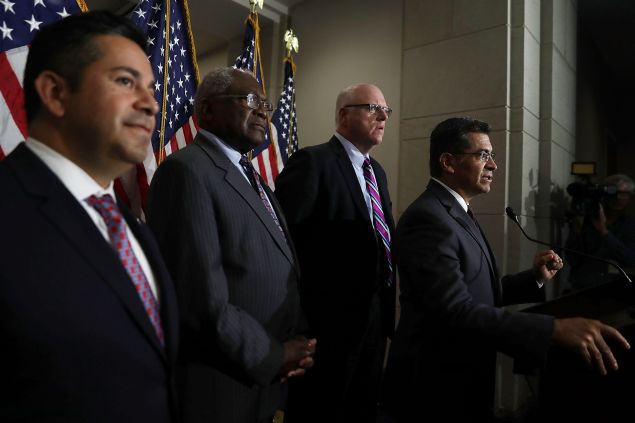 On August 21, hacker Guccifer 2.0 published a few documents apparently obtained from the Democratic Congressional Campaign Committee (DCCC). Guccifer 2.0 also shared an additional batch of documents with the Observer regarding three congressional elections in Pennsylvania.
The hacker began releasing Democratic National Committee (DNC) documents in June, leaking internal memos in which the DNC anticipated Hillary Clinton being the Democratic presidential nominee as early as March 2015. In addition to the releases from WikiLeaks, the collective documents provide glimpses into how the DNC colluded to campaign against Sen. Bernie Sanders, including planning to manipulate favorable media coverage for Clinton.
In the most recent releases, the DCCC appear to rally around their preferred congressional candidate in Pennsylvania's 6th, 7th and 8th districts long before the state's April primaries. The DCCC focused on these congressional districts because Democrats hold only five of 18 congressional seats in Pennsylvania, and these districts voted around or above 50 percent for Barack Obama in presidential elections.
In Pennsylvania's sixth congressional district, the DCCC strategized with Mike Parrish, an Army colonel and CEO of a natural resources company based in Pennsylvania.
"Please tell Parrish to work closely with the DCCC on his staffing process and consultant selection," instructed one memo from former DCCC Southern Political Director Andrew Piatt to DCCC Chair Ben Ray Lujan, few days before Parrish formally announced his congressional campaign. Included in the release were DCCC documents containing background research on Parrish. A few weeks later in a separate memo, Piatt wrote to Lujan regarding a potential primary opponent for Parrish: "Physician Joe Denham filed paperwork with the FEC this week. Unclear if he will be a serious primary threat to Parrish. The best thing Parrish can do is secure political and financial support and leave Denham with no path to winning the nomination."
Parrish would have run against 25-year-old Lindy Li, a Princeton graduate who headed to an upset in the Democratic primaries until Parrish challenged the validity of Li's petition due to a notarizing technicality. The challenge forced Li to withdraw from the race following a court hearing, leaving Parrish unchallenged in the congressional district's Democratic primary. Parrish will now face Republican incumbent Ryan Costello in the general election.
The DCCC heavily favored Bill Golderer to defeat Mary Ellen Balchunis in the Democratic primaries in Pennsylvania's seventh congressional district to challenge Republican incumbent Patrick Meehan. The DCCC coordinate meetings between Golderer and several Democrats in Congress, including Reps. Dennis Heck, Cheri Bustos, Diana DeGette, and Elizabeth Esty. In each memo preceding the meeting, the representatives were ask to "please tell Bill that he is exactly the type of candidate we need to put this seat in play in the general election."
The DCCC also matched Golderer with the political director of End Citizens United.
"Ask her if you can have ECU's PAC contribute to your campaign this quarter," wrote Southern Regional Political Director for the DCCC John Bivona, in a memo to Golderer. Despite the name, End Citizens United has provided large contributions to Democrats, including over $100,000 to the Ready PAC—formerly "Ready for Hillary." The PAC changed its name once Clinton formally announced her presidential campaign.
In one of the memos regarding Golderer's campaign, the DCCC refers to Clinton as the presidential nominee before the Democratic primaries even began.
"We expect the Philadelphia suburbs to be a major battleground in the Presidential contest this cycle and the Clinton campaign will fight hard on the air and on the ground to win this swing area of the state," states one memo, dated January 2016.
Regarding Pennsylvania's eighth congressional district, a DCCC memo specifically cites "DCCC has taken a neutral stance in the competitive Democratic Primary in this district." This disclaimer reveals the DCCC's standard operation is to circumvent democracy, and prop up their own preferred candidate in congressional democratic primaries.