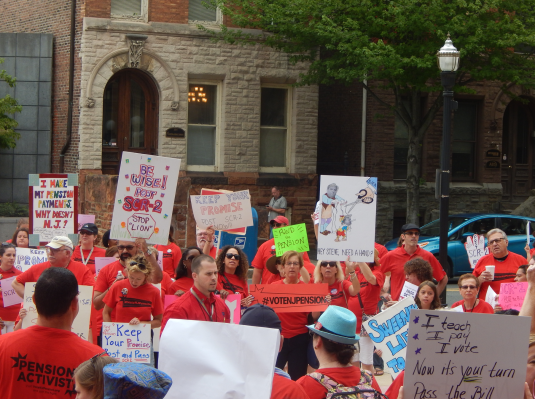 TRENTON — Teachers represented by the New Jersey Education Association converged on the steps of the New Jersey State House Monday, the same day that a key procedural deadline passed for a bill from Senate President Steve Sweeney (D-3) that would mandate payments into the state's underfunded public pension systems. Sweeney faced pressure from the group last week as the deadline approached, with members of the NJEA threatening to withhold campaign contributions to state Democrats if he declined to post the bill in time to get its accompanying ballot question on this year's ballot.
With the bill's chances scuttled by a stand-off between Democratic lawmakers and Governor Chris Christie on how to fund the ailing Transportation Trust Fund with a gas tax, public employees will have to wait until 2017 to have voters weigh in on whether to amend the state constitution to require quarterly pension payments.
Sweeney and his rumored gubernatorial run that same year were the crowd's chief targets as teachers chanted "We'll remember in November." There has been no love lost between Sweeney and the NJEA since news of those threats to Democratic county chairmen led the Senate President to call for state and federal investigations of the group, one of his party's biggest sources of campaign cash and one of the biggest single benefactors to super PACs favoring Democratic candidates. The scuffle could be a hindrance to Sweeney when he goes up against other Democratic gubernatorial hopefuls in next June's primary.
"Contrary to what some union leaders have been saying, the pension amendment does not die because it was not voted on by today," Sweeney said in a statement. "Without a resolution to the Transportation Trust Fund crisis – and a full accounting of how much future tax cuts will cost – it would have been too easy for opponents to argue that the state could not afford to pass the pension amendment. The pension amendment would have been doomed to defeat, and that would have given carte blanche to current and future governors to slash pension payments. I care too much about meeting our obligation to our teachers, state employees and retirees to allow that to happen."
See today's scene on State Street below.