The hallmark of a rock band's credibility has long been how loud they play. Deep Purple, Manowar, KISS and The Who have all claimed this accomplishment at various points in their careers, although any music fan worth their weight in earplugs will nowadays likely point to one of three bands—Swans, My Bloody Valentine or A Place to Bury Strangers.
If playing loud was the goal, these guys hit it. But heaviness is another matter entirely, and to my ears, no band embodies "heavy" more heavily than Japan's Boris.
It's been 20 years since Boris released their first record, 1996's Absolutego, when their love of two Washington State bands— the Drone Metal band Earth and Sludge Metal band The Melvins—propelled them to make sounds so intensely weird, so purely heavy, that Tokyo was never the same.
Their metal was new to Japan then, a country exploring heaviness through hardcore punk and psychedelia (despite strict drug laws) and Boris largely went under the radar.
It would take 10 years and 10 albums later before Boris released Pink—their genre-destroying masterpiece of thrash, hardcore, shoegaze, metal and ambient zen—when the world was finally ready for them in 2006. With Pink, Boris found themselves at a sonic crossroads, and their penchant to crush genres and labels has only grown more potent since.
"In that madness that was Pink, we just got so tired of chasing some kind of cool, rock image," drummer Atsuo told Pitchfork in 2008. "I felt like we were chasing something, it was like we wanted to be something greater. But after all that, we got and have been reflective…after Pink, we wanted to wipe the slate clean and start anew, but there is a limit to how much skin you can shed."
Boris fully explores that limit on Pink, only to surpass it later.
The shoegaze opener of "Farewell" plays out as a conscious move of sonic subversion for the band. "It's long gone, gone away, words were almost lost and gone," intones Atsuo, the only near-fluent English speaker of the group and then-primary vocalist. "I felt it was far away, even if it was near. I felt I could reach at least, ready made answers are here."
They're borderline arty on "Farewell" right out the gate, a move that didn't alienate any old fans so much as turn on a lot of new ones. The title track comes next, dipping into the Speed Metal of Motörhead and furthering the band's commitment to reinventing itself as Atsuo sings, "I knew that but I chose it, you knew that but you chose it, you chose it after ignoring why with no time to look back." Suddenly this conscious shedding of sonic skin has a purpose, as the decidedly non-metal album title makes sense: "What color would I use to paint all over, to open your eyes?"
[youtube https://www.youtube.com/watch?v=855klBq2fnQ&w=560&h=315]
When Boris first brought Pink to the U.S. in 2006, I was but a lowly undergraduate in Boston and only starting to expand my musical consciousness for the first time. They played at Cambridge's Middle East Upstairs that year, a 194-capacity room undoubtedly packed with audiophiles and vinyl purists. But the talk of that show spread, particularly of Boris' closing with the reality-shattering cleansing ritual of Pink's closer, "Just Abandoned Myself."
In 2007 they returned to The Middle East's much larger downstairs space, selling out the 575-capacity room on tour for their new album Rainbow, a collaboration with the great Japanese psych guitarist Michio Kurihara. That was my first encounter with Boris , and would knock down my assumptions forever that loud music was only for meatheads in tank tops.
Rainbow, still more heavy than paisley, showcased a band dipping further into the shoegaze flirtations of Pink, further into the weird sounds of ambience.
With "Pink," Boris found themselves at a sonic crossroads, and their penchant to crush genres and labels has only grown more potent since.
It set another precedent for new sonic departures, still—the next big Boris release that brought them back, 2008's Smile, featured vocals on every track, drum machines, samples and a concerted attempt by Boris to play with the idea of being uncool and selling out.
After these albums it became clear that Pink was the gateway that allowed Boris to still search for new sounds, even after 10 years together.
If all of Boris' sounds fall under the umbrella of noise, the band suggests that this is very much a function of Tokyo. "This sort of consistent noise is definitely a vital part of the Japanese psyche, and it's been a big influence on us," they told The Quietus in 2008. "Noise is a vital part of the Japanese mentality, particularly when making music. Noise is Japanese blues."
[youtube https://www.youtube.com/watch?v=BDMVsxZv6iQ&w=560&h=315]
And so we got the noise part in parcel with the spectacle at The Middle East that night in 2007, heaviness intact. When Atsuo hit the giant gong behind his kit it reverberated from the brain stem down the spine and all the way to the sacrum, the traditionally Eastern instrument repurposed in the interest of heaviness.
Takeshi worked center stage like a glam rockstar, playing his double-necked guitar and bass with a humorously arena-ready confidence that made you forget for a second how gleefully ambivalent Boris were toward mainstream success. Meanwhile, lead guitarist Wata absolutely shredded, and kept her echo effects box close to launch the band's high end into space when the song called for it.
"The fact that they have a female member switches things up big time," says Alex von Klemperer, leader of Brooklyn band Tiergarten, who went with me to that show. "She gives the melodies a certain quality. They don't care about this macho agro sludge fanbase,they don't care to cater. They're like, 'Hey come join us, if not, cool, but we're playing all sorts of songs.' "
"All sorts of songs" only begins to describe Boris.
Splitting the show between Rainbow and Pink cuts demonstrated how quickly the band moves from one stylistic terrain to the next, all while maintaining a fluidity that kept the shifts from sounding jarring.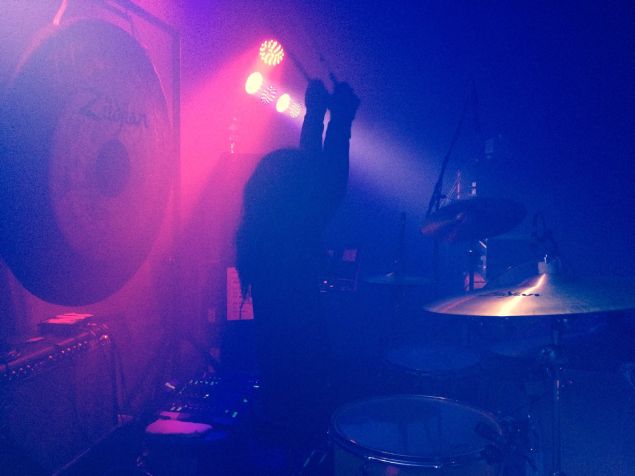 We got Pink's epic closer "Just Abandoned Myself" as the penultimate number before "Farewell," with Atsuo's lyrics carrying extra weight for being paired next to the psychedelic songs. "What is it on your mind, eyes close shut, with words?" he asked. "What is it on your mind, ears tight shut, overwhelming? The proof that you want to cry. Afraid of the present, loaded with the past, and you suffer from thirst."
After identifying a longtime listener's potential confusion at codifying Boris, Atsuo soon laid it all out: "Agonizing noises are now put in a line, this bunch of strings are now roaring, dazzling. Blurred sights are now gone. I am here, and everywhere else."
The power of these words shouldn't be taken for granted. They reveal Pink to be no chance happy accident—these are the sounds of a band self-immolating, setting itself on fire to re-emerge with something new.
Boris' Pink reissue was released in July on Sargent House. They perform Pink in its entirety at Brooklyn's Warsaw with Earth on Friday, August 5.