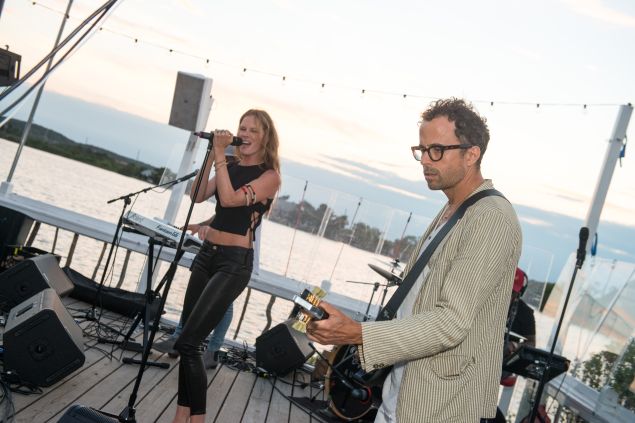 With only two more weekends to go before the summer season comes to an end, it's essential to make the most of each one. And last night, the luckiest of the weekend warriors got an early start by heading to Montauk's Surf Lodge, to indulge in a one night-only tasting menu from Swedish chef Gabriel Hedlund.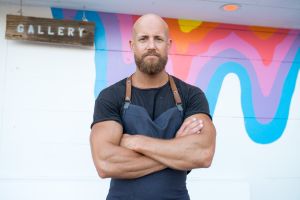 The five-course meal was a preview of Hedlund's upcoming Nordic-inspired East Village restaurant, which is his first food foray within the United States. Hedlund, who previously worked at Copenhagen's Michelin-star restaurant Kokkeriet, is opening his restaurant with partners Mathias Kaer and Allan Jensen this September.
The gathering was held on the back patio of Surf Lodge, with an unobstructed view of Montauk Lake. Guests mingled and chatted among one another, stopping every so often to get in a photo of the Instagram-worthy sunset.
Champagne flutes were topped off with bubbly and rosé flowed, as servers began to bring out the shared appetizers, placing dishes of oysters covered in smoked oil and fennel, among plates of carrots and sea buck thorn, with separate plates of bite-sized pieces of cured duck atop a stone plate.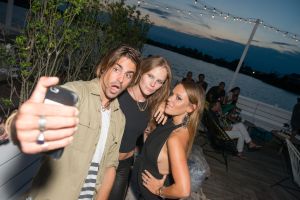 "The guests keep asking for silverware," Jayma Cardoso, one of the owners of Surf Lodge, laughed. "You're supposed to eat with your hands," Jensen explained to the table, as we all proceeded to pick up the delicious pieces as delicately as possible.
Next came a lamb tartar, neatly topped with chive. Thankfully, silverware was provided for this course, though those in the know informed us that we should still be eating it with our hands. "I don't even like any tartar, but this is life changing," one guest declared, scooping up her tartar in the proper way, sans silverware.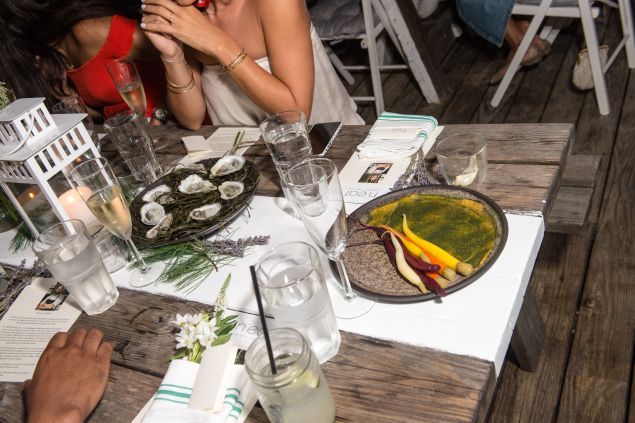 At many a dinner party, food photography is somewhat looked down upon, or at least met with a few judgmental looks. But this fête very much condoned it—food bloggers, Instagrammers and the likes toted around their professional cameras, leaving this writer feeling slightly inadequate as I Snapchatted the next course: fluke with mussels, cabbage, and taragon. Luckily, being mid-Snapchat, I didn't mess up the fluke by taking a bite before it was properly dressed.
We were also told not to touch the squid, mushroom and poached egg yolk in a stone bowl until a server came around and carefully poured a broth of brown butter into the concoction—it was well worth it. The chef came out every so often to ensure that all the guests were well-fed and enjoying their meal, and to pose for a few photos, of course.
Then came the short rib, presented in the most wonderfully unladylike way, which led to an interactive photoshoot that involved using the Boomerang app.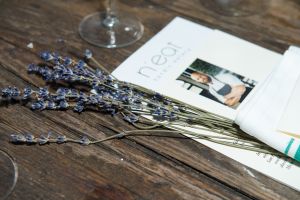 Though the crowd was thoroughly stuffed, the dessert course arrived, in the form of a refreshing Icelandic yogurt amid white chocolate drops. A surprising addition of cucumber and dill accented the final dish.
"It is so nice here on a Thursday," one guest remarked as the guests began to trickle out, noting the less crowded nature of Montauk that evening. The rest of the group agreed, though they didn't seem too phased by the typical, perhaps more boisterous guests who will surely be there this weekend. "I'll still be here Saturday and Sunday, though," another laughed, though that meal will surely encompass more lobster rolls, and less Nordic cuisine.