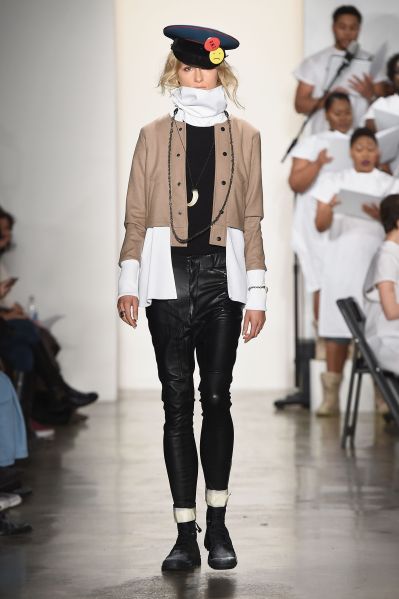 Did all of your fashion week invites got lost in the mail? No problem, because if you still want to participate in New York's most stylish week, there are two pop-up shops that will allow that.
Powered by IMG, the behemoth business behind NYFW, these momentary boutiques will cater to two very different customers, but they're both located at 875 Washington Street. First up is The Shop @ New York Fashion Week: The Shows, open from September 8 to September 11, which will be stocked with of-the moment chokers from Fallon, worldly accoutrements from A Peace Treaty, wordy t-shirts from Monogram and emoji-inspired baubles from Alison Lou. This shop is for the playful fashion girl (or guy) who likes to wear all of the coolest trends, possibly all at once. Goods from Maybelline and Intel (both NYFW partners) will be stocked and art from Bradley Theodore and Nick Thomm will be on display.
Then, from September 12 to 14, F.Y.I. @ MADE New York will be a hotspot for straight-off-the-runway goodies. Naturally that includes Chromat, Krewe du Optic, Pyer Moss, Andrea Jaipei Li and The Blonds. The Smile is also listed as a vendor, so we hope the shop will be stocked with cold brew and a maple orange cinnamon bun. Patricia Field will be hosting a sort-of comeback at this pop-up and, of course, Tumblr will be shilling some internet-friendly goods. Clearly, F.Y.I. is for only the edgiest member of your friend group. Or at least the most internet famous one.
Barnett Zitron, the VP & Managing Director of MADE, furthered that notion. "F.Y.I. offers the designers we love a new way to reach consumers. Our designers and brand partners are nontraditional in every sense, and F.Y.I. offers them a home that didn't previously exist within New York Fashion Week."
Naturally there will be a variety of events taking place at each pop-up, from Happy Hours to some kind of day drinking extravaganza, otherwise known as Sunday Sips. For more info on both of the shops, visit their respective websites, http://nyfw.com/the-shop and http://ma.de/. You could always visit @NYFW and @MADE on Instagram, Twitter or Facebook for live updates, of course.