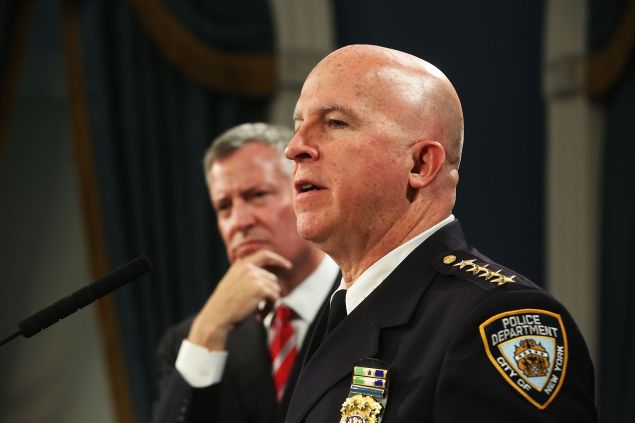 Mayor Bill de Blasio today defended selecting NYPD Chief of Department James O'Neill to take over from outgoing NYPD Commissioner Bill Bratton—arguing that the police department's third successive Irish-American is the person best-suited to soothe the inflamed racial tensions surrounding law enforcement.
In his weekly "Ask the Mayor" segment on WNYC, de Blasio insisted to host Brian Lehrer that O'Neill had the experience and the sensitivity to helm the nation's largest police force through a tumultuous era. Bratton was a frequent target of activist ire for his so-called "broken windows" tactics of cracking down on minor violations, and his occasional brash remarks about black culture and Black Lives Matter protesters.
"This is about the person who could best take us to the next level," the mayor said, pointing to O'Neill's 33 years of experience as a cop in New York City, and his role in implementing the mayor's strategies to improve police-community relations. "I wanted the person who could best achieve neighborhood policing, who could keep this city safe, make it safer, but also repair the relationship between police and community."
De Blasio noted the department is now majority-minority, and that O'Neill's immediate subordinates—First Deputy Commissioner Benjamin Tucker and incoming Chief of Department Carlos Gomez—are black and Hispanic, respectively. O'Neill will assume his new rank after Bratton departs in September.
A native of East Flatbush, Brookyn, O'Neill began his career patrolling the subway system in 1983, when the Transit Police were a separate department from the NYPD. He climbed the hierarchy of police brass through the 90s, and became a mid-level administrator during the Bloomberg administration.
But O'Neill quickly ascended under de Blasio, as he gained the position of chief of patrol in mid-2014, and then replaced Chief of Department Philip Banks just months later. The mayor today described him as the "architect" of his "neighborhood policing" program, in which cops meet and conference with community residents and leaders.
Still, de Blasio acknowledged that his new commissioner would face a tough task in repairing relations between the NYPD and many of the communities they oversee.
"There have been some tragic incidents over time, there's no two ways about it. There have been some people who did not belong in this police force and other police forces. I've said it, Bill Bratton's said it, Jimmy O'Neill's said it," de Blasio said. "We have to leave the past behind in every way. And we have to create a dynamic of greater equality and fairness."
Both Bratton and his predecessor, Ray Kelly, were Irish-Americans like O'Neill. O'Neill's appointment won plaudits from some of Bratton and Kelly's biggest critics in the minority community, including Bronx Councilman Ritchie Torres, Brooklyn Councilman Jumaane Williams and Bronx Assemblyman Michael Blake.
The NYPD has not had a nonwhite police commissioner since Lee P. Brown's two-year tenure ended in 1992. Brown and Benjamin Ward, who served in the Koch administration during the mid-80s, are the only people of color to ever head the department.
The administration told the Observer O'Neill presently lives in Yonkers, but will relocate to the five boroughs in order to meet the residency requirement of his new job.