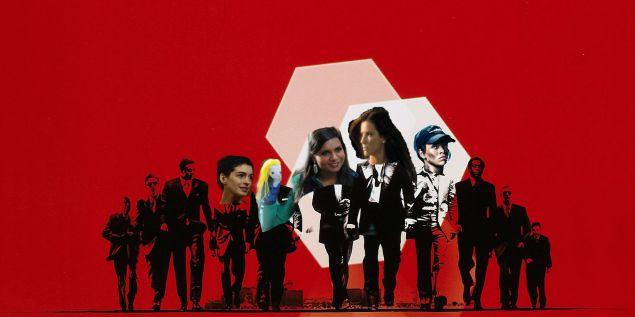 Hearing about an all-star chick reboot of the Ocean's Eleven franchise triggered my gag reflex. Sure, I'm just a movie freak who thinks franchises are for fried chicken not film. But that doesn't entirely explain my post-Ghostbusters repulsion at Warner Brothers' corralling of female talent for Ocean's Eight with sorority sister Sandra Bullock in the George Clooney spot, and Oscar-winners Cate Blanchett and Anne Hathaway, and singer Rihanna. IndieWire Film Editor Kate Erbland told the Observer: "To me, true diversity doesn't mean pillaging what has come before and attempting to stuff it into a new narrative — though, of course, there are always possible exceptions, and I am hardly opposed to remakes or reboots that really do venture for something new — but touting something as the 'female whatever' doesn't do it for me in the slightest."
Greedy Hollywood doesn't get its women problem. You can't just slap lipstick on the gender divide. Or as Upstate Women in Film and Television President Hanna Sawka said: 'It's almost reverse drag, but without the theatricality and taboo-busting that make drag awesome.'
Greedy Hollywood doesn't get its women problem. You can't just slap lipstick on the gender divide. Or as Upstate Women in Film and Television President Hanna Sawka said: "it's almost reverse drag, but without the theatricality and taboo-busting that make drag awesome. Besides being just inane, perhaps it doesn't work because of, you know, authenticity? Argh: it's teeth gnashingly annoying. One step forward two steps back."
Oceans Eight smacks of a cynical corporate capitulation to pressure without engaging in the structural challenge: the female green-lighting shortage. "The real issue here is financing and distribution. It's not a shortage of original female-driven storytelling — it's getting someone to pay for it," said Director Katherine Dieckmann. The Columbia U. prof's fourth independent feature, the upcoming Holly Hunter drama Strange Weather, will premiere at the Toronto International Film Festival next month.
This lack of Hollywood investment in female-driven films doesn't make business sense, as I addressed in Variety. Movies – like The Help, The Hunger Games, The Twilight Saga, Pitch Perfect, Fifty Shades of Grey or even Mad Max: Fury Road – grossed big bucks.  Dieckmann agrees, "All those wildly successful films are still treated as disconnected flukes by the industry, not as indicators of a promising path to follow."
It's not enough to push for women — we have to swim upstream against the existing structures to get creative ideas in play. We're not just pushing against ingrained bias — though that exists — we're struggling against creative conservatism and the flat-out-fear of box office failure that has consumed studio execs, either in beards and glasses or beards and bifocals. This state-of-mind also constricts the images of men on screen. Before there was Ocean's Eleven with Clooney and Brad Pitt with Don Cheadle, there was the 1960 "original" Ocean's 11 Las Vegas caper with Frank Sinatra and Dean Martin, and their fellow rat-packer Sammy Davis Jr.
The Ocean's Eight dilemma isn't simply that the reboot is on the other foot. There are many women willing to pay to see Bullock, Blanchett, Hathaway, Rihanna and the crew cutting a caper just like all those highly skilled female bank robbers in real life (Oh, wait!). Author Jill Caryl Weiner embraces the trend:  "I'm all for it in triplicate — and don't understand why a film like this says we can't populate our own films. Those are two separate things. Why does one negate the other? Ocean's 11 is a formula film that people want to see, so why not make the film with women? I'm sure they will be smart, powerful, brave and have flaws — and little girls (including myself) can spend an hour and a half or two hours enjoying how they meet whatever challenge they have. Yes, other movies where women hold starring roles should be out there, too, but why limit women to anything? Let women do whatever they want! Why criticize how women earn a living?"
The problem isn't that women hunger for big-screen images of themselves; it's that Ocean's Eight is emblematic of why Hollywood movies are losing ground among audiences that are just as content to stay at home and watch long-form television. Quality has been ceded to television, and women along with it. Whether it's Emmy nominees Veep or Downton Abbey, Unbreakable Kimmy Schmidt or Homeland, television is where the narrative creativity is. The movie sphere is increasingly conventional. Blockbusters dominate, the middle range has disappeared and there's a proliferation of personal indies where, according to Dieckmann, "female filmmakers are allowed into that latter terrain, although it's still a fight, and sometimes we'd prefer to work on a slightly bigger scale."
"Recycling is an across-the-board problem and not remotely a female problem," Dieckmann concurs. "The crisis of women in movies is now exaggerated by a larger crisis in movies in general."