With the release of Rubber Soul in December 3, 1965, the Beatles would unleash a creative whirlwind that would change the pop album into an art form.
Every song on the record—whether you prefer the British and American playlist—revealed new levels of sophistication, not just within the lyrics, which stretched beyond the simple boy/girl dramas that was the band's M.O. up to this point, but also offered unexpected instrumental touches which seemed to illustrate the songs.
Rubber Soul was a surprisingly diverse listening experience, a Whitman's Sampler of folk, soul, country and rockabilly, with exotic strains of world music, thanks to George Harrison's sitar on "Norwegian Wood" and what sounded like a bouzouki (most likely an acoustic 12-string guitar) playing a Greek goat dance on the bridge to "Girl."
As Bob Dylan told the Fabs, "I get it, you're not cute anymore."
With just one listen it was apparent those lovable mop-tops had been growing up fast. Having just come back from a hectic world tour, they were now expected to write and record their sixth studio album in less than a month.
Once more the Beatles had topped the charts with Rubber Soul, thanks in part to the enormous success of another lilting Paul McCartney ballad, "Michelle" (in which the doe-eyed bassist suavely sang in French).
Just four months later, the band would return to Abbey Road studios again on Wednesday, April 6, 1966 to record John's mesmerizing "Tomorrow Never Knows," the final song on Revolver.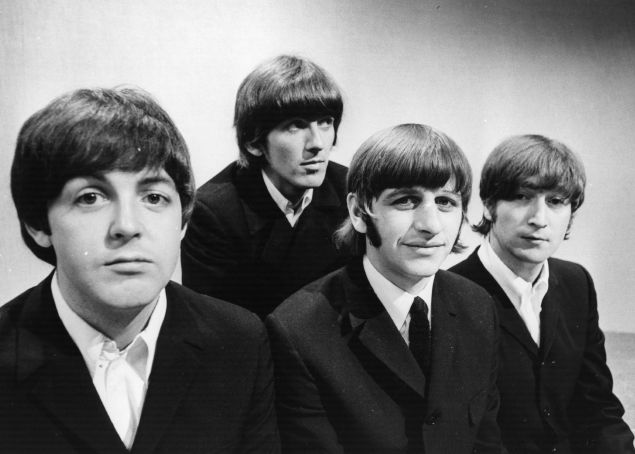 With just one look at Klaus Voorman's stunning cover (a sprawling collage of black and white snapshots amongst swirling fine line portraits of the band) it was apparent that Revolver was like nothing else of its day. That's still the case 50 years later.
To help celebrate the 50th anniversary of the release of this epic album, I rounded up some of best musicians around to wax poetic about its beauty, innovation and importance in the annals of popular music.
"Revolver was the turning point where the Beatles went from being practitioners of faux-Americana to artists and musicians of global music," Brian Ritchie, bassist with Violent Femmes pointed out. "It also marked several firsts in the Beatles trajectory. McCartney's megalomania—playing lead guitar on several tracks, Harrison's obsession with Indian music and philosophy in 'Love You To' and Lennon's vague references to Asian thought in 'Tomorrow Never Knows.' It's their best album but just try convincing people!"
"My favorite track is probably 'Tomorrow Never Knows,' " offered Dave Alvin (guitarist with the Blasters). "I love the drums and the backwards guitar on that song. If anything, Revolver was the album where Harrison and Lennon really got their guitar sounds right—nice, fat sounds. The guitar parts are neatly twisted and abstract, yet still in the neo-rockabilly/Chuck Berry tradition that the Beatles came from."
For Dave Drewitz, bassist with Ween, McCartney's bass playing on the album was profound: "Paul's playing is just astounding, complex and simple at the same time. Every note is exactly where it should be. He plays loud and proud and never gets in the way of the song. It should be considered Rock Bass 101, for every young bassist."
Surprisingly the raga-rock guitar break in "Taxman" (the funky lead-off track on both the American and British versions of the album) was not played by the song's singer/composer George Harrison, but overdubbed by Paul McCartney. "The solo on 'Taxman' is absolutely brilliant, an incredible feat," said ex-Television guitarist Richard Lloyd.
Lloyd marveled at how McCartney, in "such a short solo," managed "to develop a melody line and complete it to its full satisfaction." Lloyd also pointed out "the descending line in the intro and during the breaks of 'And Your Bird Can Sing,' " which he described as "absolutely marvelous. I live for that sort of thing."
The album's second track, "Eleanor Rigby," was Paul McCartney's greatest composition to date (and arguably the finest of his career). Having employed a string quartet (arranged by producer George Martin) in lieu of his fellow bandmates for "Yesterday," Paul once more sought a classical backdrop for his astonishing portrait of human loneliness and despair.
"As a budding young rock guitarist that also played violin, with parents that were professional classical musicians, 'Eleanor Rigby' really opened me up to the possibilities of fusing the two styles," said multi-instrumentalist David Mansfield (Bob Dylan, Johnny Cash, Lucinda Williams).
"The punch effect of all those heavy spiccato quarter notes certainly alerted me to the natural affinity of exaggerated baroque techniques and rock and roll. They seemed to be made for each other. [And a sound which] the Beatles and George Martin mined thoroughly for years. 'Eleanor Rigby' was probably the song that first inspired me to want to arrange and orchestrate, first as a pop musician, and later as a film composer."
While the Beatles' 1968 release known as "The White Album" is generally considered to be the record where the band began going their separate ways, hindsight reveals this was already the case with Paul's "Rigby" and George's "Love You To" (which featured tabla player Anil Bhagwat and an all-Indian band); both were essentially solo efforts within the context of a Beatles album.
"Revolver is the sound of the mop-tops letting their hair down," enthused Jim "Seamus" Moginie of Midnight Oil. "With newly enlisted engineer Geoff Emerick, young and ready to break the rules himself, wildly compressing and close miking the instruments and stretching the limits of four-track recording tape, the record bursts with all kinds of unbridled enthusiasm and variety. From the string quartet formality of 'Eleanor Rigby' to the drugged, looped seagull cries, Leslie-speakered vocal and tambura drones of 'Tomorrow Never Knows,' complete with quotes from the Tibetan Book Of The Dead."
"Not to be unfair to the others, my two favorites are Lennon songs: 'And Your Bird Can Sing' and 'She Said She Said' for their ringing guitar sounds, smashed-up cymbals and drum fills and that singing with those beatific harmonies feel, so unstudied and natural. Whether it was what they were smoking at time, Revolver is the bridge of their teenybopper beginnings and the descent into Caesar-dom and squabbling. For my ears it was the defining album of their career."
"Revolver was one of the albums that created the term 'game changer,' " said drummer/percussionist Michael Blair (Lou Reed, Elvis Costello, Tom Waits).
"Ringo's ride cymbal work on 'I'm Only Sleeping' from the British version of the album was very inspiring. Mr. Starkey was sitting in the pocket glued to Lennon's acoustic guitar strumming. The absolute mirroring of John and Ringo's right hands, the pick/strumming hand with the ride/hi hat, plus the ringing frequencies in the soft cymbal crashes and bell flourishes, together with the metal acoustic guitar strings…focus on those and your mind could very well be blown. Trust me. That kind of drum/guitar cohesion thing doesn't happen often. I felt like that with Marc Ribot when we were in Waits' band."
"Everybody seems to think I'm lazy," John Lennon sang on "I'm Only Sleeping," (stoned, maybe) but that wasn't really the case. It should be pointed out that Lennon came up short with just two songs on the American release, thanks to the playlist devised by the A&R department at Capitol Records. Three of John's songs would be cut from the album, including "I'm Only Sleeping," "And Your Bird Can Sing" and the rockin' "Doctor Robert," which were used to round out the compilation album Yesterday…And Today released earlier (in June, 1966.)
Add to that a killer single, and the subsequent videos aired on The Ed Sullivan Show ("Paperback Writer" and "Rain") also written and recorded during these sessions.
No matter which version of the album you prefer, Revolver reveals a band (as well as their indispensable producer) at the height of their powers, deeply involved in the creation of a burgeoning (and recently abandoned) music form—the record album.
***
John Kruth is the author of This Bird Has Flown – The Enduring Beauty of Rubber Soul (BackBeat Books).