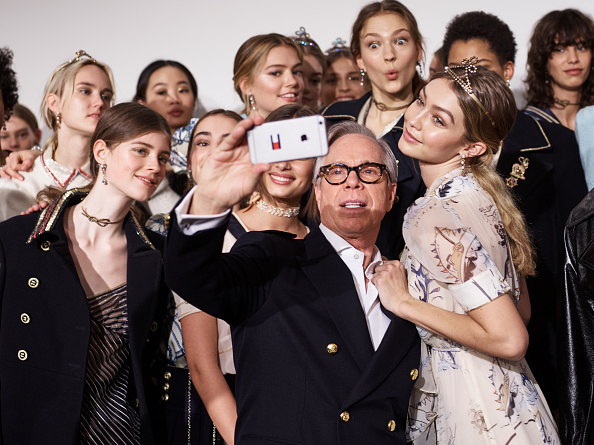 Tommy Hilfiger is one of just a handful of true megabrands staging runway shows this September. While some are opting for more subdued (and affordable) scheduled office viewings or presentations, Hilfiger, ever the showman, is doing it twice as big. The brand will showcase its Fall/Winter 2016 collection, along with its highly anticipated Gigi Hadid-designed TommyxGigi capsule range, throughout two days of festivities at Pier 16. It kicks off with a private fashion show for 2,000 guests on Friday, September 9, at 7 p.m., where the behemoth space will be transformed into Tommy Pier. Among the fair rides and food, there will also be items from the runway immediately available to purchase following the show as part of their "see-now, buy-now" model.
If you're not one of the lucky 2,000 guests on Friday, half of which will be loyal Tommy consumers outside of the fashion industry, the rest of the masses will have their chance to live it up at Tommy Pier on Saturday, September 10. From noon to 8 p.m., the pier will be open to consumers who will be able to shop the new collection, selected vintage products, and a record store inspired by Hilfiger's first hybrid record/clothing store opened in the 1980s called People's Place in Upstate New York. It's also rumored that Gigi Hadid herself will be making an appearance, so perhaps its best to get in line now. 
Mr. Hilfiger is not alone in his pursuit of an unexpected venue. It was also announced today that streetwear designer Heron Preston will be launching a first-time collaboration with The New York City Department of Sanitation. "In an effort to inspire awareness for the 0x30 initiative, New York City's goal to send zero waste to landfills by the year 2030, Heron Preston has worked with DSNY to create a collection of merchandise and workwear essentials utilizing up-cycled clothing and donated DSNY uniforms," stated a release sent by Preston's publicist. The project, aptly entitled "UNIFORM," will continue as an ongoing series, but will take its first bow at the Department of Sanitation's Salt Shed on Spring Street.