PAC spending is still on the rise in New Jersey statewide elections. A new analysis from the state Election Law Enforcement Commission shows that during 2015's sleepy off-year Assembly elections, spending by special interest political action committees jumped to $17.8 million, a 60 percent increase from the year before.
PAC spending overall was much higher in 2013, a year that saw gubernatorial, state Senate and Assembly races.
Democrats gained four seats during last year's Assembly elections, netting a 52-to-28 advantage in the lower house. ELEC's Jeff Brindle attributes those gains in part to the increased role of PAC spending in state elections.
"While only the Assembly was up for reelection last year, special interest groups still upped the ante considerably," he wrote in a statement. "Legislative candidates received the bulk of the contributions. Assuming that was the case last year, it helped Democrats increase their margin by four seats to the largest Democratic majority since 1979."
Brindle noted that incumbents tend to yield the most contributions from PACs, with unions and trade groups leading the charge. Lobbying and donations to federal super PACs, he said, also help special interest groups work around state-level contribution limits.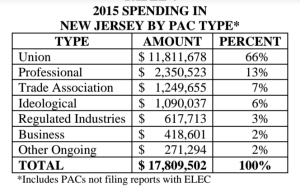 "While PAC spending is a traditional way for special interest groups to flex their political clout, it is one of many potential strategies," he said. "Special interest groups may use one or all of these forms to influence the governmental and electoral processes."
According to ELEC's report the New Jersey Education Association, the state's largest teacher's union, played an outsize role in fundraising: the group spent heavily on lobbying efforts and gave generously both through its official state-level donations and its PAC spending for a nearly $14.9 million total.
Six of the top ten most active special interest groups were unions. Unions were also well represented within Forward NJ, an independent group that lobbies for a long-term fix for the state's entrenched transportation funding woes.
2017 is likely to see PAC, independent and super PAC spending rise back to or above 2013 levels — seats in both houses of the legislature and the governor's office will once again be up for grabs.