Chef Tim Carey and restaurateur Santos Uy are L.A. guys through and through. So when it came to time to create their new Pasadena seafood restaurant, Lost at Sea, which soft-opened for dinner last week, they knew they didn't want to end up with an East Coast-style oyster bar. 
Lost at Sea is, without question, a California seafood restaurant, a place that is about multicultural flavors and seasonal produce. This restaurant is a homecoming of sorts for Carey and Uy, who also run Hollywood Hills bistro Papilles together. The partners were both raised in neighborhoods adjacent to Pasadena. Carey (who went to school in Pasadena) is a white guy who grew up in Arcadia, a mostly Asian area. Uy is a Filipino dude who grew up in  La Cañada, a mostly white area.
Now Carey and Uy are in Old Town Pasadena, slinging Mexican (Carey's wife is Mexican, and he went on childhood fishing trips to Baja with his dad) flavors along with notes of Asian and European cooking, splendid vegetables and the requisite pristine seafood.
Butter-poached lobster rests in a sweet-corn velouté that screams California summer.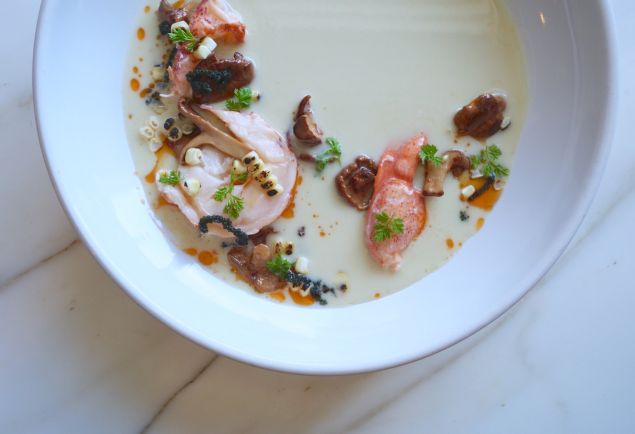 Raw oysters come with a melon-habanero relish. Lost at Sea's amberjack aguachile with tomatillo is an elevated version of something you might find in one of L.A.'s better seafood-taco trucks. Nicely charred octopus gets even smokier with molé. Pristinely cooked snapper with a delightfully crispy skin benefits from a burst of umami provided by shimeji mushrooms.
The panzanella salad with tomatoes alongside the sockeye salmon screams California summer. Butter-poached lobster rests in a sweet-corn velouté that screams California summer even louder while reminding you that Carey (who previously cooked at fine-dining shrine Patina) is a master of classic French technique even while he wears an L.A. Dodgers cap as he walks over from the kitchen to pour the sauce tableside.
Like Santa Monica Yacht Club and Fishing with Dynamite and the Hungry Cat, Lost at Sea is an L.A. seafood restaurant that confidently does its own thing with influences that span the globe. It's the kind of fish place you might expect from boundary-ignoring Uy,  whose restaurant empire includes Filipino rice-bowl specialist Ricebar, a seven-seat downtown establishment that was just named one of Bon Appetit's Best New Restaurants in America for 2016. Uy also runs Mignon, a French wine bar downtown that's home to Cento, an Italian pasta popup.
Now he and Carey have brought new-school cooking, as well as small-production and organic wine (Uy previously worked in a wine shop and as a sommelier) and local craft beer, to Old Town Pasadena. But it all starts in the dirt and in the water. Carey, who lives in Pasadena and grows fruits and vegetables in his own garden, used to work in seafood markets and goes on hardcore fishing trips to decompress. 
Lost at Sea is his fantasy turned reality. L.A., city of dreams indeed.