When a song still hits you the same way year after year, you call it a classic. But when that song has the ability to both make a boomer feel young again and to make a millennial feel musically mature, you call it timeless.
Paul McCartney's songs are both of these things, and therein lies his power to still dazzle.
The former Beatle and Wings frontman packed New Jersey's Metlife Stadium on Sunday night with a near three-hour set of favorites and deep cuts dubbed the "One On One" tour, his tight band delivering faithful versions of the classics that managed to still sound pristine despite coming out of overblown stadium P.A.s. The tour's name seems antithetical to playing for a stadium of 80,000-plus people, but that's the great joke—Macca still has the ability to forge an intimate connection with the audience, a blissed-out mass hallucination tantamount to yogic flying.
A big part of this came through digging up the deepest cuts in his catalogue. McCartney's playing "A Hard Day's Night" on this tour for the first time since the Beatles retired it live in 1965, a year before they stopped playing live altogether. Played as an opener, the tone for the evening was set instantly—and when the three families in front of me reacted with genuine hysteria, the airborne Beatlemania was not limited to the teenage girls. In no other situation will a cool dad surrender his veneer with such enthusiasm.
Those families are important to mention, because they laid out before me the different way that people connect to a performance. The adults, likely weaned on the gateway children's music of "Yellow Submarine", danced and traipsed in the aisles with blissed-out abandon. Their kids, meanwhile, were the iPhone culprits of the evening.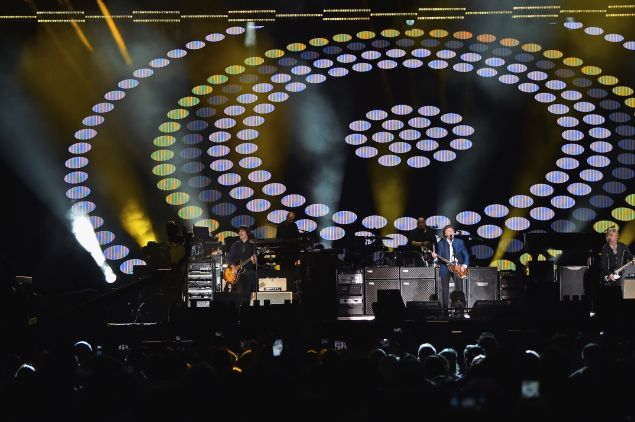 "When we play a Beatles song all your phones light up like the galaxy, and when we play a new song it's a black hole," observed a smiling McCartney, boyish charm still intact at 74. "We don't care! Here's another black hole."
Admittedly, there's some irony lost when the refrain from "Eleanor Rigby" of "all the lonely people" is viewed live through the screen of an iPhone. The massive setlist soon became an endurance test for the younger generation of experience tourists—how many song snippets do you capture for the new Instagram "stories" feature before it comes time to just put the thing away?
And while we're being critical, whose idea was it to position the kiosk promoting McCartney's "Meat Free Mondays" program, his longstanding effort to convert people over to his seitan-worshiping cabal, across from the stand selling bacon on a stick?
Such little things might ruin the authenticity at a smaller show, but McCartney's ability to diffuse any of the seeming cultural disconnect around him reminds the ears that he's still got that shamanistic "cute Beatle" charm intact. His periodic licking of his finger then pretending to extinguish it in the heart of the air echoed Austin Powers in its sheer British coyness, while his short anecdotes proceeding the classics made the stadium feel like story time with your cool grandude who's still more spry than you.
Take "Blackbird", for instance, delivered modestly atop a giant LED-lit platform that rose out of the stage. "How many people here tried to learn 'Blackbird'?" he asked, prompting thousands of raised hands. "And you all got it wrong," he said with a smirk. In that moment, the ostentatious staging actually became subversive, a comment about intimacy that only someone of McCartney's station could deliver.
His reminder that "Blackbird" was inspired by the civil rights movement of the '60s wasn't lost on the crowd, either. It might have been lost on the security needlessly patrolling the floor though, their walkie talkie volume turned up so loud that a static-wrapped, townie drawl often permeated McCartney's sincere, poignant delivery.
"Back in the U.S.S.R.", meanwhile, was prefaced with his memories of playing with The Beatles in Red Square. Proving that love is indeed universal, McCartney shared bits of his conversation with Russia's then-minister of defense, who confided in him that the first record he ever bought was Love Me Do. The official also said that they all learned to speak English from Beatles records—upon their parting, he shook McCartney's hand and said "Hello, Goodbye" with foreboding humor.
McCartney dedicated "Something" to the late, great George Harrison. He's long played the first verse of the song with a ukulele intro, a nod to the instrument Harrison wrote it on, before transitioning into full-blown arrangement.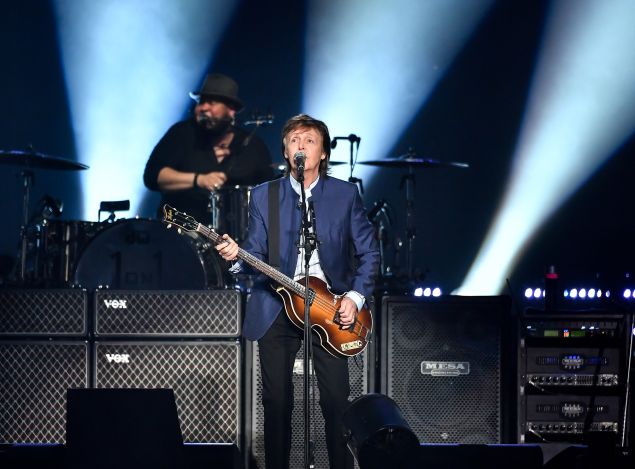 "My Valentine" was dedicated to his wife, Nancy Shevell, who has been at every show on the tour. "She's a Jersey girl," McCartney said to cheers. "Baby, I'm Amazed", meanwhile, was dedicated to his late wife Linda, who was friends with Shevell before losing her battle with breast cancer at the same time Shevell was diagnosed in the late '90s.
An odd moment of poignant subversion came when McCartney busted out his dated synth-pop dalliance from 1980's McCartney II, "Temporary Secretary", complete with processed vocals and a Kraftwerk-esque, electric green typewriter pulsating on the screen behind him. An oddity in his discography, the song's lyrics about a businessman looking for hired help after his secretary stops coming into work comes off as pure corporate chauvinism when taken at face value. Delivered in Jersey though, amidst a sea of older men with younger dates, the song was repurposed into a comment on how so many men treat women as disposable.
Later on in the evening during a rousing "Let it Be", something amazing happened.
The iPhone, previous tool of enslavement and killer of intimacy, was used as a surrogate lighter by thousands in the crowd, recalling Leonard Cohen's comments to the crowd at his historic Isle of Wight performance in 1970. Cohen had been up all night, and his eyes were mysteriously dilated, when he took the stage at 2 a.m. after a fire on the campground delayed festivities (he wound up opening for Jimi Hendrix).
Telling the audience how his father would always take him to the circus as a kid, Cohen remembered a tradition he adored there. "I don't want to impose on you, this isn't like a sing-along," he said, " but there was one moment when a man would stand up and say, 'Would everybody light a match so we can locate one another? And could I ask you each person to light a match, so that I could see where you all are? Could each of you light a match, so that you'll sparkle like fireflies, each at your different heights?' I would love to see those matches flare."
That anecdote crossed my mind on Sunday, because we had located one another—we were all together now.
McCartney closed the evening with the epic song cycle and climax to Abbey Road of "Golden Slumbers", "Carry That Weight" and "The End", perhaps the greatest example of The Beatles' late-period triumph as an "album band"—they were inspired by the "suite-like" tracklistings of The Grateful Dead's Anthem of The Sun and the Airplane's After Bathing at Baxter's, but never wanted to bother with recreating them outside of the studio. These songs were finally first played live 20 years after their release, in 1989, and McCartney's been sticking them on setlists ever since.
As a finale, the sequence hit all the right notes. While Paul Wickens proved his dexterity on the keys throughout the set, it was no better telegraphed than on the maudlin string swells of "Golden Slumbers"; "Carry That Weight" saw Brian Ray and Rusty Anderson trading fiery guitar licks with McCartney that suggested they were planning to set the whole place ablaze (the fireworks suggested this further); and drummer Abe Laboriel, Jr. not only kept the energy up with his insanely studied fills, but hit those falsetto John Lennon vocals with awe-inducing, pitch-perfect precision.
The song cycle perfectly soundtracked the early exit crowd as they made a beeline into the night. "Once there was a way to get back home," McCartney intoned on "Golden Slumbers", one of the most heartbreakingly beautiful Beatles tracks of all time. "Sleep pretty darling, do not cry, And I will sing a lullaby."
That lullaby came soon in "The End", after McCartney asked if we'd be in his dreams that night and delivered us the eternal phrase that launched a thousand Cirque du Soleil performances—"And in the end the love you take is equal to the love you make."
Still profound in its Zen simplicity, no amount of overpriced tour tote bags or bacon on sticks could undermine the wisdom of these words. And so, at least for that evening, New Jersey was all love.
Follow Justin Joffe on Twitter, he's been workin' like a dog.