PJ Harvey landed on Manhattan island for two nights at Terminal 5 this week, part of a short U.S. tour that finds her headed to L.A. for a cluster of gigs later this week before returning to Europe. The pointedly cynical, Washington-set narrative of spring's The Hope Six Demolition Project became twice as poignant when Harvey came onstage in line with her nine-piece band on Monday evening, walking in procession with a couple of bandmates wearing bass drums that illustrated the album's cover, a subverted royal coat of arms where a two-headed dog strangles a goat.
The new songs rattled Terminal 5 despite that bougie venue's tendency to swallow the tone of real, live instruments, elevating Harvey's set into a communal elegy for American progress and a sobering reminder that post-Brexit demagoguery remains alive here at home.
Personifying the woman dressed in black whom she identifies in opening song "Circle of Keys", Harvey held her hands behind her back, miming the gestures she described as we all mourned America's broken circle of progress together. Once Harvey emerged from the band line to sing, the alto sax served as both a communal offering and a noose—offering when she'd step back to stand alongside her nine-piece band, joining the funeral procession, and noose when she'd pull the horn away from her, taut with its strap still wrapped around her neck.
Of all of her multi-instrumental talents, the blunt skronk of that sax best transmits the pain of America's unfulfilled urban promises Harvey documents on Hope Six. And when she casts it aside to revisit her classic statement of gender reclamation ("50 Ft. Queenie") or her eerie tale of infanticide ("Down By The Water") with her hands thrown up to the sky in old-world surrender, a new narrative emerged.
Her visit to D.C.'s Anacostia River on Hope Six suddenly suddenly sounded even sadder, and the new songs gain an added esteem of fitting perfectly into her righteous oeuvre. Take "To Bring You My Love", the chugging slow-burner where Harvey fictionalizes the places she's travelled to find salvation. Through all of its densely orchestrated swells , lead guitarist Mick Harvey (no relation) looked elated as he led the band to flesh the song out with the same sonic fullness he once helped craft as a member of The Birthday Party and The Bad Seeds, both the projects of P.J. Harvey's ex, Nick Cave, before leaving The Bad Seeds in 2009.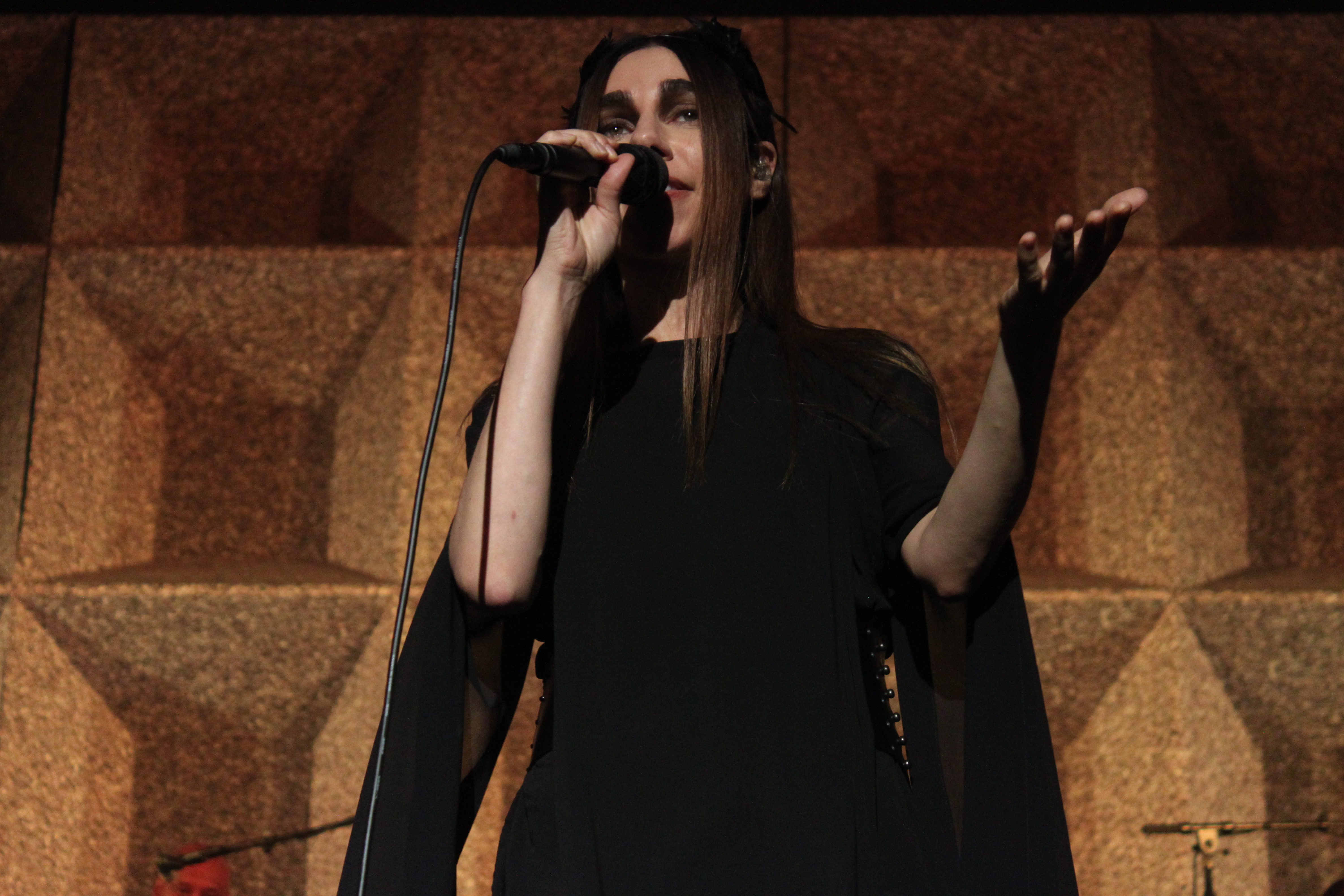 Placed in her set between "Down By the Water" and "River Anacostia", "To Bring You My Love" fits Harvey's fits Hope Six's narrative as a  hyperbolic travelogue that finds our narrator searching for Jesus near-death. It paves the way for "Anacostia", too, when the savior is finally found waiting patiently beneath a D.C. overpass, only to find the river's polluted. "Walking on the water, flowing with the poisons, from the naval yards, he's talking to the fallen reeds," sang Harvey in her Ann Demeulemeester outfit, complete with a feathered cap likely designed for delivering eulogies. When she soon rejoined her band, their chants  of "God's gonna trouble the water" faded out with the warlike beats of the bass drums they wore, and the main set ended.
It's been well documented that these Hope Six songs, written after Harvey travelled around Afghanistan and Kosovo with photographer Seamus Murphy before coming to the states and touring D.C. with Washington Post reporter Paul Schwartzmann, ring with the observations of a journalist's eyes. And it's not far off to say that Harvey is reporting, as the act of documenting the newsworthy things that we see often turns into an act of bearing witness.
"We decided that Washington, D.C., felt like the right place to go to tie up the ends," Harvey told BBC's Andrew Marr earlier this year. "A lot of the decisions were made there that affected Afghanistan, affected Kosovo, but it was also a nice place to go back. And I, as a writer, was just trying to almost look at the similarities I could find rather than the differences."
[youtube https://www.youtube.com/watch?v=r5HXypr-uZ0&w=560&h=315]
She saw the differences early on in "The Community of Hope", the lead track on the album that describes the Hope VI program that led thousands of D.C. residents to be displaced from their homes when 96,200 public housing units were leveled to build 107,800 new units that the majority of low-income homeowners couldn't afford.
When that song was first released, former D.C. Mayor Vince Gray called Harvey the "Piers Morgan of music," evoking the often-confrontational troll of a journalist who wasn't beyond saying something unprofessional or uncouth about his colleagues in the interest of drudging up attention for himself. But Harvey's aims here are laudable, the sounds of a formerly inwardly-focused songwriter using her prestige to look outward and become a muckraker.
"Hope" may sound overly voyeuristic and accusatory on record, but delivered inside the cavernous West Side enclave of Terminal 5, just across the street from high-end car dealerships, it sounds like reluctant truth. "They're gonna put a Walmart here," she repeatedly declared over the feigned jubilation her band singing along with the confessional urgency of worship music. It's enough to exorcise the ghost of Robert Moses and send them back to hell.
You could reason that Harvey's wanderlust first emerged on 2000's Stories From the City, Stories From the Sea, which she largely wrote in New York. We didn't get any of Stories Monday night, but the album is nonetheless essential listening toward understanding the current album's arc.
The Stories track "A Place Called Home" finds Harvey her singing, "One day I know, we'll find a place of hope" as she walks and wades, and it's hard not to feel that her discovery of such a place 16 years later disappoints with the same futile irony that led her to imagine Jesus walking atop a polluted DC River. That's the same broken circle that Harvey's singing about on Hope Six's "Circle of Keys", really.
Through this sense of thematic continuity, the new songs are given life from the astute outward observations Harvey had been talking about wanting to write for years but finally accomplished on 2011's Let England Shake, which won her a second Mercury Prize. The three England songs that surfaced in Monday's set also furthered her narrative cohesion, introduced into the evening the parallels of an eerie pre-Brexit prophecy.
"Let England Shake" opened the proceedings by declaring "The West's asleep" as a comment on the pre-WW1 overconfidence in prosperity that soon evaporated. Harvey immediately tied that story back into our Hope Six narrative with England's "The Glorious Land" that asked, "Oh America, Oh England…how is our glorious country sown? Not with wheat and corn…"
Returning next to Hope Six's "Medicinals", Harvey answered her own question as she watches a woman wearing a backwards Redskins cap get drunk on the National Mall, "a new painkiller for the native people."
Cheers to her for continuing to investigate the patterns of our government's tacit role in the despair of our working class. . She understands that the "War on Poverty" is really a war on the poor, and it's the same fiery sense of purpose that prompted her to read John Donne's 1624 poem, "No Man Is an Island" mid-set at Glastonbury last June in response to Brexit.
We'll take the classic brooding confessionals when she feels like sharing them, but for now, her piercing observations and muckraking spirit are sorely needed. May she spend more time in the States still, and never stop bearing witness.