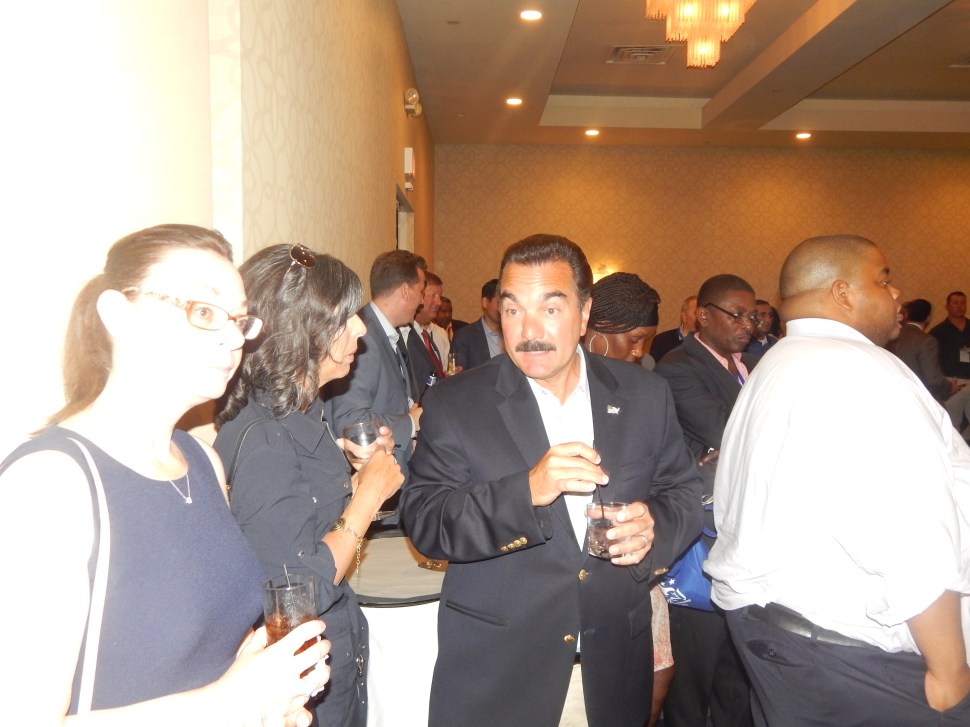 It's Friday, the end of another memorable week in New Jersey politics, as the state senate president feuds with unions as his Democratic opponents in the upcoming gubernatorial race attempt to make hay. On the Republican side, we take a look at how the 2017 state race might play out for them and at some in the state GOP trying to help save Donald Trump's presidential run. And we take a look at some politically charged emails that provide a glimpse of how news is made in the Garden State.
Quote of the Day: ""The same results have happened each time trying to save the worker's pensions. I get the crap kicked out of me, and that's OK. I think I've proven myself over the years. I care about pensions. I want the workers to get their pensions," – Senate President Steve Sweeney, on the latest dust-up about the proposed state pension amendment.
Six Things That Might Shape a 2017 Republican Guv Primary in NJ
With the potential 2017 Democratic gubernatorial primary sucking up most of New Jersey's attention, PolitickerNJ decided to explore the Republican side of the race and see which issues might come to define the GOP primary next year.
Alyana Alfaro, PolitickerNJ Read more
Sweeney Responds to Union Critics on TTF Debacle
New Jersey's State Senate President is weighing an override of Governor Chris Christie in a bid to resolve a political stalemate that has jeopardized his support from public unions. Steve Sweeney (D-3) said at a State House press conference Thursday that he will decide before the end of the week whether to post a bill that would fund the state's ailing Transportation Trust Fund with a gas tax hike.
JT Aregood, PolitickerNJ Read more
Private Email Reveals Moran at Odds with Comella and Drewniak
With Wikileaks having somehow obtained 20,000 DNC emails, the political class has dissected how the Democrats talk to one another when they think no one's listening. There's even a New Jersey angle, as PolitickerNJ revealed when the emails showed Loretta Weinberg being coached by the DNC on how best to go after Chris Christie while disguising the committee's involvement.
Kevin B. Sanders, PolitickerNJ Read more
The 800 LB Tepper Gorilla in Sweeney's Room: Decision Has a 2017 Gleam, After All
The New Jersey political world this afternoon reeled in the aftermath of Senate President Steve Sweeney's (D-3) twin barreled take down of a pair of public sector unions yesterday, some spinning their favorite version of what it means: namely that George Norcross III finally turned the lights out on his fellow South Jerseyan's 2017 gubernatorial campaign.
But most sources dismissed such analysis as infantile wishful thinking at best.
PolitickerNJ Editor, PolitickerNJ Read more
Guv Candidate Phil Murphy Weighs in on Pensions
Former Ambassador to Germany Phil Murphy took to Twitter Thursday morning to share his thoughts on the pension amendment that has put Senate President Steve Sweeney at odds with the New Jersey Education Association (NJEA) and the Fraternal Order of Police (FOP).
Alyana Alfaro, PolitickerNJ Read more
Former Lance Staffer Joins Trump Campaign
The former campaign manager for U.S. Representative Leonard Lance of New Jersey's seventh congressional district is joining the Pennsylvania arm of Republican presidential nominee Donald Trump's campaign. Political operative Bill Killion will serve as the Southeast Pennsylvania Regional Field Director.
JT Aregood, PolitickerNJ Read more
Doherty: Trump Campaign Needs to Focus on Hillary Clinton and Corruption
Former Army Captain Senator Mike Doherty (R-23) is irritated by those foxhole-scrunched members of his own New Jersey Republican Party, many of whom have stayed underground while Doherty prowls no man's land with a George S. Patton riding crop, trying to flail them into supporting Donald Trump for president.
Max Pizarro, PolitickerNJ Read more
Democratic Newcomer Criticizes LoBiondo on Closing of Trump Taj Mahal
A Democratic challenger to U.S. Representative Frank LoBiondo of New Jersey's second congressional district is doubling down on his attacks against the longtime incumbent in wake of news that the Trump Taj Mahal casino will close its doors after Labor Day. Cole has taken aim at LoBiondo for accepting campaign donations from Republican presidential nominee and former Taj Mahal owner Donald Trump early and often [links] in his bid for the seat.
JT Aregood, PolitickerNJ Read more
Gottheimer Continues Fundraising Push in North Jersey
A successful fundraising event benefiting the campaign of New Jersey Congressional District 5 candidate Josh Gottheimer was held at the Cornerstone Restaurant in Hillsdale on Wednesday night.
Alyana Alfaro, PolitickerNJ Read more
Wisniewski on Christie's claim of collusion between NJ, national Dems: 'utter nonsense'
A Democratic lawmaker says two reviews of his emails show no proof exists to support Governor Christie's charge that the Democratic National Committee coordinated with legislators in their investigation into the George Washington Bridge lane closures.
Dustin Racioppi, The Record Read more
Sweeney: N.J. pension ballot question all but dead this year
A ballot question to mandate more funding for New Jersey's troubled pension system – costing an estimated $25 billion over five years – is all but dead this year, Senate President Stephen Sweeney said Thursday.
Salvador Rizzo, The Record Read more
Where's Christie? In Washington for Trump again, sources say
Gov. Chris Christie will spend Thursday in Washington working on transition planning and conducting meetings for Republican presidential nominee Donald Trump, sources familiar with the Trump campaign told NJ Advance Media.
Claude Brodesser-Akner, NJ.com Read more
Did Trump Campaign Hurt Taj Mahal Business?
Running for president is bad for business if you're Donald Trump.
Foot traffic in Trump-branded hotels, casinos and golf courses in the U.S. has declined since he announced his White House run in June 2015, according to a new report from Foursquare . As the election has worn on, it has gotten worse: traffic year-over-year has been down by at least 14% every month since March.
Emily Stewart, Philly.com Read more
A swipe from Christie's ex-right hand
When Maria Comella served by Governor Christie's side, she was the most powerful person in his office.
Charles Stile, The Record Read more
Extortion or politics? A detailed look at Sweeney's claim vs. unions' pension threats
On Wednesday, Senate President Stephen Sweeney called union threats to withhold campaign contributions unless the Senate passes pension legislation a "clear cut" case of extortion.
Susan K. Livio, NJ.com Read more
Norcross' Cooper Hospital scores court victory in battle over EMS services
Cooper University Hospital scored a significant victory Thursday after the state's appellate division released a decision that overturns a lower court's ruling on the the trauma center's takeover of paramedic services in Camden City.
Michelle Caffrey, NJ.com Read more
Scott Garrett can really lose this thing
A poll conducted for the Democratic Congressional Campaign Committee and obtained by The Auditor has challenger Josh Gottheimer within two percentage points of incumbent Republican Rep. Scott Garrett.
Myles Ma, NJ.com Read more
Construction workers feeling effects of Christie's order to halt road projects
Paul Diniz walked onto the VIP used-car lot on Route 22 in Somerset County, looked at the Honda Civics sitting in a line, and shrugged. He had hoped to send his daughter off to college next month in something nicer, maybe a cute Volkswagen Jetta with low miles and leather seats.
Christopher Maag, The Record Read more
Paterson's August tax bills remain in limbo as state reviews tax levy
The city on Thursday did not get the state approval it needs to begin issuing its August property tax bills.
Joe Malinconico, The Record Read more