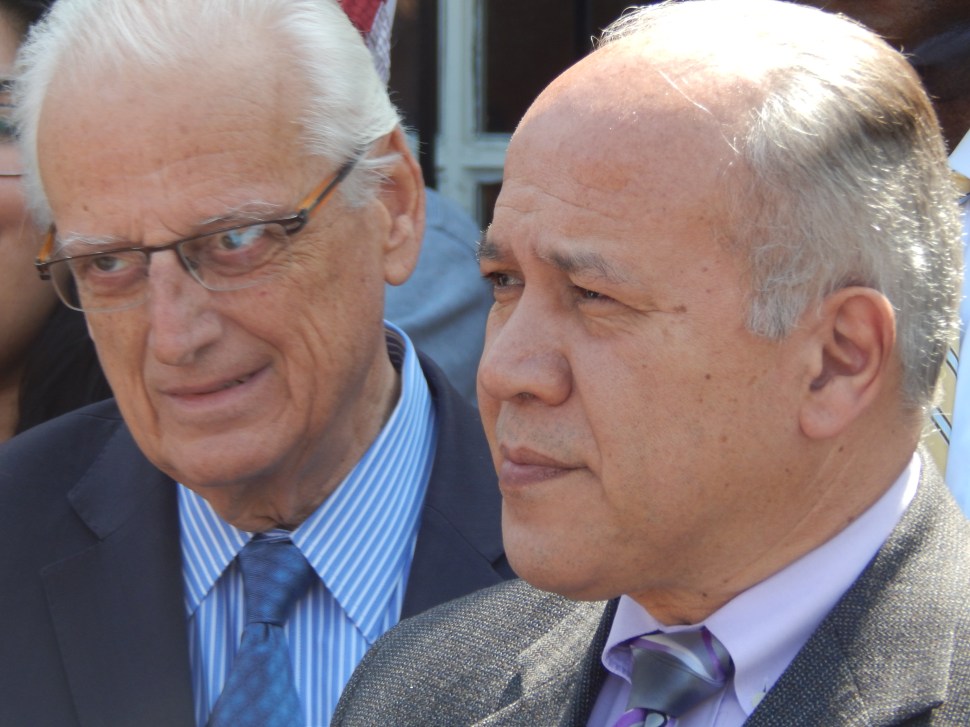 It's Monday, and time to take a look at how Assemblyman John Wisniewski's support of Bernie Sanders' presidential run might help or hurt his chances should he decide to run for governor of New Jersey. Meanwhile, in Burlington County, candidates for sheriff are trading barbs, while Somerset County Democrats are hoping their sheriff candidate brings them a change of luck. For all this and more of the state's political news, read on.
Will Bernie's Base Back a Wisniewski Gubernatorial Run in NJ?
Assemblyman John Wisniewski is one of the many Democrats considering entering New Jersey's 2017 gubernatorial race. But if one thing sets Wisniewski apart from his competitors it is that he was the only elected official in the state of New Jersey to publicly back the presidential run of Vermont Senator Bernie Sanders. Wisniewski even served as the state director for the Sanders campaign through the Democratic National Convention (DNC) last month.
Alyana Alfaro, PolitickerNJ Read more
Campaigns Trade Pension Pot-Shots in Burlington Sheriff's Race
Collecting retirement income on the job is a much-lamented commonplace among county officials in New Jersey, and the practice is causing a stir in one South Jersey Republican stronghold.
JT Aregood, PolitickerNJ Read more
Somerset Dems Hang Their Countywide Hopes on Franklin Sheriff Hopeful
Over 25 years have passed since Somerset County Democrats last gained a seat in county government. But Democrats in that county are hoping for coattails during this year's presidential election, when Hillary Clinton goes up against Donald Trump. Down the ballot, the Democratic organization is pinning its hopes to Darrin Russo, a 30-year veteran of the Franklin Township police who is running for sheriff.
JT Aregood, PolitickerNJ Read more
N.J. election watchdog agency kept on sidelines
The watchdog agency that regulates political campaigns and lobbyists in New Jersey has lost some of its bite this year, as vacancies on its board of commissioners have kept it from holding meetings and punishing offenders.
Salvador Rizzo, The Record Read more
Xanadu Two? Malls are dying all over America but tax dollars will go to American Dream
Two events occurred last week that demonstrated the uncanny sense of timing New Jersey officials have when it comes to economic development.
Paul Mulshine, The Star Ledger Read more
What they want to keep out of the Bridgegate trial
When she is tried on charges she conspired to create "traffic problems" at the George Washington Bridge to punish a mayor, Bridget Kelly doesn't want jurors to hear she had texted earlier about causing "traffic problems" for a New Jersey rabbi.
Maddie Hanna, Inquirer Read more
N.J. could be in big trouble if another recession hit
A new study cast doubts on whether New Jersey can withstand another economic downturn.
Samantha Marcus, NJ.com Read more
Opinion: As roads crumble, Christie treats his job like a sporting diversion
During that quixotic tour of windbaggery known as his presidential campaign, Chris Christie told a roomful of fiction lovers that the job of a governor "is to get people in the room and to bang enough heads together and rub enough arms and cajole enough to have them put the state's greater interest ahead of their own personal partisan interests. That's what we did in New Jersey, and that's the model for America."
Star-Ledger Editorial Board Read more
Will claim Christie 'flat out lied' about Bridgegate hurt his Trump cabinet chances?
Will the latest Bridgegate disclosure hurt Gov. Chris Christie's chances at a cabinet slot if Donald Trump wins the White House?
Claude Brodesser-Akner, NJ.com Read more
School funding: Will Christie plan hurt NJ?
Gov. Chris Christie has been touting his controversial new school-funding proposal as a "Fairness Formula," a mechanism for treating every New Jersey public school student exactly the same. What is clearer to education policymakers: His plan would set the Garden State apart from much of the nation. Some contend it would put New Jersey in reverse.
Amanda Oglesby, Asbury Park Press Read more
9 people who Chris Christie won't hire for Trump
Gov. Chris Christie is chairman of Republican presidential nominee Donald Trump's transition team, should Trump win the November election, meaning he would oversee a massive personnel operation to vet 4,000 potential Trump federal political appointees.
Bob Jordan, Asbury Park Press Read more