I remember the days when you didn't call a girl for three days after you got her number, back when you had to actually dial, because lots of people didn't have mobiles. It was important, it was thought, not to seem anxious. Now, in the age of texting, the rules have shifted: it's inconsiderate not to send out that first message as soon as you score the digits. I'll leave it to the anthropologists to explain how and why this changed, but the point is that technology metastasizes the etiquette of communication.
Such rules give the beating heart to Natalie Margolin's short play, The Power of Punctuation (directed by Casey Griffin), which had its New York debut last month at Midtown's Davenport Theater. "It's about female friendships and really experiencing tight knit groups," Natalie Margolin, its playwright and one of its stars, told the Observer in an interview after the Friday show.
In the play, three young women sharing an apartment follow very careful rules about how and when to text a boy back once a short-message-system drama has begun. Powering the show, a new company called Soft Focus that wants to bring startup thinking to deliver more shows to new audiences, faster and cheaper.
The play is punctuated by about five texts that come in over the course of the show, with a little whistling sound. "We took a long time finding the right text sound," Margolin said. When a text comes in, everything else stops and the ladies fly into action as one.
Margolin's characters, Fran, Jenny (who Margolin plays) and Angie, have a system for analyzing the quality of a text, which they run by committee. That evaluation determines the setting for the shared timer that lets the girl know when she can be allowed to text back. They also track the quality of different suitors' 160 character essays on a board in their apartment. That said, "they" don't really do it. Jenny insists on being the only one to lead analyses and set the clock, a fascist bent that seems to hint at an insecurity she feels toward her two best friends.
"It's a girl in a time of chaos," Margolin said of the play. "The system is a way she can feel in control of what's going on and in control of all her interactions." That intensity has been underscored by a set and lighting dominated by pinks of various hues. "I wanted this idea of a heightened world," Margolin said.
The play caused me to think back on different groups of friends I've known over the years. Some of the strongest had their own rules about one aspect of romance or another. It's en vogue these days to dismiss any such rules out of hand, but to do so misses the real point: Whether or not rules guide paramours to success in love, they bind circles more closely by giving members a shared language.
All of the cast and much of the crew are reprising their roles in the original production of the show from when it first went up at Kenyon College, where they all went to school.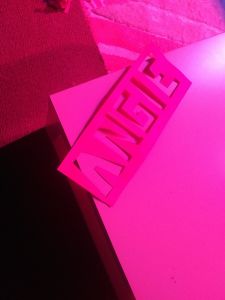 It's still an evolving piece, however. "We changed the end the night before opening," Margolin confessed. Just some lines, not how it actually wraps up, but it's not a fixed product yet.
"We sort of think of ourselves as a new play incubator," Soft Focus co-founder and New York theater veteran Matt Kagen told the Observer in an interview. The company "is really inspired by VC seed funding. The digital investor model. It has an entrepreneurial faith in a new idea."
Of course, venture funding comes with a stake in the work it pays for. "In terms of the exact relationship with the artist, we're still figuring that out," Kagen said.
Margolin committed to serving as Soft Focus's first production in March. Kagen emphasized the company's focus on doing shows fast and cheap, so the ticket prices can stay low and new audiences will find it affordable to go see the work of fresh talent.
This is the last week of The Power of Punctuation's four week run.