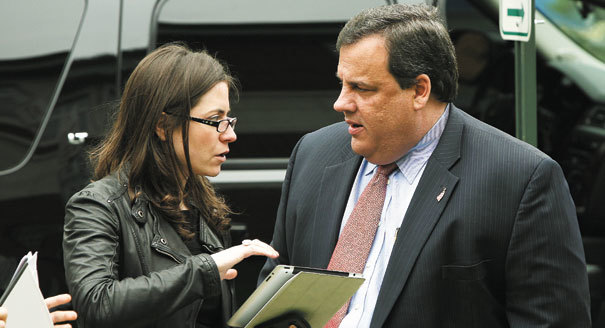 With Wikileaks having somehow obtained 20,000 DNC emails, the political class has dissected how the Democrats talk to one another when they think no one's listening. There's even a New Jersey angle, as PolitickerNJ revealed when the emails showed Loretta Weinberg being coached by the DNC on how best to go after Chris Christie while disguising the committee's involvement.
Now, PolitickerNJ has obtained Republican emails that reveal even more of the behind-the-scenes political process. The chain that PolitickerNJ obtained involves an internal discussion among Gov. Chris Christie's communications team and its decision to ostracize "uniformly leftist" Star-Ledger columnist and intellectual north star, Tom Moran.
Some background is required.
On Tuesday, CNN broke the story that Maria Comella, longtime communications aide to Chris Christie, had made the decision to support Hillary Clinton. The network devoted more than 1200 words to this important revelation, cementing the idea that Republicans who decline to support their nominee are 'brave' and 'principled.' It's a narrative that the media has found irresistible, and here in New Jersey, the trope was reliably picked up by the Star Ledger's Tom Moran, who cheered Comella's rebellion. "Every time someone like Comella goes public, it gets a little easier for others to bolt from Team Trump." (Disclosure: I briefly worked with Comella when I was a low-level operative on Rudy Giuliani's 2008 campaign for president.) Moran's column called Comella a "super smart woman" and a "decent sort who is hard to dislike."
Those are kind words. But things weren't always so cozy between the avuncular columnist and the woman who until a couple months ago was one of Christie's most loyal deputies.
When Jim Comey was nominated to become the head of the FBI in late May 2013, Gov. Christie repeated a story he had told many times. When Comey was Deputy Attorney General, he came to see Chris Christie, who was the US Attorney for New Jersey. Comey mentioned that he was on his way to sit for an editorial board at the New York Times and Christie asked him, "Are you nuts? You're John Ashcroft's right hand man, they'll murder you." The punchline is that Comey supposedly told Christie, "Chris, I look at this completely differently. I'm going to the New York Times editorial board because it's harder to hate up close."
It's a killer line that the governor has repeated often to explain his policy of speaking to the press and holding town halls. That conversation must have originally taken place sometime in the early 00's (Ashcroft served as AG only until 2005). Christie started telling it again when Comey was nominated.
On Thursday, May 30, 2013, Moran wrote to Christie spokesman Michael Drewniak, "So when us he coming in?" He meant is not us but the point was to poke Christie for having avoided editorial board meetings with the Ledger and particularly interviews with Moran.
Drewniak wrote back, "That would be up to the U.S. Senate in its 'advice and consent' role." He even added a smiley face emoticon. Drewniak was joking – he clearly knew that Moran meant "When is Christie coming in for an interview?" but answered as though he had been asked "When is Comey coming in to serve as head of the FBI?"
Moran wasn't having it. He accused Drewniak of being intentionally obtuse: "This is quite thick, my friend. The hypocrisy is weighty." And then he made the reason for his pique more clear – he's not getting the access he believes he and his important publication deserve: "why has he refused an Ed board with the state's largest paper for three years? And will he be coming in before the election? And, same question for sit down [interview] with me? On record why dies [sic] he refuse each?"
Drewniak asks for clarification and Moran repeats himself: "[Christie] is praising comey for going to times edit board, but refuses to come himself to ledger."
At this point, Drewniak smacks Moran, but does so privately. He forwards the chain to Maria Comella, cc'ing Lauren Fritts and Colin Reed. Fritts is a loyal Comella deputy, who like her mentor also chose not to return to Christie world after the governor's failed presidential bid. Reed was a key Romney guy who showed up in Christie's communications office before returning to Romney's den to help explore a Mitt bid in '16.
Drewniak wrote, "My God! The self-absorption is stunning. Get ready for an angry Moran attack."
Maria Comella replied "Ha, the very fact this is moran's response is exactly why we don't sit down with him."
Drewniak finishes the thread, observing, "I mean, sitting down with Tom and the rest of that uniformly leftist crew would be a release of three-years of pent-up disrespectful anger and resentment the likes of which we'd receive not even at the NY Times."
Moran has a strange history with Christie and crew. The Ledger watched much of its kingmaker cred evaporate in 2009 when it strangely endorsed third-party candidate Chris Daggett. Then in 2013, the paper endorsed Chris Christie for re-election "despite the deep reservations" which included this relevant fact: "He has refused to speak with The Star-Ledger editorial board for four years." But then in an extraordinary unendorsement just five months later, Moran wrote that his own editorial board's choice was "regrettable," citing in particular the abuse he'd taken from Rachel Maddow and people in coffeeshops in Montclair.
As with the Loretta Weinberg emails, there's nothing untoward about this email chain, which was obtained yesterday by PolitickerNJ. It's merely a window into the inner workings of the governor's usually airtight press shop. But it's also a funny look at how quickly the naturally antagonistic relationship between journalist and politicos turned into an approving hug. All it took was a little anti-Trump. That seems to work wonders with journalists.
Disclosure: Donald Trump is the father-in-law of Jared Kushner, the publisher of PolitickerNJ and Observer Media.