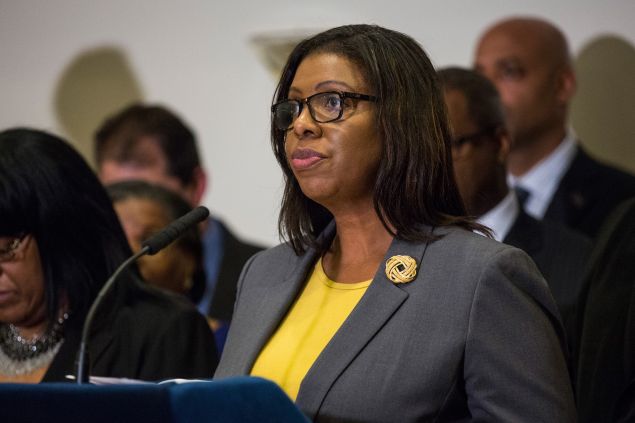 In a historical effort to close the wage gap between men and women in New York City, public advocate Letitia James unveiled legislation on Wednesday that bars employers from asking about applicants' salaries before offering them a job.
In a city where women earn $5.8 billion less in wages than men each year, the public advocate argues the bill would cut out the possibility of wage discrimination based on what an applicant earned at her last job.
"This is as outrageous as it is immoral," James said. "The systematic wage gap will allow this discrimination to unfortunately perpetuate and compound. So there's a common sense answer—don't ask."
The bill would prohibit employers from asking employees about prior pay and benefits at all stages of the hiring process. The bill comes one week after Massachusetts became the first state to ban employers from asking applicants about their salary history and require hiring managers to give a compensation figure upfront. The law passed unanimously in Massachusetts and is being pushed as a model for states like California and Maryland, where similar bills are under consideration.
"Although I love Massachusetts, I do not want to play second to Massachusetts," James said at a press conference. "New York City has never been a city to sit on the sidelines, especially in a fight for civil and human rights, and for our common prosperity."
Nationally, women are paid 79 cents for every dollar a man earns nationally and are paid less in nearly every occupation. Even when they have similar educations and backgrounds as their male counterparts, women start off their careers earning less, a gap that persists over the course of their careers.
A report released by James in April found that in New York City, college-educated women earn 16 percent less than men, and women employed by the city government experience a wage gap three times larger than those working in private sectors. With Latina and black women earning 46 cents and 55 cents for every dollar a man makes respectively, the wage gap between women of color and white men in New York City is significantly worse than the national average.
New York State Legislature has already passed equal pay laws that banned salary secrecy, strengthened prohibitions on paying men and women differently statewide and increased penalties for breaking the rules. The state was also the fourth in the country to enact a paid family leave program, which helps increase women's wages.
James will introduce the legislation at next week's City Council meeting.