Tonight is the Real Housewife of New York City reunion, and fans couldn't be more excited. The clothing these women choose to wear tonight should represent how their individual fashion sense has evolved over the year. Let's be honest: none of these women are remotely fashion-forward. They are the women who will never get photographed by street style photographers during fashion week. But, for the sake of fashion, I am willing to wade through all this style muck and polish up the gems.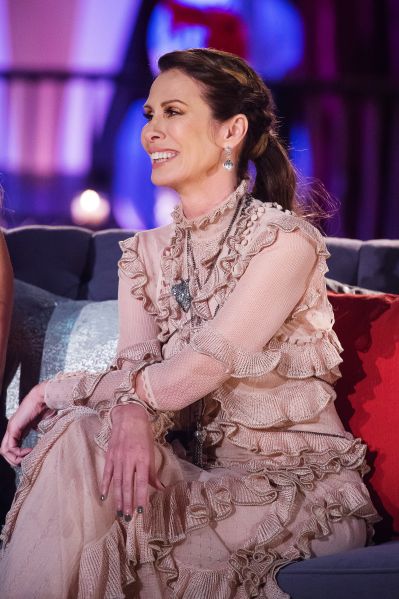 Carole: This ain't your grandma's bedspread – this is your Victorian-era great-great grandma's bedspread. Sure, it's got a kind of Edwardian charm; you can easily imagine said great-great grandma rocking this to play a savage game of croquet, twirling her parasol seductively to attract potential suitors. But in this modern-era of crop-tops and booty-shorts, this dress has as much sex appeal as a tepid glass of fluoride-laced water. Especially when you're forced to sit next to a bustier-clad, I-wanna-be- sexy-cat like Ramona.
In the last few episodes, Carole began experimenting with '70s-era boheme, what with her lacy Alessandra Rich frocks. And the reunion is no exception. This is, ironically, the most fashion-forward we've seen her, as if she finally grew up from the leather fringe of teenage angst-ridden rock and roll, and walked right into granny-town, via Alexander McQueen. And, embarrassingly enough, I kind of, sort of, love it.
The hair doesn't help. It's a rather severe look, softened by a half-crown braid that is looped into a ponytail. It kind of makes her off-beat dress seem almost cartoonish, like she was making some sort of meta statement on the reality of reality television by dressing up as Anne of Green Gables. And her long, heavy 1920s-chic neck chains just seem to drag the whole dress down. Her nude ruffled heels definitely do not help. But her makeup is kind of perfect for Cool Cat Carole: relaxed, easy going, and simple.
Dress: D+
Hair and makeup: B+
Shoes: C-
Jewelry: C
Overall Look: C
Bethenny: Bethenny's style game has been on point all season. From the cropped hair (allegedly copied from Lu) to her use of the sharpest, sleekest jumpsuits in Bravo TV history, Bethenny has never looked better. Therefore, I'm deeply disappointed that she chose to wear, like nearly everyone else, a gown.
In any case, although the minimalist vibe of her v-neck gown is a good look on her (as is the party-in-the-back chiffon cascading down her back), it's a bit too virginal for a person known for her saucy mouth. Her hair, with its mussed and tousled side-part, works well with the simplicity of the gown. Makeup is ok, although her over-tweezed brows are a bit too reminiscent of Christina Aguilera in the early aughts.
Her jewelry is a bit much. Sure, it's simple, but overly abundant. Her arm party paired with the multi-level necklaces, plus earrings, just makes me want to rip off something, anything. And her shoe-game is equally disappointing, with strappy silver heels that are only minimally less tacky than Sonja's.
Dress: B
Hair and makeup: A
Shoes: C
Jewelry: C
Overall Look: B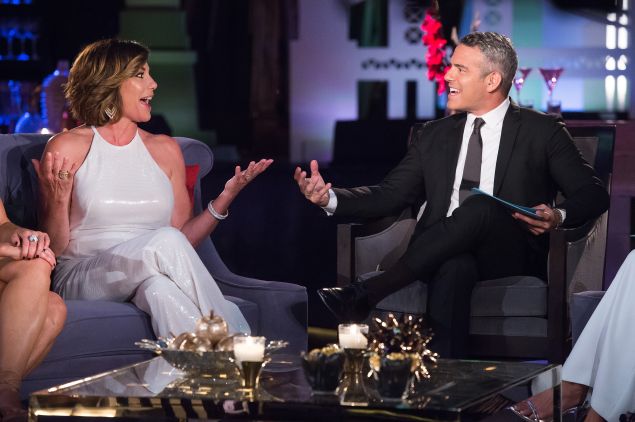 Luann: Luann has always looked the same, like she's been stuck in a season one time-warp of gaudy, gilded 1980s Euro-trash looks – all padded shoulders and big belts. And this reunion is no different. Luann's abomination of a jumpsuit looks cheap, probably because it's from her very cheap and very un-Countess-like HSN collection that she uses nearly every opportunity to promote. It has no lining (compare it to Bethenny's properly lined white dress) and has the subtle shimmer of cut-rate, plasticized pailettes. The jumpsuit is beyond unflattering to her figure, emphasizing every lump and bulge. Is she even wearing shapewear? Lu has a great body, and this jumpsuit is doing her no favors.
Unlike Bethenny's supposedly stolen 'do, Luann's hair is curled and hairsprayed within an inch of it's life, and that side-swept, face-framing shaggy bob hasn't been in style since the 90s (incidentally, that's when Lu first cut her hair that way).
To match her sparkly jumpsuit are strappy heels with sparkly, see-through panels. They aren't terrible, but definitely not great. Noticeably missing is a variation of her trademark, hub-cap necklace, and the minimal jewelry is the lone light of beauty in a dark sea of garbage.
Dress: F
Hair and makeup: B-
Shoes: C
Jewelry: B
Overall Look: C-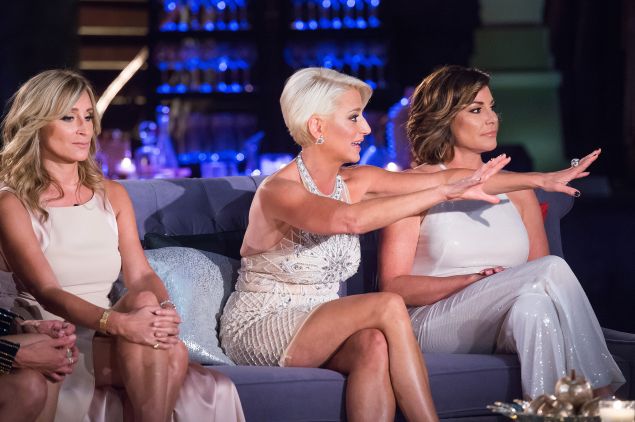 Dorinda: Dorinda's dress looks like a fairy threw-up bedazzled stardust all over a polyester sheath. This is what your really-dowdy-but-thinks-she's-hot-shit mother-in-law would choose to wear to your wedding. I believe the intent was to emphasize Dorinda's Old-Money, socialite side. But it just makes her look like a Long Island middle class mom, who favors too-tight, too-short dresses and is obsessed with the word, "bling." Plus, her nude lace-up heeled sandals, while pretty (but basic), do not match her dress, at all.
Her hair, though, makes it all ok. It's sleek and perfect, with a frosty blonde hue that any Madison Avenue Blonde would covet. Her makeup is subtle – a simple pink lip and smoky eye. And her jewels are sparse enough to allow her to barely squeak by getting hit with a fashion felony charge.
Dress: D+
Hair and makeup: A-
Shoes: C
Jewelry: B
Overall Look: C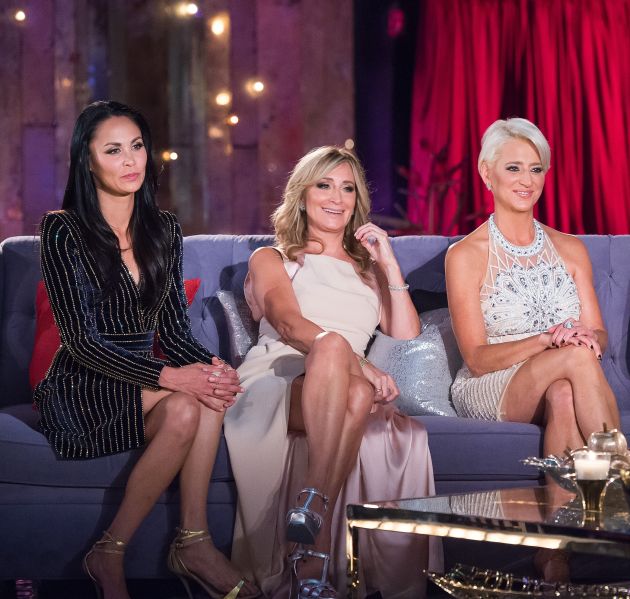 Sonja: Sure, Sonja's sobriety is a great look on her, turning her into one of the best characters of the season. But some things don't change, namely her style, which, like Luann, has pretty much remained the same since her first appearance on this show. Here, her hair is ok, but boring and tired. Her makeup is subtle and refined. And her dress may be simple (read: boring), but it looks expensive, evidenced by the way the silk's sheen luxuriously dapples across her body. But the sexpot Sonja is never far away, and her thigh-high slit says, "I'm an expensive one-night-stand." The tacky silver heeled-sandals are a bit of a disappointment, but not a surprising choice for someone who would win, "Most Likely to Be a Vegas Showgirl."
Dress: C+
Hair and makeup: B
Shoes: D+
Jewelry: B
Overall Look: C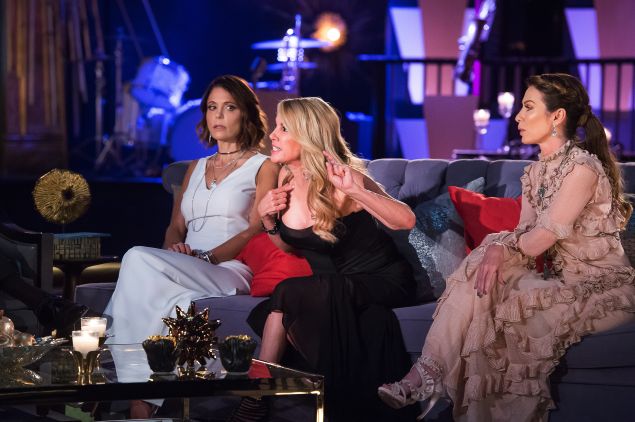 Ramona: Single Ramona is the best kind of Ramona. And Ramona's corset-waisted black gown is the clothing equivalent to a middle age crisis. It's sexy, it's got her boobs out on full-blast, and it's so tight I wonder if she can breathe (and yell at her intended targets). The asymmetrical swaths of black chiffon are redolent of a "Sexy Witch" costume on Halloween. All that's missing is the conical hat. Luckily for her, Ramona doesn't need the pointy headpiece to prove where she's coming from supernaturally, we all know. Her hair and makeup is trying to be modern, subtle and, overall, relaxed but the hair-sprayed mermaid curls are so over that they are almost getting up and walking off the set. Her "True Faith" jewelry doesn't quite meld with the look, but at least they are kept to a minimum. And her strappy, cage heels work well here.
Dress: D+
Hair and makeup: C+
Shoes: B-
Jewelry: C+
Overall Look: C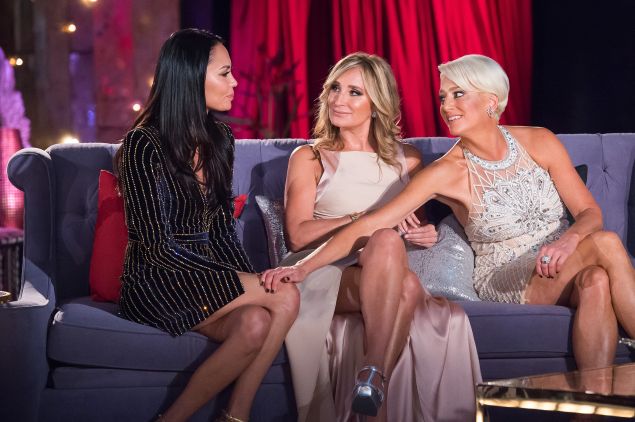 Jules: After a very public and very embarrassing divorce, Jules looks fantastic. She seems to have put on weight, she chopped off her Morticia Adams hair, and her skin is glowing. This season, Jules had some knock-out fashion moments, but it was overshadowed by her poor attempts at being a housewife in jeans and a ratty t-shirt. But her reunion look is so sexy, so fashion-forward, I will happily chalk up her previous lack of style to an unhappy marriage.
Her velvet v-neck, mini black dress, embroidered in striped gold sequins, looks like it could have been worn by some Pretty Young Thing or a Kardashian. It oozes sex appeal – declaring to the world, "I am back on the market bitches!" Her gold strappy sandals feel safe, maybe even boring, but they go well with her dress so I can't hate it too much (although I would have LOVED to have seen this dress with some lace-up, over-the-knee gladiator pumps.)
Dress: A+
Hair and makeup: A
Shoes: B-
Jewelry: B
Overall Look: A-
After tallying up the, ok, my votes, the winner is… Jules. Who, incidentally, also won Best Hair and Makeup and Best Dress. As for Best Shoes and Best Jewelry, no one won because they were all pretty terrible.
The Real Housewives of New York City reunion will air tonight at 9:00 pm on Bravo.