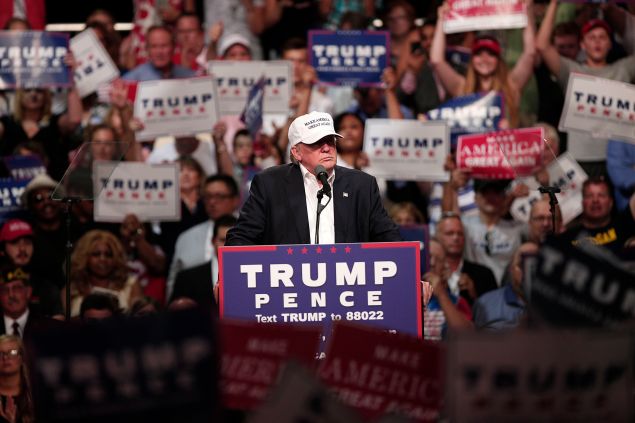 We're less than 3 months away from the 2016 election, and Democratic nominee Hillary Clinton is starting to pull away from GOP nominee Donald Trump in the polls. Down-ballot candidates have been worried about Trump since he first started winning primaries, but may be more worried as we approach the general election.
The senate map was always going to be difficult for Republicans in 2016. Republicans are defending 24 seats while Democrats are only defending 10. The Cook Political Report puts all but two of the Democratic seats in the "solid" category, meaning there is no chance the candidate will lose. One seat is categorized as "likely," which is the next highest ranking, and another—belonging to Senate Minority Leader Harry Reid—is in the "toss-up" category.
For Republicans, the map is a little different. Eleven incumbent Republicans are in the "solid" category, while three are in the "likely" category. Two—former presidential candidate John McCain and Sen. Roy Blunt—are in the "lean Republican" category, and eight are in the "toss up" category. Democrats need to pick up four seats to split the Senate (with the final vote going to Vice President Joe Biden) or five to take back control. They seem poised to do so.
Republicans were always prepared for this. They've squandered some senate races in the past, but the map just wasn't favorable this time around. What they weren't really worried about, however, was losing the House of Representatives. They currently control 247 seats—the most they've had since 1928. That means they have 59 more seats than Democrats, who control 188.
The last time a presidential race contained a wave for the House was in 2008. This occurred because of the popularity and historical nature of Barack Obama. Despite Hillary Clinton being the first female nominated by a major political party, even if she wins in November, it won't be the same. Clinton is the second-most disliked candidate to have run for president in the past three decades at least—behind only Trump, her opponent. If Clinton wins the presidency this year, it won't be because she's loved like Obama was in 2008. It will be because voters disliked Trump more.
Clinton could very well win the election without a majority of the vote, as third-party candidates may take away either major-party candidate's ability to get more than 50 percent. But if Trump loses by a huge amount—say, double digits—it could drag down other Republicans on the ballot.
The Washington Post's Chris Cillizza doesn't think Republicans losing the House is a "likely" outcome this year, he suggests Republicans should be thinking about the possibility. He refers to tweets from Republican pollster Robert Blizzard, who suggest GOP candidates rarely run ahead of or behind the top of the ticket, which could spell trouble if Trump receives a low percentage of the vote in certain congressional districts.
"Republicans have to rely on the fact that so many of the congressional line redraws created districts where people are Republicans and are going to vote Republican—even if Trump is leading the ticket," Cillizza wrote. "But if you trust Blizzard's calculations—and I do—it suggests that if the bottom drops out on Trump, which appears to be happening as I type, there are a good number of Republican-held House districts that could suddenly collapse with him."
Democrats need to pick up 30 seats to flip the House. They aren't going to do this in a wave election led by Clinton's popularity. But if an unpopular Trump drags down down-ballot Republicans, the House could still flip. Republicans should be wary of this, even if it is unlikely.
Disclosure: Donald Trump is the father-in-law of Jared Kushner, the publisher of Observer Media.