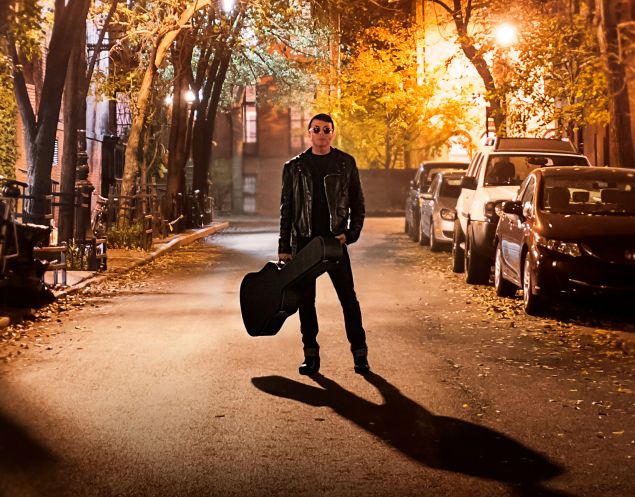 Buddy Holly, already a complicated character who affected both nerdy horn-rim glasses and a hipster's perfect pompadour, was on the verge of compounding his complex rock and roll persona, by hanging out at jazz clubs. His Bronx-born cumpari, Dion DiMucci, uncrowned King of the Greasers, was growing his hair out and starting to write introspective songs on an acoustic guitar. These two cats were hanging out with, or brushing past, composer David Amram, Folk Queen Carolyn Hester, writer Jack Kerouac and other unbridled bohemians on the streets of Greenwich Village. And this was before that brilliant weirdo, Bobby Dylan, hit town. Soon, what we think of as the First Golden Age of the Singer-Songwriter, was exploding.
If musician Richard Barone has anything to say about it, he'll bring this belle epoch back to life on his new record.
Covering lovely little oddities by Holly, a folky gem by Phil Ochs and a cultish classic by Lou Reed, Barone will soon drop Sorrows and Promises: Greenwich Village In The 1960s, a haunting aural excursion through that neighborhood's most exquisite songs. All of them sung with a love so palpable, his disc will defrost your cool and probably make you weep as well.
"I'd been thinking about doing something chronicling the fortunes of the singer-songwriter movement for a while," says the gentle, light-voiced Barone, best known as leader of power pop band, The Bongos. "I live in that neighborhood. And the minute I got my apartment, I said, 'God, this is where John Sebastian and all these great people used to live. The shadows from that era still really hung over this part of the Village [Waverly Place], for me."
The genesis of the disc was relatively straightforward.
[youtube https://www.youtube.com/watch?v=2OlTIz0c0kM&w=560&h=315]
"I was performing at The City Winery two summers ago, doing a show with [Patti Smith guitarist] Lenny Kaye in celebration of his album Nuggets. That's a 1972 compilation where Lenny gathered up great garage rock songs that were the foundation of punk. Anyway, when I came offstage, Mitchell Cohen, writer and renowned A&R man, came over and said, 'I have a project for you.' Little did I know!"
The fabled Cohen appeared at Barone's apartment the next day with a "map" for this yet-unmade folk album.
At first Barone was skeptical. He was sure the legendary "suit" wanted a "various artists record" that Barone would merely be producing. But then Cohen gave him a list of songs from the heyday of the Village Folk scene. It particularly intrigued Barone because these were not the big, overplayed hits of the '60s. Artists like Paul Simon and Janis Ian were chosen, but not their blockbusters. After rumination and careful choices, Barone picked a handful of unheralded tunes from the old days and began to record them himself.
"My whole mission and purpose for this album was to ask, 'Why don't we accept these songs as part of the Great American Songbook?' You know, like we do with the music the Brill Building songwriters were composing, not to mention earlier writers like Berlin and Porter."
Mission accomplished.
With the assistance of producer Steve Addabbo, Barone has recorded a clutch of '60s songs, perhaps not radio-ready, but gems whose eerily gorgeous glow promises to shine on for years—long after the cheap diamoniques of today have turned to dust. We're talking Eric Andersen's "Close The Door Lightly," Phil Ochs' "When I'm Gone," Richard and Mimi Farina's "Pack Up Your Sorrows" and Tim Hardin's "Don't Make Promises." The last two titles, combined, helping to forge the name of the album.
"Why," Barone asks, "does it always have to be about George Gershwin and Harry Warren?"
Without turning these folkish tunes into waxworks, Barone did take a somewhat scholarly approach before recording. And during.
"Often, the night before I was going to cut something, I'd spend as much time as I possibly could researching the song and reading about it. I even had my laptop in the studio, to keep that investigation going. Especially when it came to previous cover versions. I wanted to hear other peoples' approaches to these songs. People forget now, but back in the day, many of these tunes were extremely popular and done by lots of other artists. We found, like, 50 cover versions of Hardin's 'Don't Make Promises.' I mean, Gary Puckett and The Union Gap did one!"
Barone also makes a point to say that songs were cut quickly, in three-hour sessions. The way they used to do things before technology made Jennifer Lopez possible.
This remarkable musician often lectures on this fascinating tale that we all know as music history. And often, what he has to impart is troubling, when considering the evolution of this art form.
"One of the things I remarked on during our last panel discussion at The Public Library, was, when people from the city [like John Phillips and John Sebastian] started migrating to California, that's when songwriting began to nosedive. With these people no longer composing in New York, it changed the authenticity of their tunes and interrupted the continuum of the writing that went on here. We layer things in New York. And when Dylan and so many others split, it really interrupted this layering process, perhaps for good. There were soon fewer great Village-born songs after that."
[youtube https://www.youtube.com/watch?v=1-3pmPVbp48&w=560&h=315]
Barone goes on to tell me that, right before he was killed, Buddy Holly was writing "simpler tunes with lots of spaces in them for solos, which meant he was very influenced by the jazz he heard down at the Village Vanguard."
He talks about how much fun it was to cut his friend Lou Reed's angelically-anguished tune "Sunday Morning" with Maria Muldaur's talented daughter, Jenni. About what a gas it was to have John Sebastian blow blues harp on his jug band chugger, "Did You Ever Have To Make Up Your Mind?" He mentions that other guest stars include Nellie McKay, Allison Moorer and drummer Dennis Diken, and the legendary Dion, who was also drawn to the Village after his teen hits.
Barone also notes that his beloved band, The Bongos, will be playing some gigs this fall and have an album in the vaults that may just be released soon, too. When it comes to dealing with the amphetamine-like enthusiasm of the clean-living Barone, there's always too much for him to tell and not enough time to listen. Still, he closes the conversation about his upcoming project on a poignant, poetic note.
"I walk these streets in The Village every day," he says, reflectively. "And I think, 'Everything here was part of this music, including the architecture. Even the brick streets. Because these were the streets that were laid by the immigrants who came here by ship. That is why the authenticity is here. That's why it all seems so real and beautiful.' "
I ponder this and wonder for a second if the thoughtful Barone is talking about the songs he's just finished recording, Greenwich Village itself, or our beloved New York City in general. After several days of reflection, I realize they are all pretty much one and the same. Our streets, our buildings, our 1960s music, have something strong in common. They were, all of them, unquestionably built to last.
Pre-order Sorrows and Promises here.