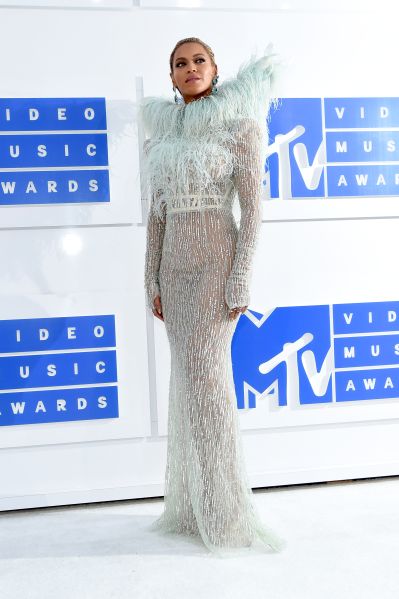 When Rihanna accepted her CFDA Fashion Icon award back in 2014 she included a line in her speech that will likely go down in history of important moments, at least for the star. "Even as a child I remember thinking, 'She can beat me but she cannot beat my outfit,'" she recounted. "And to this day that's how I think about it: I can compensate for all of my weaknesses with my fashion!" Fewer nights backed up that statement more than the 2016 VMAs.
But Rihanna wasn't the only artist pulling labels on Sunday night. While Rih Rih was scooping her Michael Jackson Video Vanguard award, Beyonce was on hand to take home a whopping eight prizes, making her the most awarded artist in VMA history; she has 24 total awards as a solo act, 26 when her Destiny's Child wins are included in that tally. Instead of four performances spanning the entire night, the Queen put on one extended spectacle that condensed her entire Lemonade visual to fit the Madison Square Garden stage.
Here, we etch out the five biggest style moments of the night, from the night's two biggest stars. Both of them are probably offering thanks to their respective fashion directors, Marni Senofante and Mel Ottenberg, this morning.
Rihanna's Bubblegum Pink Hood By Air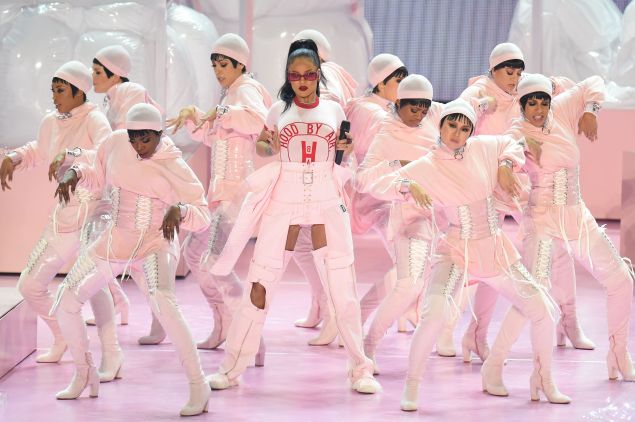 To kick it off, the Bajan princess pulled a bit of a "Crush on You" in a custom Hood By Air creation complete with Comme Des Garçons shoes, Cutler and Gross shades, and jewelry by Jacob & Co. That look found Rih performing to classics like "Don't Stop the Music," "We Found Love," and "Where Have You Been."
Rihanna's Dark Vetements Onesie, Fox Stole and Boot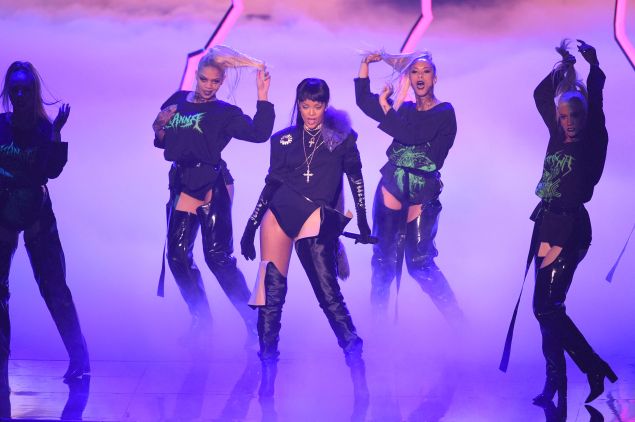 Though her vocals may have stumbled, Rihanna's third performance of the night came complete with a strong shouldered Vetements onesie replete with brooches and an actual fox hanging from her body. It was what you might call a look. Pair that with a severe bang, hip high Manolo Blahnik for Vetements boots and a ton of diamonds and you might get distracted from the task at hand as well. The look ended up taking her through tracks like "Needed Me," "Pour it Up," and "Bitch Better Have My Money."
Beyonce's Fendi Fur and Custom Francesco Scognamiglio
First thing's first: we can not explain to you how Beyonce managed to keep her Fendi fur on her shoulders. We are sorry that we've failed you in this way, but we really don't know how it defied gravity and refused to budge as she raved and hopped her away around Madison Square Garden. Regardless, didn't she look darn good while doing it? And yes, there was a black lace and crystalized bodysuit by Italian designer Francesco Scognamiglio because what is a Beyonce performance without a dancer-inspired leotard?
Beyonce's Gold Lace Ellie Saab Caped Pantsuit
To scoop up her Best Female Video award, the Houston native executed a quick change into a haute couture jumpsuit and matching cape of gold. While we can neither confirm nor deny that it was made from actual gold, the chandelier jewel earrings she paired it with certainly were. It was definitely a moment.
Rihanna's Final Alexander Vauthier Belted Gown
For her last set and actual Michael Jackson Vanguard Award acceptance Rihanna went for volume. As she cycled through her short list of ballads like "Diamonds," "Stay" and "Love on the Brain," she made the ultimate visual in the belted silk gown. Hitting every note, she made clear that while she'll always be the fashion icon we know, it's still going to take a hell of a lot of talent to beat her as a musician as well.