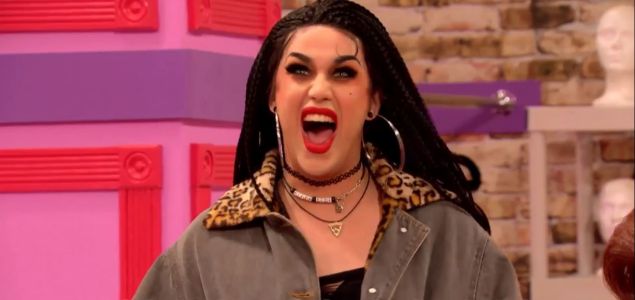 It's easy to believe that it's been four years since the first Drag Race All Stars, because it feels like an eternity. There have been so many huge personalities since the previous season that there were no shortage of queens to choose from. While every fan had their own personal favorites that they hoped got cast, this year's girls are rock solid without a loser (i.e., Pandora) in the bunch.
First up is my fellow countrywoman Katya. (Fun fact: Her Russian is actually spot on in terms of accent, but she isn't actually fluent.) It's hard to fathom how anyone could dislike her. Her looks are well put together, her dancing skills are superb, and she always seems to be having a good time. There are few queens whose laughter is so infectious.
Next up is Detox, who had been predicted to be a strong contender to win season five but (by her own admission) stiffed during the actual competition. Two of Detox's performances are among the best drag things ever: her lip sync of Whitney Houston's "I Look to You" and her version of the theme to the movie Mannequin. Detox always seemed to have a bit of a chip on her shoulder (well earned!) but this year she seems to be having more fun.
Third we have everyone's favorite, the quintessential drag clown Alyssa Edwards. Last season Tammie Brown said her very presence makes people smile, but really it's Alyssa who is the incarnation of a good time. As soon as she steps in both Katya and Detox start cracking up, and you can't blame them. ("Please, no teams! I f*** up alone by myself!") Everything out of Alyssa's mouth is Drag English, which is sort of like Pig Latin except you stretch out the words and add syllables for no reason. (If you want to get her tulip suit from the confessionals, it's here and it is, shall we say, "inexpensive".)
Next we had Phi Phi O'Hara doing a bit of Riddler cosplay, and then Ginger Minj in some sort of Alexis Colby Dynasty shoulderpad cape get up. Ginger gets to deliver the line they wouldn't let her enter with on season seven: "Come on, let's…get this over with." Ginger might be the most underappreciated queen in Drag Race history. She is genuinely hilarious, with great understated delivery, as well as being quick to drop catchphrases and an amazing singer and actress. The glamour toad's looks have usually been more glamour than toad to boot.
Roxxxy Andrews comes in serving pure fish, followed by Coco Montrese with a custom Doritos compact. Then comes Alaska spinning a hypnotic umbrella, clearly the odds on favorite to take the crown this year. Finally we get season two's Tatianna ("she just wants to be a pretty girl!") and season six runner-up Adore Delano.
Here's one of the many reasons why Drag Race is the best reality competition series ever. For many other shows, the "villains" own their role. The fifteen minutes that they get from whatever dumb series they're on is how they choose to define and present themselves. Yes, we get it: you didn't come here to make friends!
Drag Race is different. These are entertainers and they are innovators, creatives by and large. Both Phi Phi and Roxxxy were villains their seasons—and both have publicly and consistently expressed guilt and remorse for their actions. These aren't crocodile tears either. Many fans have gone out of their way to report back just how sweet both of them are in person. They both say they are here to make a new impression with the audience.
Now that we've gotten to see the queens we love, the show goes straight into the best mini-challenge: reading. It's never been done with the entire cast before, and what's on the cutting room floor is surely going to be worth watching. The claws are out and after watching it three times the reads still bring the GLOLs. (Katya going after Roxxxy for being abandoned by her mother at a bus stop!) There's also clearly an overdub at one point, when Tatianna says Alaska's song "Anus" is what hers does after "eating Mexican." Alaska is named the winner, though from the clips it isn't all that clear why.
Sadly the min-challenge heavily overshadows the main challenge this week, a talent show. Telling a bunch of talented people who themselves excelled against other talented people seems like asking Top Chef contestants to cook a good meal. That's not a challenge; it's barely an effort. These shows work when the competitors are given forced constraints and have to persevere anyway. How much better would it have been if the queens picked talents for one another? (A: Very!). We don't even see RuPaul going over everyone's choices and playing mindgames with them.
As such, it's really kind of anticlimactic to watch. Half the cast are great singers, and some are terrific dancers. Coco is the only one who really isn't good, doing some sort of weird old-Hollywood dance number that's almost more performance art. The winners are Roxxxy and Tatianna—and in a twist they will be the ones lip syncing, and one of them will be picking who goes home from the bottom queens.
The cast are clearly all huge fans of one another. It's understandable, given their choice of creativity. Men in dresses lip syncing to songs in small clubs? WTF? So it's wonderful to see that when RuPaul announces the queens will be eliminating one another, everyone's immediate impulse is to find a mechanism to make it fair and objective (as opposed to forming little alliances to knock people off.) Both Tatianna and Roxxxy decide that they will simply eliminate who they genuinely think did the worst that week, which is as good of a metric as any.
The great thing about this lip sync twist is that neither queen has the possibility of being sent home. Instead of an air of terror and desperation, they get to be performers putting on a great show—which is what they're best at anyway. In what might be the fishiest lip sync ever, both Roxxxy and Tatianna really seem to be into it and kill the number. Roxxxy's win gives her $10,000 and the unfortunate position of being forced to choose Coco to send home.