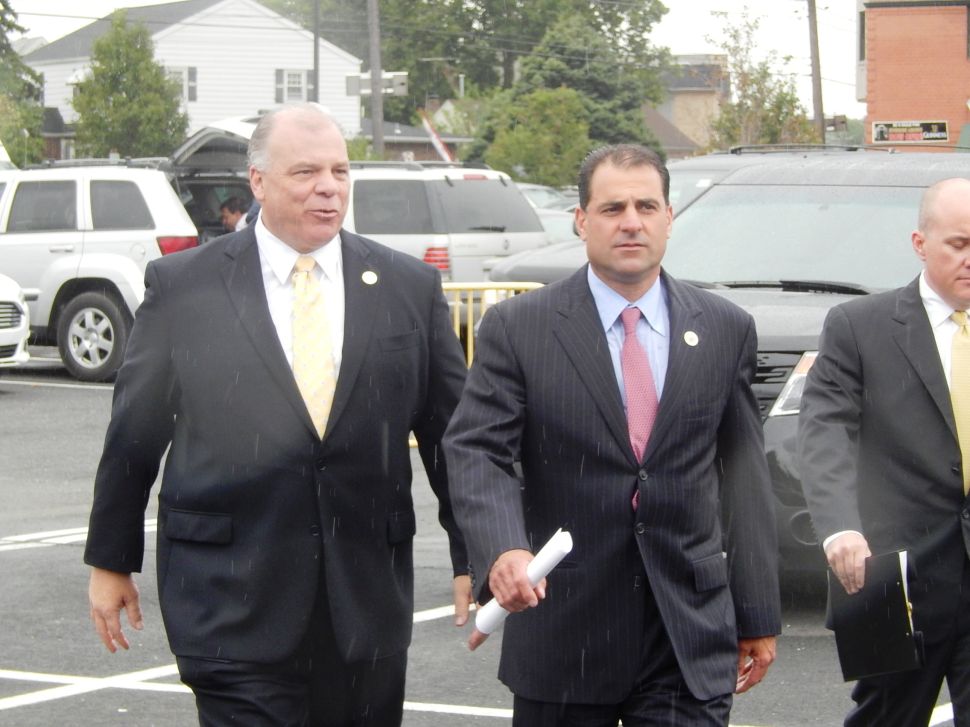 In 2007, two senators in a hurry from separate regions of the state collided in the backrooms of the Gold Dome in a political sumo grappling contest with far-reaching implications.
They were Steve Sweeney and Paul Sarlo, a pair of scrappy blue collar Reagan Democrats with real ambitions of getting ahead in the chamber of state power. They had similar brands.  They were both the kinds of guys you might find in a sports bar working the racks on the next round of pool with a baseball game on in the background. They were miniature New Jersey versions of Joe Biden: ethnic Catholic middle class dudes, the one a suspenders-wearing ironworker from South Jersey and the other a baseball cap-sporting licensed professional roads and bridges engineer from up North.
Both paced restlessly across the squeaky floors of the Statehouse, intent on chiseling their faces notches above the spaces they occupied on the Trenton totem pole. Back then, both men wanted to be senate majority leader with an eye to using the position to succeed then-Senate President Dick Codey (D-Essex).
Taking their run at the dangling talisman after the 2007 general election, Sarlo had the support of Codey and the considerable watchful presence back in his home county of Bergen of then-Chairman Joe Ferriero. Gloucesterman Sweeney waded into his caucus with powerful South Jersey Democratic Leader George Norcross covering his back.
If the North stuck together, Sarlo would win, but Codey had lost an ace in the hole player when his ally, state senator Ellen Karcher, failed in her reelection bid to Republican challenger Jen Beck. He had also watched another ally, Senator Sharpe James (D-Newark), fall beneath the buzzsaw of then U.S. Attorney Chris Christie, replaced by Senator M. Teresa Ruiz (D-Newark), the political ward of Codey rival Essex County Executive Joe DiVincenzo, a fierce Norcross loyalist.
On the day of the leadership vote in the Democratic caucus, the South won, when powerful Senator Ray Lesniak of Union opted for Sweeney over Sarlo.
It was the beginning of the end for Codey.
Two years later, after the senate prez lost another ally in Senator Joe Coniglio (D-Bergen), his empire further softened by Christie's amped U.S. Attorney's Office, an opportunistic Sweeney would take out Codey and spend the next six plus years as senate prez.
Initially stung by the loss but sensing the circus pulling up and rearranging stakes, Sarlo grabbed the trapeze tossed his way by Sweeney and Norcross and helped to deliver the coup de grace against the former governor, who had presided over senate sessions with a bobble head doll of himself on top of the rostrum.
Sarlo gobbled up a chairmanship (judiciary) in the aftermath, and positioned himself as a key ally of the new senate president, vying with Ruiz as Sweeney's go-to North Jersey senator.
There was a bond there, strengthened by the fact that Norcross did the insurance work for Sarlo's employer, Sanzari Construction.
Now, years later, Sweeney's at the precipice of running for governor and apparently ready to hand the reins of the senate buckboard to his most worthy successor.
Having dutifully fulfilled his role with tenures at judiciary and (mostly) budget, and earned respect in the caucus as a diligent and detail-oriented chair, Sarlo believes his time has finally come to ascend to that position he nursed hope for so long ago, surpassing the senate majority chair and going straight for the senate presidency. Of all the people in the mix, including state Senator Joe Vitale of Middlesex (a Codey ally to the bitter end), and the independent-minded Senator Nicke Scutari (D-Union), Sarlo has the best relationship with Norcross.
But it's complicated.
The Senator's standing with Norcross and Sweeney as a North Jersey lifeline blazed brighter in those days after Ferriero's plummet for grace, in that period of wilderness roaming by Bergen Democrats that included a humiliating, Christie-bullied stint as chairman by Ferriero ally Michael Kasparian.
When former Lyndhurst Mayor Lou Stellato took over the party organization in 2011, Democrats' countywide fortunes began changing, their political deprivation in the post-Ferriero years finally spectacularly purged in 2014 when (without Norcross' help) Paramus Mayor Jim Tedesco won the Bergen County executive position with the full support and political operations of Stellato.
If one looked at the height of Christie popularity for a narrative shaped by those Democrats not beholden to the ascendant Republican, he would start with Stellato, who – amid some laughter and derision by so-called "Christiecrats" – steadily chipped away at GOP gains made during Christie's watch until he took over the county and buried at last the toxic stench of the Ferriero era and those two subsequent toothless years for Dems.
Both South Bergen warlords with their own fiefdoms and egos, Stellato and Sarlo were never chums to begin with, but the chairman's pride in having won without Norcrass now drives his desire to put North Jersey on its rightful throne of power, without having to first run every decision up the Norcross flagpole. Incidentally, Stellato is a close friend of fellow funeral business icon Codey, the same guy who was run out of the senate presidency by Norcross, Sweeney and company – with Sarlo's assistance.
As recently as today, a source told Observer PolitickerNJ that Stellato (a retired sergeant in the Air Force) leans toward the 2017 gubernatorial candidacy of Jersey City Mayor Steven Fulop, a Marine Corps veteran. He's not inclined to back Sweeney, which candidly doesn't bode well for Sarlo's shot at the senate presidency.
The senator's best chance appears to be convincing Stellato to give the Bergen line to Sweeney in exchange for the caucus votes to make Sarlo senate prez, a boon for Bergen. But despite the Wood-Ridge lawmakers entreaties, Stellato appears no closer to championing the South Jersey ironworker, in part because he doesn't want the entanglements of a South jersey umbilical cord. Stellato, moreover, has a close relationship with Assemblyman Gary Schaer (D-Passaic), Sarlo's slate mate, who appears better positioned to reap the benefits of lower house leadership ascendency in a Fulop universe (sources say Schaer looks like the play for Assembly speaker).
Norcross, of course, might have something to say about that, and – as things stands in the caucuses right now – can block Schaer if it gets to that point.
It's not that Sweeney and Norcross don't appreciate Sarlo.
But they have other allies in other counties. They've got to move. If longtime Norcross loyalist DiVincenzo can furnish the party line for Sweeney in Essex and deliver what Sarlo can't convince neighboring Stellato to deliver, state Senator M. Teresa Ruiz (D-Newark) stands a strong chance of succeeding a victorious Sweeney.
Now, Sarlo could, of course, run off the line, as it appears Codey will as long as he sticks with former Goldman Sachs boss Phil Murphy in a Democratic Primary, and assuming Murphy fails to get the line in Essex. But would Sarlo risk it all for the gamble of Norcross and Sweeney reaching past Ruiz to install him in the chair of his dreams?
It looks unlikely, and the reality seems cruel punishment for an ally as dedicated as Sarlo, who did what so many in politics don't do after eating a loss, which is to back the man who beats them. But back then Sarlo couldn't have foreseen Stellato's rise to power in his own backyard, a rise undergirded by the Lyndhurster's particularly bullish sense of pride in not wanting to facilitate North Jersey subservience to South Jersey, a view that prompted Stellato to form the quad Northern County alliance as a counterweight to a cemented south.
Depending on how much he can pull for Sweeney in a diminished capacity if Stellato dominates at next year's county convention, Sarlo could – at the very least – try to make a case for that senate majority seat Sweeney outdueled him on all those years ago.
Or he could plead his case to Joe D – in the event that Ruiz doesn't finally see herself as senate prez, what with her devotion to a young family and her prioritization of education, not political gamesmanship – that South Bergen is, in fact, really a part of Essex when you look at a New Jersey map. Nutley was in Sarlo's district for years, so it's not as though the guy from across the river has to be introduced for the first time. he has strong fundraising reach. If South and North Jersey could come together after that bloody backroom scrap nine years ago, Sarlo might argue, couldn't Essex and scrappy South Bergen do far worse than simply reassert close-proximity, South Jersey-friendly northern neighborliness?
It's a heavy lift.
DiVincenzo contributed to tossing Codey – an Essex guy; and endorsed Republican Christie's reelection. Bench-pressing the largely unexciting Sweeney as the candidate for governor based on Norcross ties might prove too demanding for DiVincenzo, who faces his own reelection bid in 2018. Additionally, his decision to put up Bergenite Sarlo as the payoff for Essex backing Sweeney might simply strain and at last drain him of all political credulity, but if Stellato can package Passaic's Schaer as a Bergen boon, DiVincenzo and Sarlo may also be able to more easily rationalize their own creative cross-county play in the name of keeping the establishment intact.