"I should not have said yes to this," I thought to myself, at the exact moment a group of well-dressed and perfectly coiffed 20-somethings formed a dance circle in front of a massive glowing Pepsi logo, like a group of devoted followers worshiping at the church of all things cold and carbonated. "This is my nightmare," I thought. "I should not have said yes to this." Bass thumped. Someone in the dance circle held up a skateboard, for reasons I still don't quite understand.
I should probably back up.
A large portion of my time as an entertainment journalist is spent saying No to event pitches from publicists: emails bearing the subject lines "INVITE" or "RSVP!" or my favorite—like a Tinder message sent at 2 a.m.—"SEEKING COVERAGE." More often than not, these missives find their way into the trash folder. But seeing as how the summer is (traditionally, at least) a dead zone for pop culture, I decided to use this time as an experiment: For a week, I'd say yes to any events sent my way, no matter how strange, inconvenient, or, frighteningly, taking place in Bushwick.
Why? Well, we so often take for granted the fact that at any given moment of every single day in this strange jungle of a city something exciting, exhilarating or just really, really weird is happening. We miss it, even us whose job it solely is not to miss it, among the noise and static. If I was able to soak up even a single week, I'm bound to come up with some grand cosmic meaning to it all or…at least some good copy. Right?
Chapter One: The Guru That You Do
The Monday sky over Brooklyn was deep purple going on black and the crowd gathered in the backyard industrial lot known as the Bushwick Generator was enraptured. A blonde woman next to me wiped away tears. Tony Robbins, self-help guru extraordinaire, is 20 feet tall.
O.K., Tony Robbins is not actually 20 feet tall, although the guy is huge (roughly 6-foot-7, give or take, depending on how hard he's trying to motivate you). But his visage, while projected onto an inflatable screen in front of us, is that of an actual giant. I'm at a showing of Netflix (NFLX)'s documentary, Tony Robbins: I Am Not Your Guru, hosted by Rooftop Films. And if you think I'm sitting among bored Brooklynites looking for a night out, you don't know the crowds drawn by Tony Robbins.
The film itself, directed by Joe Berlinger (Metallica: Some Kind of Monster) is an unprecedented look inside Robbins' notoriously reclusive self-help seminar "Date with Destiny." It's basically every first-day-of-work ice-breaker you've ever played, except it costs $5,000, lasts six days and is guided by the 6-foot-plus personification of a fully-charged car battery.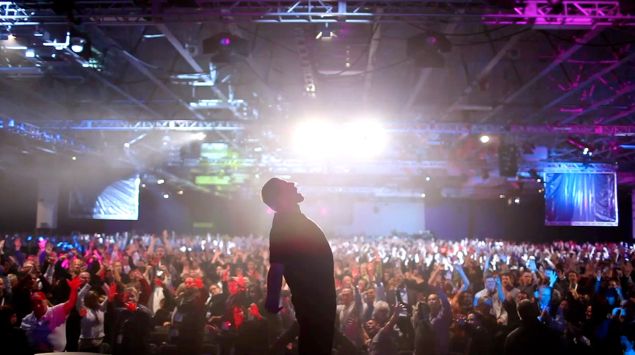 But the real show was off-screen, among the audience. At any given moment, someone had their arms outstretched to the screen, eyes closed. More openly wept. I could not talk to anyone because to do so would be to shatter the religious reverence. It was the most singularly odd combination of alarmingly cult-like and genuinely moving collective fandom I've ever experienced.
And this was before Robbins appeared—he did not arrive, he just appeared—at the back of the audience; before attendees got up in droves with a half-hour left in the movie to snap a selfie with him, or to just be close to him. It was before Robbins, along with Berlinger, took the stage themselves to the blaring sound of Darude's "Sandstorm." Look that song up, you'll recognize it. Then you, like me, can cherish the image of Tony Robbins wading through a crowd to techno-rave beats.
A Q&A followed, but I left shortly after it began. Everything up to that point—from the earnestness of the film, to the crowd reaction, to the perfect warm early summer air—had been such a build-up to the idea of Tony Robbins that to see him in-person, just a guy answering questions about a film from an awkward moderator (something I've seen 1,000 times), was a let down.
As I walked through the wrought iron gates of the Bushwick Generator, I wondered how many people have paid $5,000 just to find out the same thing.
Chapter 2: Mr. Snow-Bot
It's hard to describe exactly how surreal it is to hear Edward Snowden via robot describing our government as "good people doing bad things for what they believe are the right reasons," while sipping water from a bottle branded EVIL CORP on the side. A display off to the side at boutique Chelsea shop STORY featured branded hoodies from USA's summer hit Mr. Robot, currently in its second season. The gear looked identical to the plain black one that Elliot Alderson (Rami Malek) wears in his crusade against capitalism and corporate greed on the show. Except these hoodies were selling for $65.
"There is an absurdity to these times," Edward Snowden admitted to a small crowd gathered in Chelsea, speaking from a display system known as a BeamPro. A BeamPro, if you've never seen it, vaguely resembles a microwave duct-taped to the top of a Segway.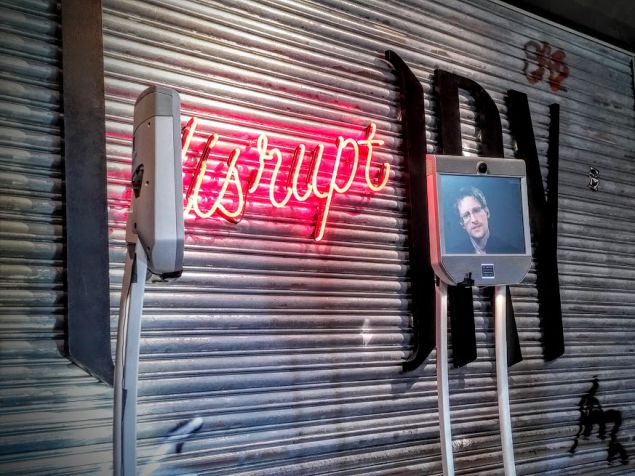 Snowden, the NSA whistleblower wanted on multiple counts of theft and espionage by the U.S. government, had beamed his visage into STORY to accept the "Thoreau Public Service and Disobedience Award" from Tribeca Film Festival co-founder Craig Hatkoff, and to join in conversation with noted scientist and author Jaron Lanier.
The bulk of that conversation concerned—what else?—the NSA. "If an agency tells you to keep a secret," Snowden asked the audience, "and that secret is that agency is violating the rights of millions of people every day, what do you do?"
Eventually, Snowden had to end his shaky connection from whatever undisclosed Russian location he was in, and author Rabbi Irwin Kula took the stage for a lecture on civil disobedience. Those in attendance, in turn, filed out of STORY in droves, leaving behind a scant few stragglers. For the first time, I noticed one of Mr. Robot's stars, Carly Chaikin, sitting in the crowd; proving most people would rather listen enraptured to a famous face via satellite than bother to identify a slightly-less famous face sitting in the flesh two feet away.
Chapter Three: A Tale of Two Screenings
Screenings are the bread and butter of the publicist pitch, mostly due to the sheer volume and variety of press screenings happening in this city every day. Wednesday night, I had two back to back: Indignation, an attempt by first-time director James Schamus to make a Philip Roth novel sexy, which was being screened a block from the abstract un-sexiness of Times Square, and a premiere for a Kickstarter-funded documentary titled Man vs. Snake, at the Anthology Film Archives on Second Avenue.
Know that when you read a review, most likely the person writing it did so after a night spent away from home and family, sitting in a dark screening room they didn't want to be in, with people they didn't want to be with.
Know that when you read a review, most likely the person writing it did so after a night spent away from home and family, sitting in a dark screening room they didn't want to be in, with people they didn't want to be with.
Is that how you watch movies? Is that how we should be watching movies? Like Snowden said, there's an absurdity to everything these days and that idea, that you can get an accurate, engaging feel for a piece of art by drudging uptown to a dark screening room to view it, is no exception. It's a weird, isolated experience. 
But then, of course, so is its exact opposite…
Chapter Four: Silent Films Turned to 11
I'm not sure what makes Pepsi uniquely qualified to host an interactive, emoji-themed pop-up exhibit, but there I was at a special preview of Love: From Cave to Keyboard in an event space off Broadway.
If film screenings are the most common, than affairs like Love are something absolutely unique to cities like New York and L.A.: an "EVENT"—all capital letters—always populated by young, gorgeous people who seem only to exist at EVENTS. When I die, my hell will be walking circles around an EVENT for all eternity, drink in hand, talking to no one.
Here, music from "soul duo" Lion Babe filled the air. Bodies were packed in-between various exhibits, all with themes of art and love in the analog age, expressing feelings with symbols and always under 140 characters. To the right, a virtual-reality helmet placed you in a prehistoric cave surrounded by wall paintings. Just beyond that, members of the Deaf West Theatre Company acted out a first date solely through sign language. To the left, an Emoji Tracker gauged America's usage of each individual symbol in real time. In the corner of the room, inside a darkened booth, a short black-and-white film played from a reel on repeat. Clips of silent-era films rolled in-between an interview with actress Maggie Gyllenhaal. "You can definitely communicate true love without any words," she said through the booth's over-large headphones..
The film ended, and I stood to return to the caffeine-and-Emoji-fueled fracas. Standing in the booth entrance was Gyllenhaal herself, in color.
":)" I said.
"-__-" she replied, before turning to another conversation. We were, if nothing else, on-theme.
Chapter Five: A Quantum Split
"Is it possible to communicate true love without any words?" I asked Logan Lerman, star of Indignation. We sat, along with his co-star Sarah Gadon, in the underbelly of the Crosby Street Hotel in Soho. We were in the middle of the third most common—and most often reviled—press pitch there is: the interview junket.
Lerman, for his part, answered gamely: "I think a lot of that is based on how open a person is willing to be with a stranger. Opening up, and taking the time to break down the barriers you have with a stranger help aid a believable love story."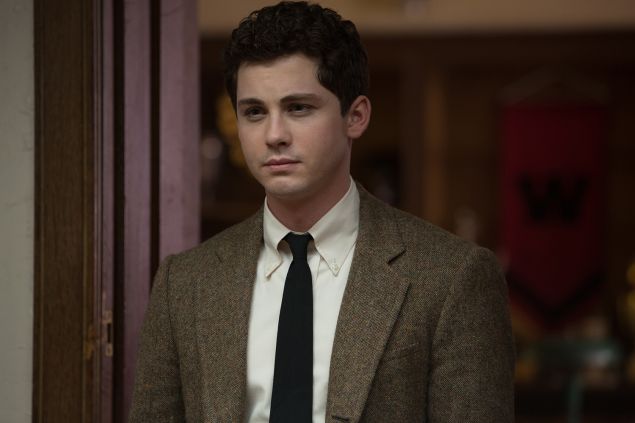 Without meaning to the actor had, in so many words, described an interview junket. Boiled down, junkets are impersonal; they're quote-generators, nothing more, 10 to 15 minutes with a stranger disguised as a candid conversation. Is there a mirror between it all, between conveying love on-screen, be it through body language, words or otherwise, and conveying any interest at all with an interviewer you met just five seconds ago?
"There definitely is," Lerman smiled. "It helps that I know you're recording the conversation."
What an impossible task: to try everything New York offers. To attempt to connect with every actor you interview, fit in with every crowd you're a part of or find enjoyment in every movie you see. To say Yes to everything, much less anything. Who knows what else was happening, all around me, at that very moment? You couldn't say yes to it all. Even if you tried.