Sean Lennon was 5 years old when he first entered the studio to recount a story his father John used to read to him for the intro of "Even When You're Far Away" off his mother Yoko Ono's controversial 1981 album Season of Glass, recorded in the immediacy of losing the mercurial Beatles co-lead to an assassin's bullet on December 8, 1980.
In fact, throughout much of his childhood, he was a presence in the studio when his mom was recording, singing background vocals and even getting production credits on the likes of 1982's It's Alright and 1985's underrated concept album Starpeace, while forming the group IMA with friends Timo Ellis and Sam Koppelman to back up Ono on her 1995 LP Rising.
In 1996, young Lennon would emerge from under Yoko's wing a full-fledged musician, becoming a touring (and shortly thereafter full-time) member of the celebrated art-pop outfit Cibo Matto and recording with the downtown Manhattan supergroup Butter 08, comprised of Cibo's Miho Hatori and Yuka Honda, Russell Simins of the Jon Spencer Blues Explosion, former Skeleton Key/Enon percussionist Rick Lee and film director Mike Mills (Thumbsucker, Beginners).
Their lone eponymous debut is one of the great lost treasures of Grand Royal, the label run by the members of Beastie Boys during the Clinton years that also put out Lennon's auspicious solo debut Into the Sun in 1998. But more importantly, it was the realization of a truly gifted and talented young artist utilizing the lessons he learned from working alongside his famous mom in the studio to forge his own path with a primary emphasis on collaboration.
While both Into the Sun and his other proper solo pop album, 2006's excellent Friendly Fire, showcased the heights he can achieve on his own, what most defines the oeuvre of Lennon is the infinite scope of musicians and artists he has recorded alongside these last 20 years, a list that includes such names as Lenny Kravitz, John Zorn, Soulfly, John Medeski, Walter Sear, Greg Saunier of Deerhoof, Black Lips, Fat White Family and Mark Ronson among many others.
Since 2008, meanwhile, his current project The Ghost of a Saber Tooth Tiger evolved from an intimate project between Lennon and his girlfriend, American model Charlotte Kemp-Muhl, into a fully formed rock band that has helped take Lennon's love for early Pink Floyd, electric Miles Davis and The Beach Boys' LSD days into the stratosphere of the couple's shared imagination. The trio of titles he's released with The Ghost of a Saber Tooth Tiger is well worth diving into, especially if you are a fan of the brand of psychedelic power pop that's been his calling card for two decades now.
"It's hard to say where my melodic instincts come from, obviously there's my dad, and music I've listened to growing up, but sometimes I feel like musicians have a genetic predisposition towards certain types of harmonies."
It was a tour last summer when The Ghost opened up for Primus and Dinosaur Jr. that helped to plant the seeds of Lennon's latest collaborative work with the king prawn himself, Les Claypool.
Christening themselves the Claypool Lennon Delirium, the duo has just released their debut album, Monolith of Phobos, in June on ATO Records, and it is every bit as weird and wonderful as whatever you might have expected from the union of these two singular minds in modern pop. This is Lennon's "jamming with The Mothers of Invention at the Fillmore East in 1971" moment working with Claypool, only spread across both an impressive full-length LP and a summer tour that wraps up on September 3 at the North Coast Music Fest in Chicago, to boot.
Not only does the live version of this group, which counted former Beasties keyboardist Money Mark Nishita among its ranks until very recently, deliver full-blown stage expansions of such key Phobos tracks as "Mr. Wright", "Boomerang Baby" and the much-discussed ode to Michael Jackson's chimp "Bubbles Burst", prepare for some wild versions of such shared faves as Pink Floyd's "Astronomy Domine" and—in a righteously heady nod to his pop—The Beatles' "Tomorrow Never Knows" along with a 10-minute jam of the Primus chestnut "Southbound Pachyderm" that really brings the genius of this dream team into full view.
For a guy who has professed the peace he has found in the shadow of his famous surname since he began talking to reporters, it's important to point out that much of what Sean Lennon has accomplished was achieved because of his natural ability as a composer, songwriter and collaborative partner in his own right. At this stage, the fact that he is the son of John and Yoko is really secondary to the massive waves of talent he continues to exude as his own creative entity.
The Observer recently caught up with Lennon from the road to discuss how he hooked up with Les Claypool for what he describes as the best tour he's ever been on. The Delirium play Irving Plaza on August 30.
[youtube https://www.youtube.com/watch?v=_Z2VgfXIPqA?list=PL7CdJ9_eE8CbOHcWJCKWHKB8N5ATp8xfE&w=560&h=315]
How has this tour been going? Has it been fun?
It's been probably the best tour I've ever been on.
Seriously? You've been part of a lot of cool tours through the years.
Yeah, totally. It's me and Les, and on the drums is Paul Baldi and on keys Money Mark was on the road with us but now we have this guy named Pete Jungle, who's this kind of virtuosic Keith Emerson type of guy. He's just a shredder. Pete was somebody that I knew through playing with The Ghost of a Saber Tooth Tiger a while back; he was in one of the first incarnations of that band. And Paul, he's played with Les on a bunch of different projects, like Frog Brigade and stuff. It's a great band.
The Claypool Lennon Delirium came together when Primus and The Ghost of a Sabre Tooth Tiger toured with Dinosaur Jr. last summer, right?
Yeah, exactly. The Ghost got the Primus gig and we'd been touring for two years already so by that tour we were ending our whole cycle for the Midnight Sun album. Les and I got along and we started jamming and talking about music a lot as the tour wound down, and afterwards he invited me out to his studio and in two weeks we had 10 songs written and recorded.
How far back do you go with Primus as a fan?
Really early on. I think I saw them touring Frizzle Fry in Italy when I was dating a girl in Padua. I was in boarding school in Switzerland and I went over to Padua on a train and we were just walking around one night and we heard this insane rumble and went into this club and Primus were playing. So I've been into them since I was like 15 or 16.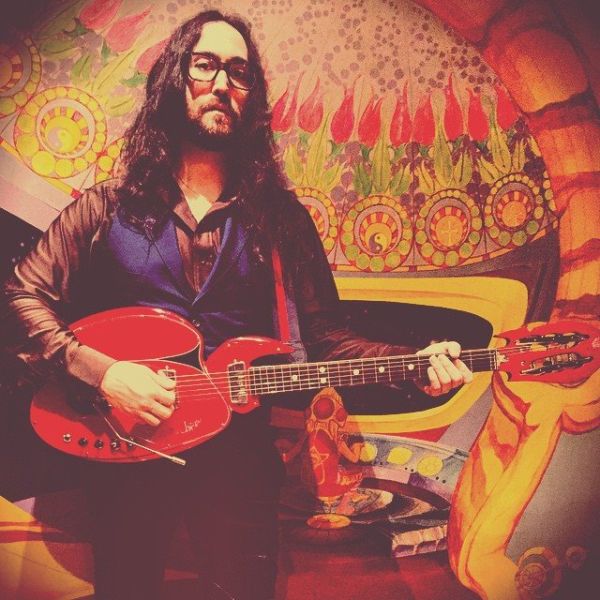 Did you guys find common ground as bass players?
[Laughs] I don't even think Les realizes I'm a bass player, and I try not to mention it because it's embarrassing. I started out on bass, but he saw me as a guitar player in The Ghost, so that's how I met him, as a guitarist.
Having seen you perform live for about 20 years now since your days in Cibo Matto, I've always identified with you as a bassist.
Yeah, well I am probably more of a bass player first, but I'm sort of a multi-instrumentalist. That's a cliché but I never really got that good at any single instrument, so I thought I would play as many as I could like a jack of all trades.
The color you chose for the cover and the wax for Monolith of Phobos is pretty cool. Was there any kind of significance to that shade of yellow you used?
We were just messing around. We had a bunch of different color options, and it just kind of stood out and looked really weird. It just felt right. I had never seen vinyl that color before [laughs]. And it pops out. It's supposed to be like this honey color. I love the way it looks.
And it was just the two of you guys up at Claypool's Rancho Relaxo putting these songs together?
At first when we got together we thought we would demo songs and then get a drummer later. But we wound up playing the drums ourselves and trading off. So what turned up initially being the demos would then become the complete record.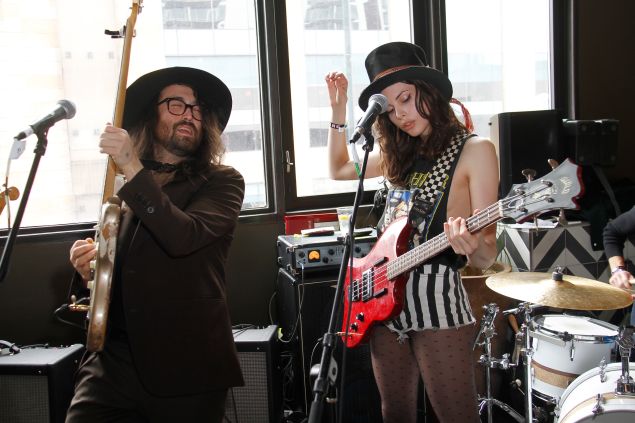 To be honest, some of these songs actually remind me a little of Into The Sun.
Interesting. If you've really been listening to me that long you can tell there's some sort of squiggly line that connects everything I do, probably.
Where do you feel that distinct melody you own across all your music is rooted from and why?
Hmmm…I don't know. It's hard to say where my melodic instincts come from, obviously there's my dad, and music I've listened to growing up, but sometimes I feel like musicians have a genetic predisposition towards certain types of harmonies. I honestly don't know for sure. It's impossible to tell precisely where the music you love ends and the music you make begins.
Les is the same way; he's got a very distinct voice on a sonic level. Les is distinctly Les.
Oh man, he's one of those people where he can play three notes of a bass and you already know it's him. He's got a very distinctive sound. Like one in a million.
How did you guys split up the songwriting duties, because you definitely hear both sides of this collaborative brain on Monolith of Phobos?
We traded off on who would start the song, so there are some songs that are more written by Les and there are some that are more written by me; but we would always finish them off together. One of us would come into the studio with a song idea, mostly written, and we'd demo it together and flesh it out together. But he was a lot fun to write with, because he's a great songwriter and has a lot of good ideas and he was really helpful to me about finishing them off when I was having trouble.
We would sit around and talk about song possibilities. We still do that. Any time I read something or see something really bizarre or interesting I'll text Les, "Hey we should write a song about this." And he does the same. That's kind of like how Monolith of Phobos came about, because we were watching this C-SPAN footage on YouTube of Buzz Aldrin where he's saying, "There's a monolith on Phobos with a tiny, potato-shaped moon that's revolving around Mars." And we were thinking how that would be a really funny song. And then it wound up being the title track for the record.
[youtube https://www.youtube.com/watch?v=VfcAoJShkqU?list=PLxQOcQkxx02elyh_VJiairayAcwukERPd&w=560&h=315]
Did you get to go out fishing with Claypool?
We did go fishing once, but not enough, actually. We didn't have enough time. But recently we had played Missoula, Mont., and we got there really early and we went on the Blackfoot River and went fly fishing, which was really fun. It's the exact river that Norman MacLaine wrote about in A River Runs Through It.
Did you ever do that before?
No, I hadn't. I had done a little fishing here and there, but nothing this serious. I caught a bunch of fish, actually, and we threw them back.
Were you able to get any good Tom Waits stories out of him?
Yeah, I tried to get some Tom stories out of him, but Tom is really private and it's almost like that work is very sacred to Les. He didn't tell me that much, but yeah I heard a couple of anecdotes here and there. I look forward to the day I may get to meet Tom. I'm a big fan.
Your last solo album, Friendly Fire, came out 10 years ago. Are you ever planning on following it up with another proper pop record?
I don't know, maybe. Honestly it's hard to say because I just sort of go with the flow and do whatever is inspiring to me at the moment. My solo career never really took off so much, so I don't know if I could tour it or not. There's not really a big demand for it. I might make it just for myself and put it out. I'm more interested in doing things that have an audience, you know?
[youtube https://www.youtube.com/watch?v=W1_MqMNfSb8&w=560&h=315]
But on the whole, you've always been a collaborative guy, which I can only imagine stems from your early days being part of that whole downtown music scene in New York City during the mid-'90s.
It's just easier to learn and grow as a musician if you collaborate with people. And New York was amazing in those days. They were the funnest days. You can't forget about Butter 08, which came out on Grand Royal. Touring that record was so much fun.
What do you remember most about your time in Butter 08?
Well, I was really young, still a teenager I think. I wasn't officially in the band but everyone in it was my friend, Yuka Honda, Miho Hatori, Russell Simins from the Blues Explosion and Rick Lee from Skeleton Key. I got to play a bit, a keyboard solo on a Roland Juno 106 if I remember correctly, and they used to let me play a bit on tour with them. I remember we went to Japan and Russell wanted us to all wear school girl costumes but the promoter kept trying to explain they didn't make them in his size. That was hilarious.
Did your role in Butter 08 play a part in getting Into The Sun on Grand Royal back then?
No, that just sort of came on a whim. We were just hanging out and jamming, and Adam Yauch just asked me if I wanted to sign with Grand Royal, and I was really excited about that. I was just surprised they liked my music enough to want to release it on their label regardless of who my parents were. Adam was the best. I miss that guy a lot.
[youtube https://www.youtube.com/watch?v=l1JvyJS9XoE&w=560&h=315]
I'd love to talk with you a bit about the soundtrack you did for the 2015 thriller Ava's Possessions. You and the filmmaker, Jordan Galland, go back a long way, right?
Yeah, it's true, because he had a band called Dopo Yume who I've played with, and he toured with us for Into The Sun. He started directing these little indie horror films, and I've been scoring them and it's really been a good learning experience for me because I've always been interested in film scoring and it's kind of a process you have to get your head around. It's definitely not the same as making albums.
He gave me the opportunity to learn how to score, which has been fun. In terms of orchestration, I did that once in a fake way for his film Alter Egos, which is mostly orchestral stuff I did. But I don't really read music that well, so it's hard for me to move into that world. But my ears are pretty good, enough where I think I can fake it [laughs]. But I'm not much of a classical guy. I love classical music to listen to, but to play it is a whole other beast. There are all sorts of rules of harmony and stuff you have to figure out.
Speaking of films, one thing I always wanted to ask you was what was it like being on the set of Moonwalker, specifically the video for "Smooth Criminal"?
I wasn't just on the set; I lived in L.A. for like a year and had to leave school for that whole thing. I was literally taking my seventh grade classes in a trailer and stuff after shooting. It was like a feature film, almost. It lasted a long time. The shoot was like six months or more. It was awesome, though. It was a real trip to be a part of Moonwalker.