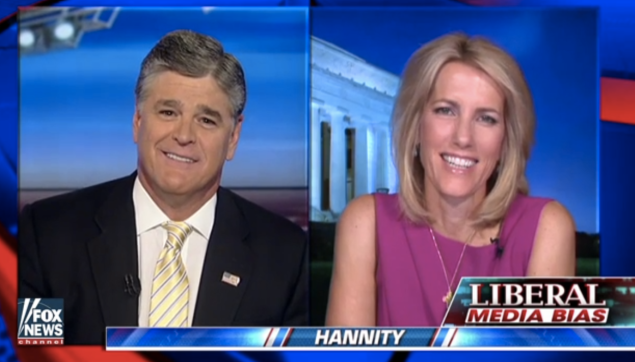 Poor Bret Baier. Everybody's out of step except him and his right-wing network, Fox News Channel.
On Special Report Thursday evening in the 6 p.m. hour, Baier introduced several stories about the scandalous scandals of Hillary Clinton that have scandalized her scandal-filled presidential campaign.
Those emails! The influence-peddling between her State Department and the Clinton Foundation! Why doesn't somebody investigate?
"What you don't know apparently is just fine with the Obama Justice Department when it comes to the Clinton Foundation," Baier said, beginning his "fair-and-balanced" lead story Thursday.
"It is refusing to look into a story we reported Wednesday on Fox about emails suggesting an inappropriate relation between the Clinton Foundation and the State Department when Hillary Clinton was in charge."
Baier later turned for support to A.B. Stoddard on his pundit panel. He referenced MSNBC and CNN, without using their call letters.
"Very little time on this today, A.B., on other channels," Baier said. "A lot of time about President Obama and Hillary Clinton, the founders and co-founders of ISIS."
Stoddard showed little sympathy.
"I think Donald Trump has himself to thank for that," Stoddard said of failing and flailing Republican candidate.
She was referring to Trump's recent rantings that have accused the president and the Democratic candidate of founding—founding!—a barbaric terrorist outfit of religious fanatics who torture and hideously murder people in the Middle East and in other places, in many ways.
Despite pleas from friendly right-wing interviewers to clarify and tone down his statements, Trump simply pumped them up. Stoddard was not pleased.
"I can't find the words to say how offensive I think it is," she said.
Trump's ISIS tirades have replaced those of earlier in the week when he wondered if "Second Amendment people" (those with guns) could do something to stop Clinton from naming Supreme Court judges if she becomes president. (What could they possibly do?)
While ginning up Clinton scandals Thursday, Fox missed the best story of the night.
According to a Politico report—read by Lawrence O'Donnell in the 10 p.m hour on The Last Word on MSNBC—officials of the Republican National Committee will meet in Orlando, Fla., Friday with officials of the Trump campaign to work on a crisis.
O'Donnell interviewed Ken Vogel, one of the Politico reporters on the story, who said this is a "Come to Jesus" moment between the two groups amid growing panic in the party that a landslide against Trump in November could take away Republican majorities in the Senate and maybe even the House of Representatives.
"Donald Trump is going to be so disappointed when Jesus doesn't show up," O'Donnell said of Friday's meeting.
Lumpy even showed a list of Trump's fine attributes, leading with 'build a wall' on the Mexican border.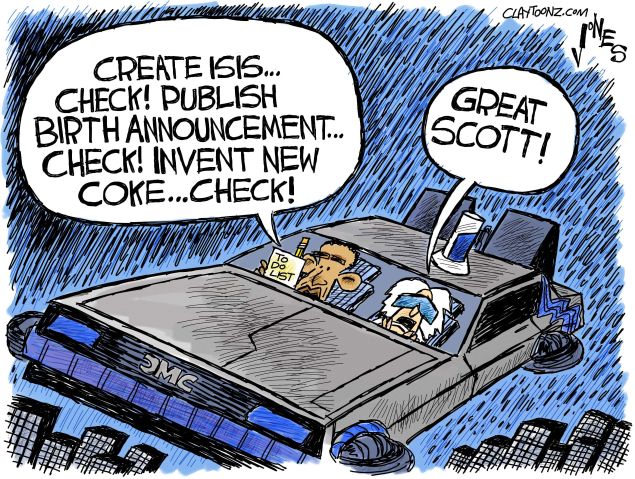 In a more serious vein, he turned to Peter Wehner, a conservative who is a senior fellow at the Ethics and Public Policy Center. Wehner said it is futile to try to change Trump's incendiary rhetoric or to stop his malicious lies.
"Look, this guy is a political black hole," Wehner said. "He's going down and he's dragging a lot of Republicans with him. The campaign is awful. The Republican National Committee is mishandling things. But this is fundamentally a problem of the candidate, Donald Trump."
Wehner said Trump is a "chaos candidate"—something others have said—but he added a psychiatric dimension.
"He is a person who has a disordered personality," Wehner said. "If you understand that, all of these distorted and disturbing pieces begin to fall into place . . . I'm an evangelical Christian and I'm not sure Jesus could pull this campaign out of the tailspin that it's in now . . . He's a pathological liar . .. . This is just a catastrophe for the Republican party . . . He's just an amateur. He's erratic. He's cruel. He's crude. He's unprincipled. And he's a bomb and he explodes every other day and there's no stopping him."
In the election, Wehner said, "Trump is going to get blown to bits."
In addition, all the networks also reported Thursday that about 75 Republican apparatchiks have signed an open letter to party chairman Reince Priebus urging the party to spend its campaign dollars on the down-ticket races and not waste them on Trump's demagogic and often incoherent crusade.
Trump spoke Thursday night (by phone) to only one network—Fox—when substitute host Eric Bolling opened The O'Reilly Factor at 8 p.m. Trump wasn't backing down on anything, even though Politico reported the RNC staff to be on the verge of mutiny.
Of ISIS and Obama, Trump said: "He founded ISIS. The co-founder was crooked Hillary Clinton . . . I'll say it to anybody who wants to listen. He is a founder of ISIS. They must love him."
Before too long, Bolling changed the subject to get Trump to attack what Bolling called the "socialist manifesto" offered by Clinton Thursday in a rally at a factory in Warren, Michigan. Free college tuition! A public option for government health care!
"It goes on and on!" Bolling said.
When Bolling got around to the Republican rebellion, Trump denied it was happening and said Priebus backed his view.
"He just put out a press release, he just put out a tweet, saying it's untrue," Trump said. "If it is true, that's OK, too."
That would be good, Trump said, because he would not have to waste time going to Republican fundraisers to urge financial support for other Republican candidates, especially those who have denounced him.
Another of O'Donnell's guests was Malcolm Nance, a counter-terrorism expert who took offense at Trump's blaming Obama and Clinton for founding ISIS. It was formed in 2006, he said, as al-Qaeda in Iraq. That was when George W. Bush was president.
"It's beyond insulting," Nance said of Trump's ISIS claims. "You're accusing the President of the United States of treason."
On CNN, John Berman was the substitute host for Anderson Cooper on AC-360 and he spoke with correspondent Jim Acosta, who reported that a large Confederate flag bearing "Trump 2016" appeared at a Trump rally Thursday night. They showed it, briefly.
Officials asked its owners to take it down. They did but they put it up again. Finally, they were persuaded to keep it down. (As Trump no doubt learned in military school, the most common Confederate flag—technically, the battle flag of Robert E. Lee's Army of Northern Virginia—is a symbol of the rebellious Southern states who started a long and hideous Civil War in 1861 to defend their "states' rights" to enslave other human beings).
In the panel portion, Democratic operative Maria Cardona—a Clinton supporter—was asked about the "dog whistle" signals Trump sends to his most reactionary supporters.
"It's not a dog whistle, it's a friggin' megaphone," she said. "This is political crack for his supporters."
Referring to Trump's since disproven insinuation that Obama was not born in the United States and is a secret sympathizer to fanatical Muslim terrorists, Cardona said: "How outrageous this is. How jaw-dropping this is. How irresponsible this is. This man cannot be our commander-in-chief." (Lately, Trump has referred to the president as "Barack HUSSEIN Obama").
Fellow panelist Maggie Haberman of The New York Times, speaking of things Trump says, asked "Does he really mean this? Does he really believe this? Does he really think this? It doesn't actually matter. What matters is what he is saying . . . words matter."
And there were plenty of them in the 10 p.m. hour on Hannity on Fox, where low-brow host Sean Hannity assured his audience that "so-called reporters, so-called journalists" were "blatantly trying to discredit and malign Donald Trump."
Hannity—recently nicknamed "Lumpy" by Jon Stewart—went to his overused theme of "We're the real victims here" in his opening segment.
"The mainstream media, they're on the warpath," Lumpy said. "What do they want to do? Take down the Republican nominee, Donald Trump . . . they have now revealed their true colors."
What followed was a rapidly-cut series of media figures shouting down Trump supporters. Hannity showed the father of mass killer Omar Mateen sitting behind Clinton at a Clinton rally in Orlando, but failed to show disgraced former Republican Florida Congressman Mark Foley (young page boys and sex talk) sitting behind Trump at a Trump rally.
Laura Ingraham, wearing her usual gold cross, said something about how the media would crucify Trump. Lumpy (and just about everyone else) showed the Time magazine cover with a cartoon of Trump's yellow face melting down. This spurred Lumpy to growl about "all these Republicans, arrogant, sanctimonious, self-righteous, sabotaging Trump, not supporting Trump."
Lumpy even showed a list of Trump's fine attributes, leading with "build a wall" on the Mexican border. He ended a segment by promising that he, himself, Lumpy, would accompany Trump for an event in Milwaukee Tuesday at 10 p.m. "We will be with him for the entire hour," Lumpy said.
Later came a long discussion with his pundit panel about how Clinton had tripped and fallen down while boarding an airplane and about how she "twitches." (Look at this video! Just LOOK at it! Look at it several times! Doesn't she look spastic? Huh? Huh?)
Lumpy said she should show her medical records to prove that she isn't mentally impaired by a concussion in 2012 and a blood clot.
It all sounded sort of sinister but, hey, it came from Drudge Report, Lumpy said, so you know it had to be true. Trump mouthpiece Dr. Ben Carson, who once connected Clinton to Lucifer and used to be a brain surgeon, chose his words carefully, for a pleasant change.
That was probably smart. Maybe he should tell the rest of Team Trump—especially the captain—that sometimes it's O.K. to just bite your tongue and shut your mouth.
Disclosure: Donald Trump is the father-in-law of Jared Kushner, the publisher of Observer Media.