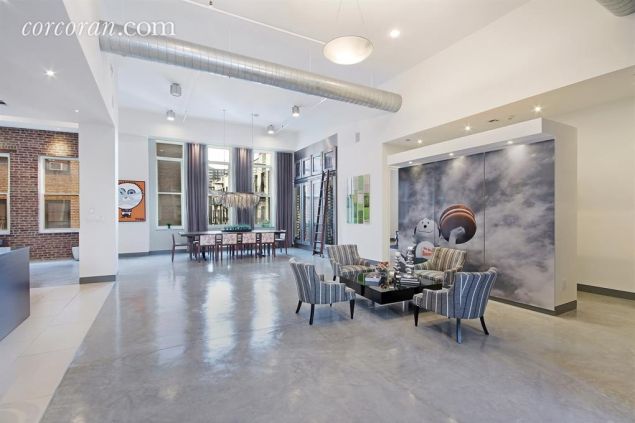 Shoe legend Jeffrey Campbell was once dubbed "The J.D. Salinger Of Platform Shoes" due to his rather reclusive nature. And, of course, his sky-high platform designs. 
The designer (his shoes are kind of a Coachella staple) rarely gives interviews, takes few photos, and there's not even a standard "About" bio section on his (or rather, his brand's) website.
We do, however, now know that Campbell and his wife, Christine, just snagged a luxe three-bedroom, 3.5-bath prewar pad at 213 West 23rd Street. The couple paid $5.04 million for the condo, which is located in the same building where Cindy Gallop owned the almost entirely lacquer-covered "Black Apartment." Gallop's digs became famous after being featured in Notorious B.I.G.'s 2005 music video for "Nasty Girl." And also as a pimp's apartment in an episode of Law & Order: SVU.
The 3,750-square-foot unit the Campbells selected, however, is not outfitted in quite the same way. It's a bit more…neutral, but still, the sellers, Courtney Cleman and Shaun Hong, did add some unique touches to the space.
Along with 15-foot ceilings, exposed brick walls, and concrete floors, the prewar loft also contains a chef's kitchen with granite countertops and a center island, as well as a custom-built 600-bottle wine refrigerator. While a wine fridge isn't exactly groundbreaking, this one definitely stands out—there's a library ladder specifically for the fridge, so one can slide from one end to another while selecting the vino of one's choice.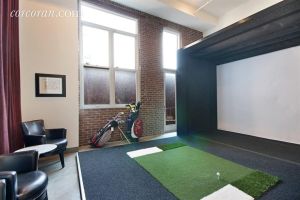 One of the bedrooms, which has a private terrace that looks out at "city garden views," is currently configured with a full swing golf simulator, per the listing held by Corcoran broker Beth Haley. We weren't immediately clear on what exactly that means, so it's a good thing that the listing photo, which depicts a putting green-type carpet in front of a large-scale screen, provides some insight.
The master suite has a walk-in closet, of course, as well as an en-suite bath with double sinks, a soaking tub and shower. Though without any kind of sports or video game simulator, a second bedroom does have another walk-in closet! Lots of shoe storage, we're assuming. If those closets aren't quite enough, maybe they can turn that golf room (we think that's an apt name) into one enormous dressing room. Or, perhaps Campbell has been inspired to work on his golf game.