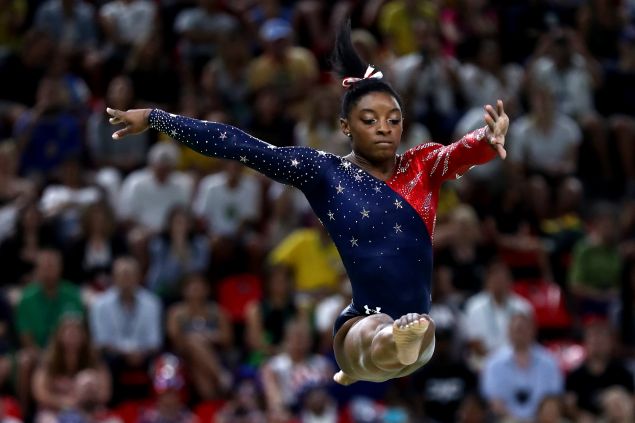 Olympic gymnast Simone Biles is well known for many things: She's the three-time world all-around champion, she's won more world championship medals than any other American woman and she's only four feet, nine inches tall. But we'd like to call attention to one more important feature of this pint-sized gymnast: her eye makeup is always on point.
Last night, when she nailed a nearly perfect vault routine and acquired North West as one of her biggest fans, but it wasn't her Swarovski-covered leotard that stole the spotlight, it was her sparkly makeup.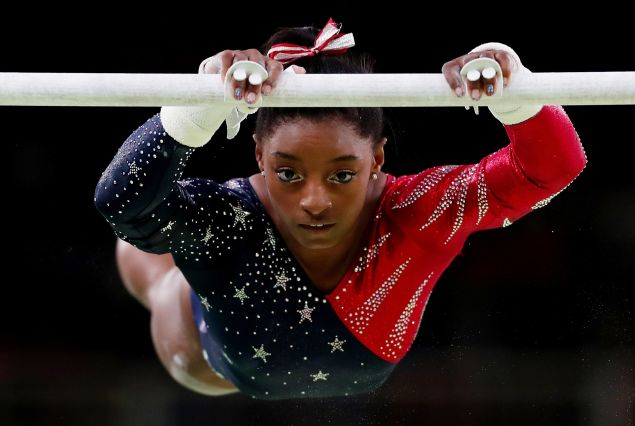 Just as any 19-year-old would do, the gymnast used the Rio games as an opportunity to rock a scene stealing look. Featuring a bold cat eye, a swoop of blue under the eye and the corners dusted with silver sparkles, the gymnast definitely deserves a gold medal for the execution: the sparkles stayed in place through a handful of routines and it was totally on trend. For example, the Fall 2016 Kenzo runway look featured a dash of silver sparkle in the corner of the eye, which actually has the effect of making eyes look further apart. Burberry, on the other hand, put a touch of sparkle on the outside of the eye, which is also a fun option.
Looking to recreate Biles' glittery look? For the swooping black cat eye, use Yves Saint Laurent Eyeliner Effet Faux Cils Shocking in Black ($34, Sephora.com) to draw a thick line that traces the top lash line and extends in a swoop towards the brow. Follow that up with blue liner, right underneath the lashline to the middle of the eye. Marc Jacobs' Highliner Gel Eye Crayon in Midnight Blue ($25, MarcJacobsBeauty.com) has a deep pigment that should do the trick. Finish it all off with a fantastic dash of silver, using Urban Decay's Heavy Metal Glitter Eyeliner in Glamrock ($20, Macys.com) to line the bottom of the eye from the corner to the middle.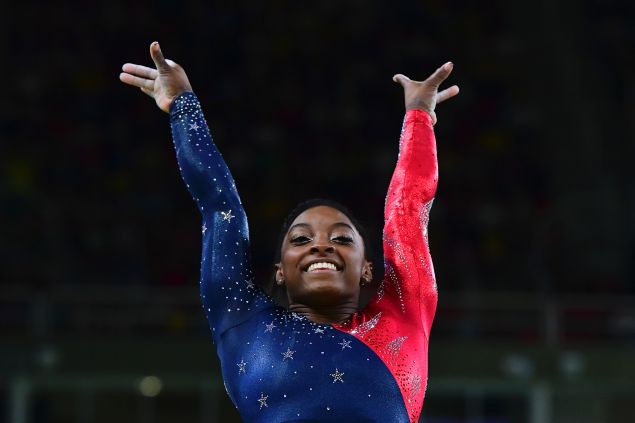 Now that you've got makeup to match this record-breaking gymnast, it's time to brush up on your balance beam skills. Unfortunately, you'll have to turn to Biles directly for help with that…