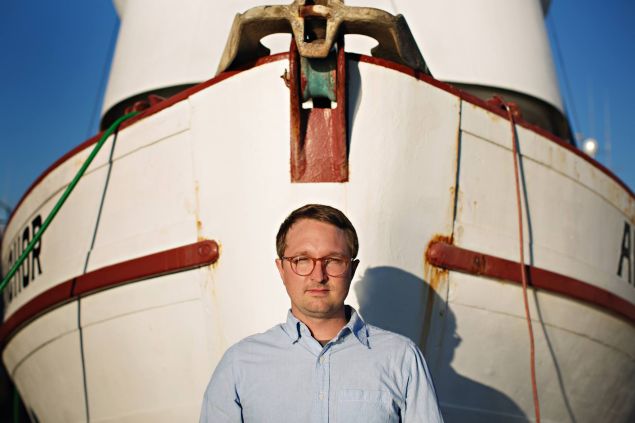 Chris Staples refers to his work on Facebook as "spirituals / breakfast music."
I love this in part because it's amusing to picture the 37-year-old breezily filling in the information, pausing at "genre," unconsciously running his hand through his sandy hair, turning his head toward the kitchen, setting his eyes on a box of oatmeal and thinking, heh. Chris Staples just isn't the sort of guy who takes himself seriously enough to type indie or folk or singer-songwriter in that box. He's the kind of guy who doesn't think twice about filming a music video at the Oregon Renaissance Fair, in full period garb, or baldly sharing a haircut-in-progress photo with the caption "Come! Let's discover spiritual renewal together!"
It's not that Staples doesn't take his work seriously, though. He understands the greatest paradox of all: Life, much as we'd love to control it and dress it in profound meaning, much as we flail about trying to prove through our clothes and personas and religions that we're O.K., is a series of ineffable moments with inexplicable cause/effect scenarios that, when viewed with openness, carry just as much or more beauty than our pink-fogged, unreal pasts or gilded, unreal futures.
So Staples takes it easy. He smiles at oblivion. Which is why the descriptor "spirituals," whether or not Staples intended it, is as fitting as "breakfast music." Because spirituality suggests staking a position—even if it's a non-position—not fumbling through life in a trance, feeling entitled and bitter and wronged.
To be accepting and even grateful for the unknown can be uncomfortable. Many of us were conditioned from an early age to believe there are certain "right" ways to navigate life, that choosing the "wrong" ones implied a fate more gruesome than any nightmare John Carpenter or Alfred Hitchcock could produce. So, yes, letting go of the need to pin everything down is a bold spiritual act. Ironically, though, taking that step frees one to revel in its mystery without anxiety. It moves some to dress like Bill Shakespeare and dance like Tom Petty in a softly lit wood.
[youtube https://www.youtube.com/watch?v=jBjLJ0moWBI&w=560&h=315]
Golden Age, Staples' new record for Barsuk (Death Cab for Cutie, Nada Surf, David Bazan) mines these questions in a way that resists both cynicism or naïveté. He's honest about the stuff that hurts, but he's not mired in it. He confesses his human desire for, say, a relationship to reconcile, while recognizing the fleeting nature of most human engagement. It's not nihilism or fatalism. It's looking life between the eyes and saying you care little for my concerns, but I love you anyway. The sheer sound of Golden Age, much like previous efforts American Soft and Badlands, reflects this too: It is vulnerable without being sentimental. It is soft yet clear-eyed.
The Buddhists are fond of saying "from the withered tree, a flower blooms," a line I returned to often when thinking about the circumstances that produced Golden Age.
Staples' wisdom here was hard won: He nearly went blind from undiagnosed Type 1 Diabetes, he endured a bike accident that resulted in hip surgery, he lost a great love. He also questioned whether he'd keep writing songs or touring, despite moving audiences with his work in Twothirtyeight, Telekenesis, Discover America and as a solo artist as far back as high school.
Eventually, though, Staples saw that most stories we tell ourselves about the past are apocryphal, that they prevent us from enjoying life today. And then he wrote some of the best songs of his career.
I called Chris at home in Seattle on Monday, just before he set to tour the U.S. with Rocky Votolato and abroad as a headliner.
This interview has been lighted edited and condensed for clarity.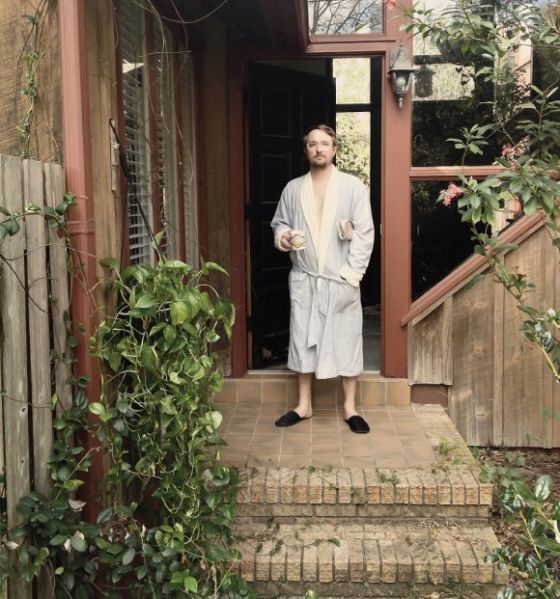 You're playing a release show for Golden Age on the Steamship Virginia V. What prompted you to conceive the rollout this way?
Some friends played a show on a boat in California a while ago, and I always thought it'd be fun. The Virginia V is this beautiful, 100-year-old boat that's been restored. It was almost decommissioned because it was so thrashed, but the Steamer V Foundation spent like $6.5 million restoring it. I always thought it'd be killer to do a show on it, and there's not really a precedent for doing a show aboard. It took a lot of work to get all the parts working: the catering, the alcohol, ticketing. But it was a fun project. The show just sold out and my friend Ings, who sings on my new song "Times Square," is going to open. It should be a good time.
You grew up on the Gulf Coast, though. Does that play into your interest in boats?
I hadn't really thought about that, though for a couple of summers I worked as a deckhand on dolphin cruise boat. [Laughs] I also taught snorkeling for a summer on another boat, so maybe that does play into it.
Tell me about making Golden Age.
I knew it was time to make a record because the tour cycle for American Soft was over, and it's rainy for months during winter in Seattle, so people are compelled to stay inside. I blocked off three months to make the record at home in my studio. I would write and demo, then I'd record the final version immediately. It was pretty quick, from conception to the finished product.
Some friends contributed, too. Stephen Baldock played some stand-up and electric bass. Andrew Josyln produced a string arrangement…
Didn't he compose the strings for David Bazan's orchestrated album?
Yeah, he leads the Passenger String Quartet. They write string arrangements for live shows and albums. He tours with Macklemore. He's like the String Guy in Seattle. Anyway, he recorded strings for "Park Bench." In terms of "Times Square," one night I was looking at all these Kenny Rogers videos …
[Both laugh]
I'm not really a Kenny Rogers fan, but I fell down this Kenny Rogers rabbit hole.
[youtube https://www.youtube.com/watch?v=vaIS-tY57Zg&w=560&h=315]
I mean, it happens.
It happens to everyone at some point or another. [Laughs] But yeah, he was talking about this period of time when he was doing duets with Dolly Parton and all kinds of female singers, so I decided to do a duet with my friend Ings, a duet inspired by Kenny Rogers.
[Both laugh]
The song doesn't sound like a Kenny Rogers song, but the idea of doing a duet was inspired by him.
I'm glad I asked because Kenny Rogers isn't mentioned in the liner notes.
[Both laugh]
Tell me about the events that inspired the paradigm shift Golden Age addresses.
It goes pretty far back. In 2011, I got in a bike wreck and broke my hip and had to undergo surgery. I was touring in Telekinesis at the time, and I had to stop playing because I couldn't walk. I used a cane for nearly six months, which is a total bummer. I also hadn't been pursuing music personally for a period of like three years. I was thinking about going back to school. I was refocusing.
Around that time my immune system started attacking my pancreas for some unknown reason, and I started going blind. I went to the doctor and I was told I'm a Type 1 Diabetic, so I went on insulin shots. I was also in a five-year relationship that ended. That was a huge adjustment.
I suppose I felt older going through all that, and sometimes it takes an embarrassingly long time to get everything out of your system. Golden Age is about processing that shit and moving on.
That was happening in 2011 and the record arrives five years later, in 2016. In my mind, I'm imagining you on a cane, going blind, going through a break-up…
[Laughs]
…was that a dark time for you?
Yeah, absolutely. It was a weird time. Whenever I was healing from this hip surgery, I was basically like, "I'm not going to think about anything because if I do it's going to get so dark." So I suspended even thinking about or dwelling on the reality of my situation. It was a dark time. Thankfully I'm healed now. I'm mobile and my diabetes is managed, so I was able to continue on living my life without a huge amount of pain.
Even though a new perception of impermanence bubbles up on Golden Age, it's not the first time you've hit on it. In the Twothirtyeight song "I Pretend to Choke" you sing "nothing ever stays the way it is" a few times, though it's conveyed in a bluer, sadder tone. Do you see impermanence in a more accepting way now?
I was thinking about this recently: the impermanence of things and the possibility that all human endeavors are perhaps meaningless. One response to that is to be pissed off or hopeless, but, now that I'm older, I view it as an invitation to to say, "Well, life is short, enjoy it while you're here." I'm a lot happier than I used to be. Maybe that comes across in the records.
Yeah, there's a certain angular, almost…not angry, but something darker going on with Twothirtyeight's last two records, whereas you seem to have a softer view on life and a softer way of making records now. I don't know if that's just a spiritual quality behind your work or if that's intentional. It's interesting, though. I was most into hardcore when I was really sure that a certain flavor of Christianity could explain everything, and I chilled out some when I allowed myself to doubt all that.
[Laughs] Yep.
…which is ironic because Jesus' message, so far as I understand it, was centered on love and compassion, so you'd think Christians would be more relaxed and inviting. But the message of many evangelicals, divorced from those teachings, is often dark and fearful and judgmental. I wonder if that's where some of the angry music we used to make came from.
Absolutely. Being a sheltered kid, and then becoming a young adult can be a tumultuous experience. You're fighting to understand how the world actually works. You can't be that angry for that long, though. It's not a sustainable way to live. You can't harbor those sentiments for very long without them being destructive to yourself and other people.
It sounds like we had similar experiences. I listen to Twothirtyeight now and I can't even remember being that pissed off. It seems like another person singing. But, yeah, the different energy that you've noticed isn't intentional. It's just a spiritual thing probably, a change in outlook.
Did you grow up in church?
Yeah, my parents are still involved in the church that I grew up in. That was a part of my life from early on. I don't think I ever really internalized it, though. It never became very personal or useful for me, so as I got older, it didn't settle into a permanent fixture for me.
Was your family musical?
My mom's a piano teacher, and she played organ in church when I was growing up. She went to music school. My dad was an aircraft engineer in the Air Force for about 30 years. He's retired now. We had some folk records and a classical guitar, which is what I learned on. One of my sisters played piano and the other played violin and flute. There was a good amount of music happening.
Do you have a favorite Florida songwriter, past or present? Who do you see as your musical ancestors?
I got a CD player/boombox when I was 10 or 11, and I got three CDs from Wal-Mart: Beach Boys' Pet Sounds, Tom Petty's Full Moon Fever, and a greatest hits CD by Grand Funk Railroad.
[Both laugh]
[youtube https://www.youtube.com/watch?v=4Y9lAoVWnTM&w=560&h=315]
Random.
I don't know why I bought that because I had no idea who they were, but the picture was really cool: these guys with beards. The Tom Petty record was a favorite of mine. He's from Gainesville. He was always viewed by my family as this Florida-boy-done-good. I always follow what he's doing and listen to his records. I don't know how much of an influence he is, really, but I've always liked his songs.
As far as other songwriters, I really like "Eef" Barzelay. His lyrics are clever. I like Elvis Perkins a lot. He's a living songwriter. But I don't really see myself as part of a specific tradition. I just make the stuff I like.
You switched one coast for another when you moved to Seattle. How did you settle on it?
Twothirtyeight played most in cities in America, including Seattle, and I really loved it here. There are many scenic places to camp. There are mountains. There's a glacier an hour away. There's coastline and hot springs and all kinds of good hiking. I don't know the exact number, but it seems like there are more than 100 parks in the city, and some of them are up to 300 acres.
Let's end on carpentry. I follow you on Instagram, and noticed that you built a large wine storage contraption. And I read that you had a construction job. Were you always handy?
Yeah, I started framing houses when I was 14 with this guy from my church who would build houses by himself from start-to-finish. It was insane. His name was Dick. He was this huge guy from Wisconsin. He forced me to listen to Rush Limbaugh all the time in his truck.
Oh no.
Yeah, I hated that part, but Dick taught me a lot about how houses are put together. Anyway, I took a break when Twothirtyeight got busy, and I started doing carpentry and construction again when I moved to Seattle with some tools my father gave me. I started working for myself a year ago. I build furniture in my driveway for friends and other people. It's a flexible thing that I can do to make money between gigs. I suppose it's just kind of my thing.
Chris Staples and his band perform with Rocky Votolato on September 16 at Mercury Lounge in New York.