From left to right: Danielle Naftali, Reya Benitez, Ezra J. William, Andrew Warren and Alana Miller.
(Photo: Sasha Maslov for Observer)
Charlotte Bickley, the daughter of the President of Coach.
(Photo: Sasha Maslov for Observer)
Bickley, Benitez and Naftali pose for a picture in William's West Village townhouse.
(Photo: Sasha Maslov for Observer)
William receives a text.
(Photo: Sasha Maslov for Observer)
Warren looks on as his friends get ready for the evening.
(Photo: Sasha Maslov for Observer)
Checking out the night's photos in the back of the Uber SUV.
Sasha Maslov for Observer
Wearing Just Drew at The Coffee Shop, Benitez's family restaurant in Union Square.
(Photo: Sasha Maslov for Observer)
At the Blond.
(Photo: Sasha Maslov for Observer)
Heading downstairs at the Blond, and over to Up&Down.
(Photo: Sasha Maslov for Observer)
A necklace in William's closet.
(Photo: Sasha Maslov for Observer)
Chatting over Cosmos and chicken salads.
(Photo: Sasha Maslov for Observer)
"I'll eat hot dogs off the street!" Andrew Warren exclaimed over cocktails at the Hotel Americano. Warren is perhaps best known for extravagant photos with his Snap Pack—a term coined by The New York Times. His famous crew consists of teens and 20-somethings with recognizable last names, including Kennedy, Hilton, Matisse and Trump. Warren snapped photos of Sofia Richie, long before Justin Bieber did, to his 70,000 Instagram followers. He counts actresses Bella Thorne and Abigail Breslin among his seemingly endless list of best friends. But despite his #RichKidsofInstagram reputation, Warren insists he's completely normal. "We have certain friends who don't go to movie theaters, and that's the weirdest thing I've ever heard," he lamented.
"In the Hamptons, I'll have McDonald's. I'll have days where I go to Six Flags. I venture to Coney Island. I'm not grossed out by anything. My mom likes to go to Ohio. We do things that people wouldn't expect us to do. People think I'm so spoiled and that I can't rough it!" It is worth remembering how extreme the "normal life" scale can be, particularly for the rising stars of the young rich set currently stalking Manhattan. These are the names topping the invitation lists of the city's art institutions, who are anxious to get them on board as "young collectors"—Warren and his pals are also the most sought after at newly opened dining clubs and exclusive night-time venues. Not only do these gorgeous young things show up, but unlike their equally glam but broke model/actor/artist cohorts, they cough up, too.
Before graduating from Syracuse University in 2015, Warren started Just Drew in 2013, a clothing line consisting of sleek slips, lace-up mini dresses and sheer blazers; his famous friends served as models for his February Fashion Week show. Just Drew was Warren's way of continuing the family business. His grandfather David Warren, the clothing manufacturer and fashion tycoon, founded the Warren Group. His father is a prominent real estate investor who helps run the day-to-day business. He still lives at home on Central Park West, where he takes videos of Lita, his live-in housekeeper who "everyone's obsessed with." She plays the Dorota to his Blair on social media, à la Gossip Girl.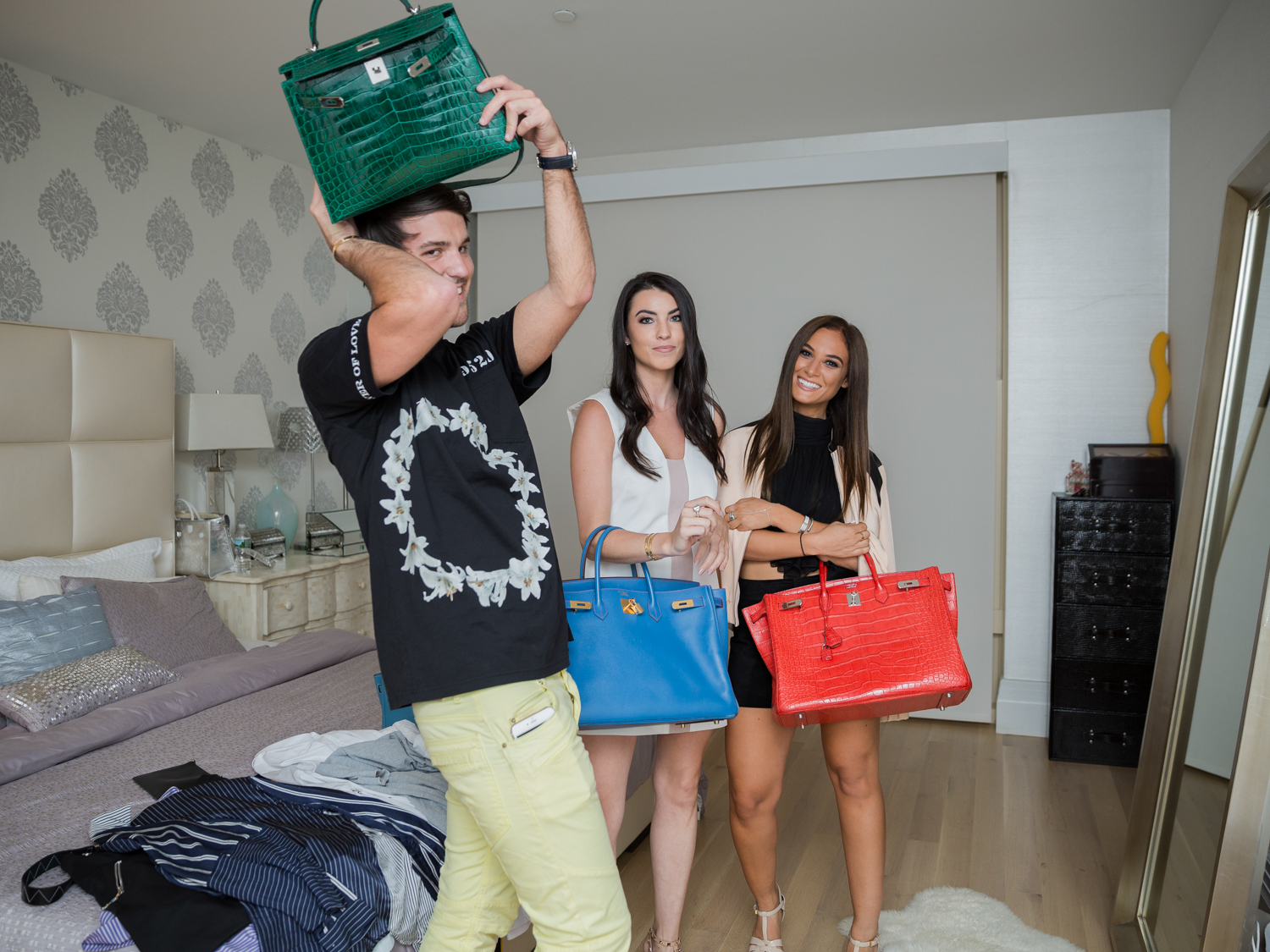 The lifelong uptown boy is currently considering a move downtown, since his friends have started migrating. "On the Upper East Side, I feel like I'm always running into people. You can't cross the street without bumping into someone you know. I feel like it's a disaster," he bemoaned. But he does have a soft spot for his go-to locales. "I've been going to Freds at Barneys since I was 10 with my friends. Everyone goes to Freds at Barneys, but I've always loved it."
Warren invited the Observer to tag along on a typical evening to experience what everyone else merely gets a glimpse of on Snapchat. First up was a pregame at fellow Insta-star Ezra J. William's three-story, one-bedroom Robert A.M. Stern-designed townhouse in the West Village. It's located just blocks from Carrie Bradshaw's famous stoop. William is social media famous in his own right, with more than 66,000 followers on Instagram. His home boasts a closet larger than most New York studios, stocked with Balmain capes, Valentino shoes and McQueen clutches. Above the Fendi Casa outfitted first floor, Warren dressed his friends in pieces from Just Drew. While sipping rosé, the pack had their hair and makeup professionally done thanks to on-demand app Priv, paid for by Warren. Unlike other influencers, they wear their own clothes and pay for their own beauty treatments. After all, with dozens of Birkin bags in the closet upstairs, why borrow? Professional beauty treatments before an event is a nightly indulgence.
"I met Andrew years ago through our good friend EJ [Johnson]," William said, name dropping their mutual friend, who happens to be Magic Johnson's son. "He's really sassy. It's almost natural for him to gather people around—that's why he has so many friends," William said, cocktail in one hand, phone in the other. "I need a few drinks before I can do what Andrew does."
This evening's gathering consisted of Reya Benitez (the daughter of Madonna's former paramour, Studio 54's DJ Jellybean), Danielle Naftali (the daughter of Miki Naftali of Naftali Group), Charlotte Bickley (the daughter of the president of Coach) and Alana Miller (a Syracuse classmate). Everyone crowded into Uber SUVs to head to Coffee Shop, owned by the Benitez family.
Then, it was off to the Blond, a dimly lit Soho hot spot where Hailey Baldwin and Mary-Kate Olsen have been spotted. "I don't really have kind-of friends," Warren said of his crew, currently occupying a "Reserved" table. When Warren receives an invitation, the host or promoter of the party—recent ones have included Sir Ivan Wilzig's decadent 60th bash and a Moët event—expect more than a plus one. Rather, he starts a group chat, and a crew of 20-somethings with thousands of Instagram followers join him.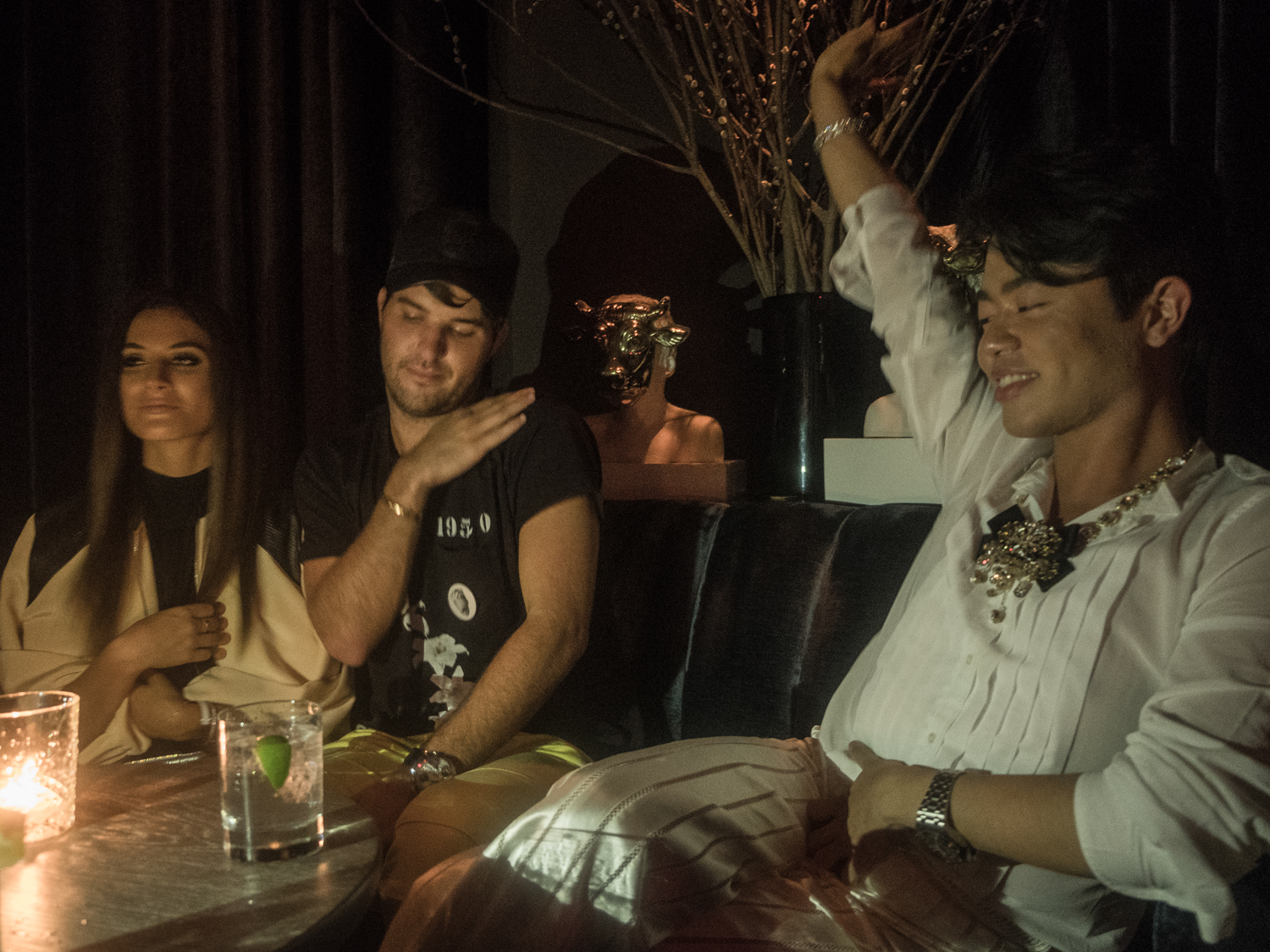 "I love Up&Down. You don't need a table. You just go in," Warren said about our final destination. While he's able to just go in, the winding line of sweaty, desperate plebeians waiting in the rain outside screamed otherwise. Warren called it the new Boom Boom Room or Jane but "the next upper tier of that," and Leonardo Dicaprio, Rihanna and Drake all agree. After sauntering past the doorman, they greeted Kyle Bryan and Elisa Johnson, who were filming the reality show EJNYC for E!
Warren's phone, always in hand, was prepared to share his exploits with the people still waiting in line. "It's weird because people will say, 'All you post are partying photos or going-out photos,' but when I'm working, and really working, I don't want people to see it. I'm not going to post my work," Warren explained. "When I'm going out, then I'm like snap, snap, snap, snapping my whole way."
Despite not wanting to share his private workday with the world, he's trying to move away from party photos, especially since they've received negative attention in the past. "There are people in college that post a photo at their frat with a red cup, and no attention is drawn to it because people aren't really looking at their page. If I'm at an event holding a glass of wine, that's apparently a big deal, and they'll make a whole big thing out of it," Warren fumed.
Now, he's cautious, but in the past, he was in trouble for social media faux pas, including a memorable text exchange with socialite Peter Brant Jr. and a cyberbullying incident with a New York magazine reporter. "I feel like New York magazine has only said horrible things about my friends. They come for you," he recounted. Despite his vigilance, don't expect his thousands of Instagram followers to become bored. His irreverence was made for Instagram, where he posts snarky memes and enviable party pictures.
"There are people who don't have any manners and just think they're better than everyone…I call them Judge Judy."
"If you don't get a lot [of likes] within the first hour or two, it's bad. I'll delete sometimes," Warren said. He won't spend a long time editing, though. "I sometimes cut things out, but I'm not making the Mona Lisa." He refuses gifts for sponsored posts, but he couldn't resist having Lita inflate elaborate Fun Boy pool floats, including blow-up swans, unicorns and planes, retailing for about $100 each, for Instagram purposes. He received them before they were available and snapped dozens of photos atop them. It was certainly more exciting than an influencer singing the praise of fit tea or hair-growing gummies.
Warren insists his friends aren't all the offspring of celebrities. "They don't all have last names. They don't all have money," he said. He understands the current obsession with his life, even if he feels it's misguided. "I do have friends who are very crazy and don't have filters and who will shout things. Anyone can really be crazy if they drink enough or have enough meds."
Still, he's trying to trim his clique down and will only spend time with people he truly cares about, as he prepares for his second Fashion Week. "I'm cutting out people from my life who are more entitled, snooty and stuck up. There are people who don't have any manners and just think they're better than everyone, and they're always judging everyone else. I call them Judge Judy. Those people, I'm cutting out completely," he warned. This fall, he's focusing on moving his fashion line from boutiques in the Hamptons into the city—and of course, every moment will be documented on Snapchat.