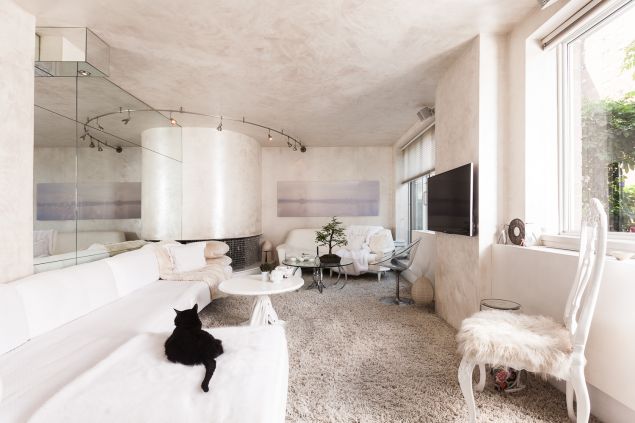 Benjamin Noriega-Ortiz's aesthetic has a distinct signature: slick, ornate and so perfectly polished it feels surreal. He creates artistic interiors that are both inspiring and livable. You've seen his work: He crafted the airy atmosphere of the Mondrian Hotel in both New York and Los Angeles; private contracts include decorated homes for Lenny Kravitz and Russell Simmons.
For his own Chelsea duplex, Noriega-Ortiz achieved the impossible, by designing and maintaining an entirely white abode, including shag carpet and faux leather dining table, for over 13 years. But, the interior decorator insists, all-white is a reality anyone can achieve. "I do recommend, if you have kids, to have a white apartment because you can clean it, bleach it and see when it's dirty. People say they like to have a material that doesn't show dirt. Well, that's disgusting!" he scoffed.
What did the space look like before you put your touch on it? When we bought the apartment in October 2002, it was very dark—all brown stone, dark wood, and the floor was the color of cement. It had not been renovated since 1983, so the walls were falling apart. Throughout the design of the apartment, we lived in here with just an inflatable mattress, our clothes and some pots and pans.
How did the idea of a white-on-white color palette come to fruition? [My partner] Steven Wine and I work with a lot of color, so we thought that doing the apartment in white would be like a sorbet in between courses. Also, I did a white house in Quogue, and this apartment served as an experiment to show the client how something like this could work.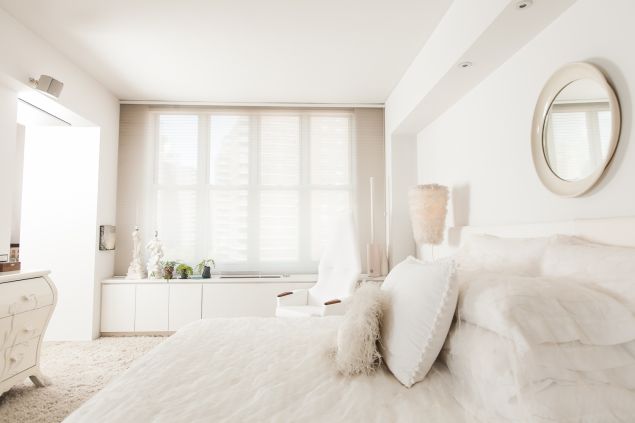 Are there any design tricks for pulling this look off? Textures are the most important thing when you do a white apartment. It's very difficult to coordinate whites together, but we probably have 20 shades in here. It's very studied, but it looks laid-back. We used this product called Surell from Formica Company, which is made for kitchen counters, but we used it for the bathroom floor. It's not made for floors, because it's slippery and it scratches. We've slipped a few times, but it's so beautiful that we had to use it.
How do people respond to your all-white décor? A while back, The New York Times did an article on how to keep a white apartment in New York—they featured us—and one of the things that we said is to have a washer and dryer right at the entrance, so you can take off your street clothes and change into apartment clothes. You cannot believe the comments that we got online, people saying that it's disgusting that we remove our clothes, asking if we walk around naked! Those people are not going to be invited over.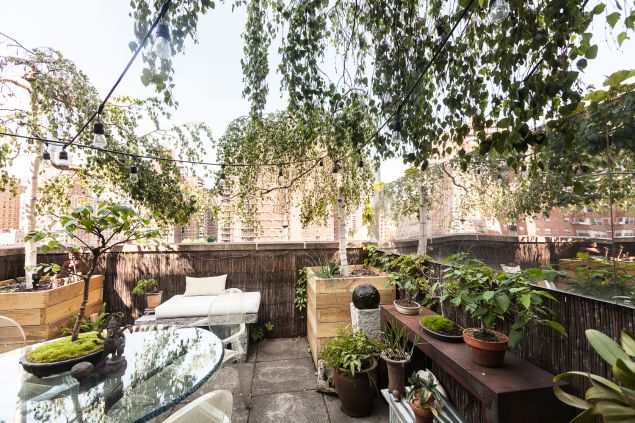 Does the shade of the space hinder you from entertaining? Every now and then we have guests, but only very close friends. We also require that everybody takes their shoes off, and a lot of people are uncomfortable with that. In the summer, however, we have friends that just show up, asking if they can hang out on our terrace.
Aside from designing the space, what else in here is your creation? A lot of the furniture is my design—the dining table and the sofa, for instance. We try to find uncommon things. My husband complains every now and then and asks if I can just go to Bed Bath & Beyond. The answer is no, I can't! These antique chairs are Portuguese; I bought them at a place called Cobweb a long time ago. The table in the living room that looks like a tray table in plaster—I have one upstairs and downstairs—I bought them on the Lower East Side.
In the summer, you also spend time at your beach house. Does it look anything like this apartment? It's the opposite of this. The beach apartment is in Rockaway Park, right on the sand, and it's very colorful. It's pink, green, purple and blue—it's all color. It has very little white, if none. We designed it as Marie Antoinette would, if she was living in Queens.
Where did your Jenny Holzer piece come from? We saw it about 10 years ago, and it was in storage—the gallery forgot they had it. Steven asked if they had it, and they did, but it wasn't signed. He told them he would only buy it if she signed it, and she did.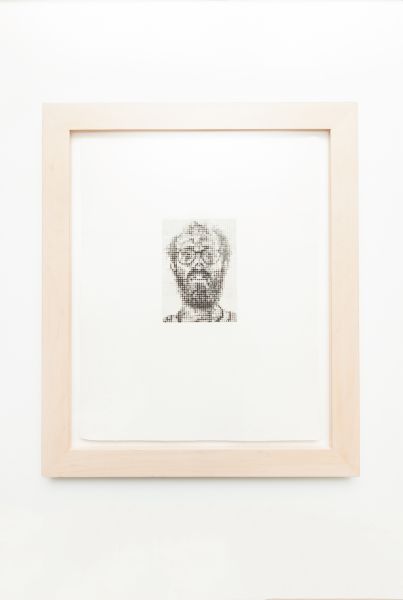 What about the rest of your art collection? We have very nice clients that every now and then give us nice pieces, like that Chuck Close. We are very fortunate.
You've also got a killer collection of hats. Everywhere we go, if I see a hat store, I have to go in. Some are custom made, some are unique pieces, and some are Borsalino, this great Italian brand. The hats go from wild, crazy custom pieces to a normal baseball cap.