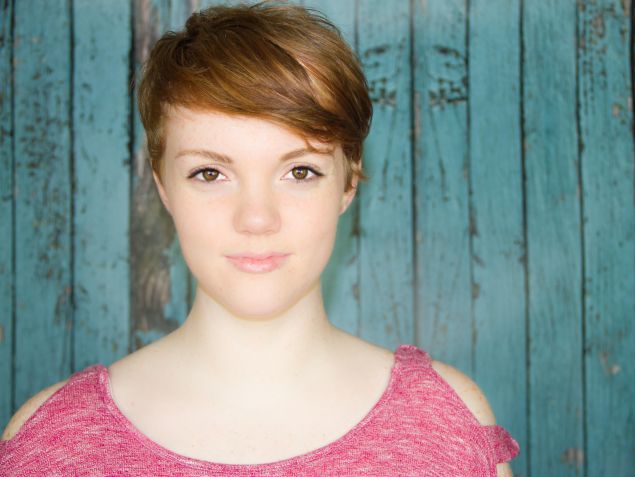 Shannon Purser never expected to go viral—at least not for her first-ever role. But ever since Netflix's '80s-set sci-fi drama Stranger Things dropped last month, the Internet has gone bananas in the form of blogs, memes, and fanfiction over a relatively minor—but aesthetically arresting—character: the red-haired, bespectacled Barbara Holland, Barb for short.
"I figured people would see Barb and say, 'O.K., she was a nice character,'" Purser, 19, says over the phone from her home in Atlanta. "Because I really am not in a lot of scenes. But to see all of these people commenting on how much they related to her and how much they enjoyed her, it really means a lot."
Of course the people have chosen her: Barb, who closely resembles the smart-alecky Martha Plimpton in The Goonies, is the clear-eyed best friend to the more-popular Nancy Wheeler (Natalia Dyer). She helps Nancy study; she looks out for her in the face of peer pressure (in this case, being coerced into sex with a smooth-talking future yuppie); she can eyeroll you clear into the next century (or maybe in this case, another dimension); and, perhaps most important, she's unafraid to pair a plaid ruffle top with a pair of deeply un-ironic mom jeans.
Not that Barb's close-minded Indiana town recognizes her style and prudence: After she gets attacked by a petal-faced monster and dragged into a parallel dimension called the Upside Down (while waiting for Nancy to hurry up and finish getting laid, no less), local law enforcement (incorrectly) concludes that she up and ran away without warning. It's almost as if her disappearance is an afterthought compared to an earlier one, 12-year-old Will Byers (Noah Schnapp).
"I think more than all of us would like to admit, at some point in our lives, we've all felt like we were the least popular one in our friend group, or felt insecure or nervous—a little left out," Purser explains.
Below, the actress tells us more about her experience working on the truly bizarre Stranger Things, being the new subject of fanfiction, getting caked in dirt and slime in that pivotal pool scene, and whether or not we can ever expect to see Barb again.
Congratulations on your first role! How did you get into acting?
I loved acting ever since I was little. I did theater and elementary school theater, church plays, stuff in middle school as well. I always loved stories and reading and people in general. I loved the idea of being able to become a character and live in a story.
As I got older, I got more involved with theater, and I ended up finding this group called The Atlanta Workshop Players—in Atlanta, which is where I'm from. I ended up doing a showcase with them, and an agent was there and wanted me to audition for the agency. So I did that and ended up getting an agent. So for the past four or five years, I've been auditioning, doing the regular things: sending in self tapes, and reading with the casting directors. I got asked to send in some tapes for Stranger Things, and did that a few times, then read for the Duffers, and that was incredible. I love them so much. I think it was within a day that I found out I'd booked the part. It was a stunning moment for me.
I think they wanted somebody a little bit less conventional, someone unique, which, I mean, I'm a pretty tall ginger — I stand out in a crowd. I think they wanted something to that degree. I'm really thankful that they saw something in me that they wanted for Barb.
Had you seen many of the films the Duffer Brothers drew inspiration from to create Stranger Things? 
I love '80s movies. I love John Hughes—Breakfast Club and Pretty in Pink and Sixteen Candles. I love Molly Ringwald, specifically. I think she's iconic and wonderful. I love a lot of the work that Winona [Ryder] did in her earlier years—Beetlejuice, Edward Scissorhands. I've seen The Goonies, and I love, love Steven Spielberg. I think E.T. is incredible. It was really cool to see how the Duffer Brothers drew inspiration from those films, but also created something unique and something new that people would want to get into.
"There was actually a lot of mystery around [Barb's fate] for a while…eventually I got the script and everybody was like, 'Yeah, it's not going to turn out so great for you.'"
Did you know Barb's fate when you took the role?
I didn't know from the very beginning. There was actually a lot of mystery around it for a while. No one would tell me what was going on or what the plans were. And eventually I got the script and everybody was like, "Yeah, it's not going to turn out so great for you." [Laughs.]
I'm so thankful for the experience. This is my first role, so I would have been one hundred percent happy to just walk by the camera, like, in the background. That would have been amazing for me. So to get the chance to get screen time was absolutely incredible, and I feel so lucky to do that. Would I have loved to be on for longer? For sure. But I'm so thankful for my experience.
I wouldn't be surprised if they found a way to bring you back next season for a flashback or something.
Netflix hasn't really confirmed a season two yet, so we're still waiting to see what's going to happen with that. But I had so much fun; if they wanted to make another season and have me back, I would love to be back.
In the scene where we discover what happened to Barb in the Upside Down—what was that gunk and stuff they put on you?
Believe it or not, in that scene specifically, that was not me—that was not my body. I had a head cast made for that. The special-effects makeup and the prosthetics team, they were incredible. It turned out so much like me. People were telling me, "It was kind of scary seeing your corpse there!" And I'm like, "I know!" But yeah, there were no slugs crawling out of my mouth. [Laughs.]
"I think people really admired [Barb] being so unapologetic for being who she is. We've all been ditched by a friend for a cute boy or left alone at a party and not really sure what to do."
Why do you think people connect so strongly to Barb?
Seeing the response to Barb and how huge and excited people were about her, it was definitely surreal. It's been really great to hear people talking about Barb and how they relate to her. I think people really identified with her because for one thing, she's pretty confident in who she is. She dresses the way she wants. She speaks the truth whether you want to hear it or not, which I love about her. I think people really admired her being so unapologetic for being who she is. We've all been ditched by a friend for a cute boy or left alone at a party and not really sure what to do.
To what extent do you personally connect to her?
I always felt personally that I connected to Barb. Just because I am a bit of that person—I've always loved school, I loved reading. I'm a little bit socially awkward; I've only really just found my close friends. I think I have a little more luck than Barb does in terms of social skills. But I've had those moments where I felt like the mom of my friend group—wanting to take care of other people and be loyal to them.
What was your favorite thing that you got to wear as Barb? Were those high-waisted jeans as uncomfortable as they looked?
Actually, they ware pretty comfortable. Wardrobe and costume was always great about making sure everything fit well and that I wouldn't go crazy shooting in it for long hours. The clothes are very '80s, those Jordache jeans were so "mom" and so outrageous. The only moment at the end of the day where I wanted to take the clothes off was after the pool scene where I was all covered in muck.
What was the actual stuff on you, during the pool scene?
The stuff that I ended up coughing up at the beginning of the scene was a mixture of baby food that I got squirted into my mouth at every take, which was an interesting experience. As for the actual slime stuff, I think a lot of it was glycerin.
Were all of your clothes vintage, straight from the '80s?
I know they made a great effort to find authentic pieces and real vintage stuff. Just to really add to the whole genuine vibe. We wanted to bring people back to the '80s and not make it an imitation. I think they had to make doubles for some of my clothes because some of them ended up getting dirty or torn. But if I remember correctly, a lot of the pieces that you see are definitely authentic.
If Barb had lived, what do you think a smart kid like her would've done after high school?
She's such a tenacious and bright person, I think whatever she had picked, she would've excelled at. I could see her going to a great, well-respected school. It's been awesome to see all of the fan theories—people thinking that she would go to Stanford or NYU.
When you go out in the world now, has anyone recognized you on the street?
No, I haven't had any of those yet, really, but I have had a lot of Facebook messages from people who I knew a long time ago, saying, "Oh, I was watching Stranger Things and this girl looks like you!" But yeah, nobody's stopping me on the street yet. I know my family is super-excited, like, "You have to tell us if somebody ever recognizes you." We're still waiting on that one. [Laughs.]
Do you have anything coming up? Are you in school?
Right now I am making plans to go to school. But I'm seriously thinking about switching into online classes so I can continue to pursue acting. There's nothing officially new in the works…just auditioning, hoping for the best. If I like the story, I'm willing to try just about anything. I've always loved dramatic acting, and I do love science fiction and fantasy.  I love this job so much, so I'm definitely ready and excited to do more of it.