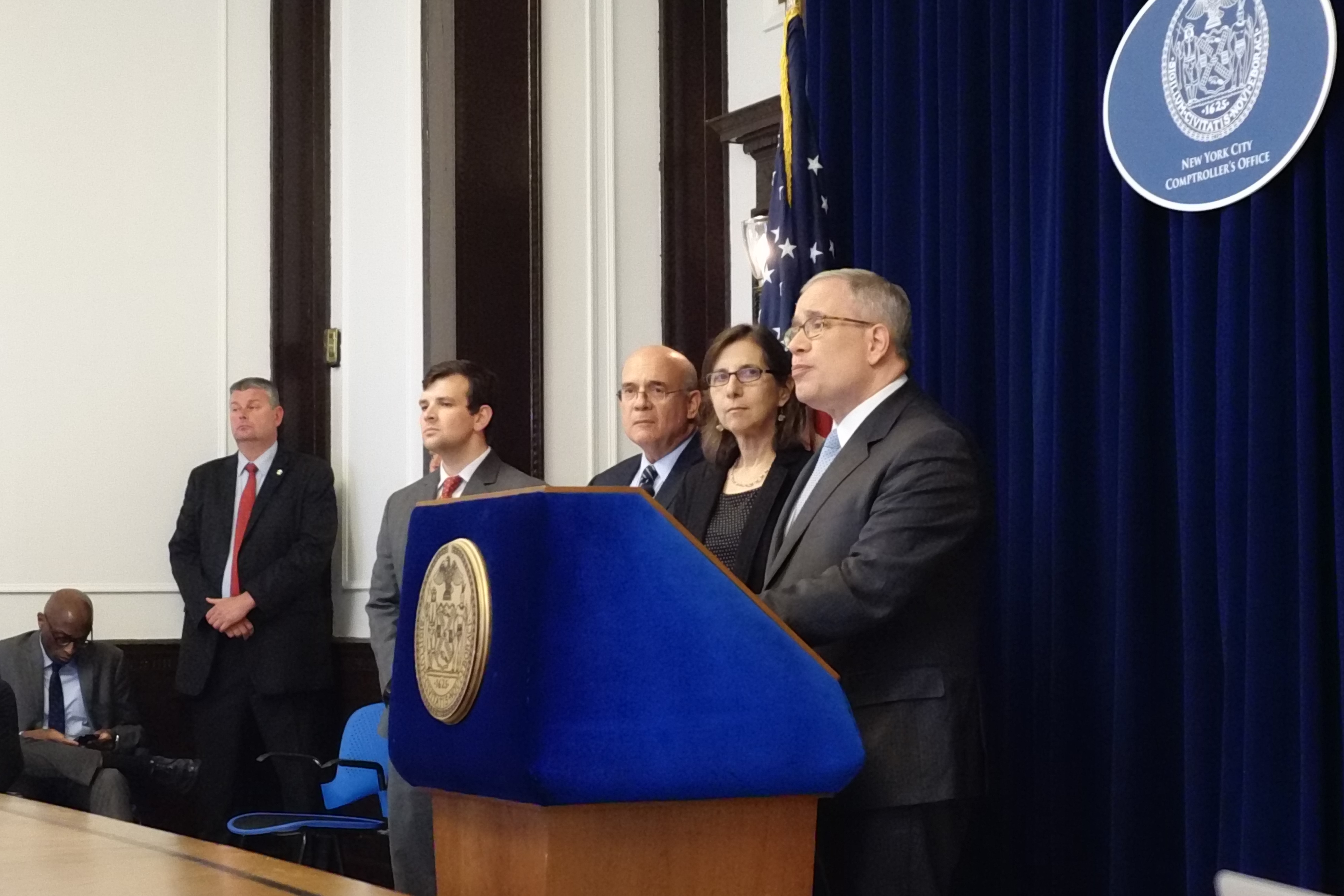 Comptroller Scott Stringer said it was mismanagement at City Hall and poor execution of city policies, not the policies themselves, that led to the removal of a deed restriction at Rivington House—but declined to directly the hit Mayor Bill de Blasio over it as he released an audit today.
"This is not a blame game report," Stringer said. "This is a report that shows major mistakes along the way as to why this deed restriction got lifted. And again, we issued this report in the hope that it won't happen again."
It is the second major investigation into the city's decision to lift a deed restriction at Rivington House, a former AIDS hospice on the Lower East Side, in exchange for a $16 million payment to the city—a move that enable its owner to flip it after a just a year to a condo developer, netting $72 million in profit and losing a healthcare facility. Last month, the Department of Investigation released a blistering report saying that City Hall should have known about the deed removal, and noting the language used to remove the deed was lifted directly from a lobbyist.
Today's audit was not quite as scathing, at least not for de Blasio—who Stringer's audit found was not looped into the decision made by the Department of City Administrative Services, despite the involvement of 40 administration staffers including First Deputy Mayor Tony Shorris, Deputy Mayor Alicia Glen, and former Deputy Mayor Lilliam Barrios-Paoli.
"Our investigation found at no point did DCAS receive clear direction from City Hall that they wanted this property to remain a nursing home and that the deed restriction should not be lifted," Stringer said today at a press conference. "We found no evidence that, despite the involvement of 40 administration figures including the leading top level deputy mayors, we found no evidence of any discussions between them and the mayor, that we could find."
That seemed to be welcome news to the de Blasio administration.
"The report proves once again that the Mayor was unaware of this transaction, that the First Deputy Mayor was not consulted about the conversion to luxury condos, that the developer hid his intentions from City Hall, and that this decades-old process needed reform," spokesman Eric Phillips said. "The Mayor has announced an overhaul of the entire process to ensure that community benefit always comes first."
(DOI, meanwhile, had cited a single e-mail, sent to de Blasio, that mentioned Rivington House; the mayor said he didn't recall it. Shorris received multiple updates on Rivington House via weekly e-mails from DCAS, both the DOI report and the comptroller's audit noted, but said he usually did not read them.)
De Blasio has blamed what he has deemed an outdated process that he was unaware of for what happened at Rivington, as recently as Thursday when he sat down with the Observer for an interview in Philadelphia.
"Of all people, am I the kind of guy who says 'Oh, let's let the developers make more money?' No, that's not my thing, that's not what I came here to do. So it was a mistake, it was the left-hand, right-hand not coordinated, it was an old obscure policy we did not catch in time," de Blasio said Thursday. "If you had said to me when I was a city councilman or public advocate, do you know anything about the process for changing—I would've said no, I know nothing about the deed restriction. It's not in our platform, it wasn't an area of focus, it's obscure."
But today, Stringer insisted Rivington wasn't lost because of the process, "but because of poor execution of those city processes."
"This is not about process or deed restrictions that were in place. Yes, we do think the deed restriction process should be improved," Stringer said, "but in this particular place it wasn't the process, it was the mismanagement at DCAS and City Hall."
Asked whether someone at City Hall should be held accountable for that mismanagement, Stringer demurred.
"That's really up to the mayor, to manage City Hall and his office. What I'm hoping is that they will look at our report learn from some of the things we uncovered," Stringer said. 
Posed the same question about accountability on Thursday, de Blasio again argued it wasn't necessary.
"I don't get why there's a lust for blood, if you will," he said, adding that "something got missed" but the good in his employees outweighed that bad. 
In the comptroller's audit, the harshest words were saved for the private companies involved in the Rivington deal, particularly Allure Group. De Blasio has maintained that Allure Group told the city they planned to keep the property a nursing home, and Stringer, too, lambasted the company and its principal, Joel Landau.
"I think Landau should be ashamed of himself," Stringer said, "and I think we have to hold the city and Landau responsible for what happened here."
But Stringer's own audit notes that when negotiating with the city over the $16 million price tag to get the deed lifted, Allure said they'd have to pursue a more profitable avenue if they were forced to pay a hefty sum.
"The Comptroller's report confirms that Allure never lied to or misled City officials about the potential sale of Rivington House. To the contrary, the report acknowledges that Joel Landau told City officials that if Allure had to pay $16.15 million to remove the deed restrictions, it would be forced to develop housing or flip the property," said Andrew Levander, a lawyer for Allure.
Still, it's clear from Stringer's audit that Allure wasn't keen on publicly discussing flipping the property, for fear it would sour the deal. In e-mails cited by Stringer, investors and one of Landau's lawyers urge discretion about the potential sale price, saying if the city or unions—which had gotten on board with efforts to save healthcare jobs—found out the selling price, it could botch their plans to get the deed restriction lifted.
One of Landau's attorneys told investors to "KEEP THEIR MOUTHS SHUT. The deal is all over the street from their investors and it could and it could FFFF up the deed restriction being lifted amd [sic] union if they know sales price."
Stringer also seized on the fact that the administration did not act for more than 70 days after learning about the deed removal and planned sale. Asked what they might have done to stop the sale at that point, Stringer didn't have specifics.
"Once they knew for sure that the deed restriction had been lifted, you had one more Hail Mary opportunity to get in the game," Stringer told the Observer. "There should have been calls to Allure saying, 'what's with the bait and switch?' They certainly could have called Slate," the company buying the property from Allure, "and said, 'we want you at City Hall tomorrow morning.' They should ave initiated their own emergency investigation and they should have brought the best to the table to explore their legal options."
De Blasio's office pushed back against that notion.
"When news first surfaced that the property was being sold for condo development, there appeared to be no legal basis for unwinding the transaction," Phillips said. "It was the Mayor who asked DOI to investigate the transaction and to determine whether the developer committed fraud in misleading city officials. The Comptroller's report further supports this possibility."