I was surrounded. Seven lions encircled us, mouths ajar with eternal hunger. It was me, a photographer and a rabbi. Sounds like the beginning of a bizarre, hacky joke or the kind of anxiety-ridden dream you tell your therapist about (maybe you should have just had that bat mitzvah?) or possibly even a premise for a very strange and specific horror film. Regardless, it's the kind of scene you would never imagine happening in your real life, especially in Brooklyn.
This is Torah Animal World.
"Don't be afraid. How about holding a baby lion?" Rabbi Shaul Shimon Deutsch, founder and curator of Torah Animal World, attempts to comfort me with the stuffed baby lion, his face frozen in ferocious spirit. "Kids come in here, and they are in love because you feel like you're walking into a lion's den."
That's only the beginning of the fascinating journey through Rabbi Deutsch's treasure chest of taxidermy delights and ancient artifacts of time forgotten. Torah Animal World is a subset of the Living Torah Museum (voted Best Museum of New York by the Village Voice) offers peculiar insight on an otherwise conventional history. Located in Borough Park, Brooklyn, Rabbi Deutsch has reconstructed his ideal museum with a collection of antiquities (both secular and not) and taxidermy animals, which he's been collecting for over 23 years. "This was a lifelong dream," Deutsch admits with a gleaming smile. He poses next to a smug ostrich whose plastered smirk survives even death. "I felt that if we could create something like this it would outlast my lifetime."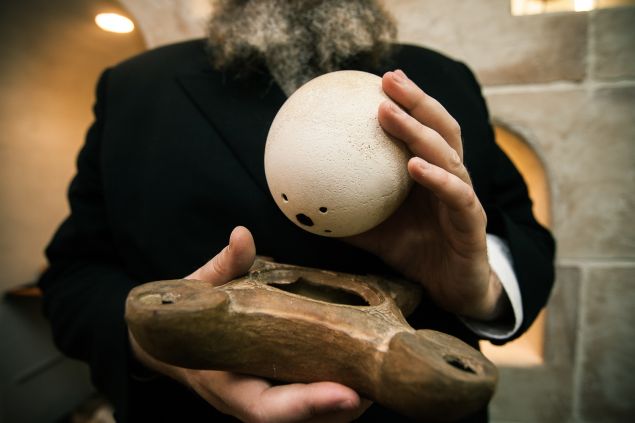 Unlike other museums, where art and its audience are separated by space and a blood-red rope, Deutsch not only allows intimate participation—he encourages it. Whether Deutsch crowns you with a 2,300-year-old gladiator helmet or vehemently insists on touching the soft and unassuming nails of a lion, you are immersed in his curated world of wonder. He has done something spectacular, creating a space where history and imagination collide forming an explosive parallel universe where a peacock perches above a camel as a hyena befriends a turkey. Rabbi Deutsch is an artist of sorts using his sixth floor brownstone as his canvas.
Despite its name, this museum isn't only reserved for Jewish history. Rabbi Deutsch tailors each tour (by appointment only) depending on your interests. A bedpost littered with hieroglyphics directly from King Tut's tomb, a double-edged sword used in gladiator battles and a gold crown worn by Cleopatra, all of which you can touch, hold and wear. In this magical game of show and tell, Deutsch shuffles from each treasure like an excited child showing off his new birthday presents, reciting each object's history as if it were his own.
History may repeat, but it also redefines itself. Rabbi Deutsch's endless knowledge of history is stimulating, but his personal anecdotes with each item create a more significant understanding. It all began with a 2,000-year-old oil lamp, gifted to him by a friend who had recently visited Israel. Antiquities are a legal trade in Israel, and anything found pre-1978 follows a "finders keepers" rule. Therefore, if you found a coin with King Antiochus III the Great in your backyard (a $15,000 coin that you can hold at the museum) that baby is all yours to sell, keep or donate.
"We've never killed an animal—I don't believe in killing animals. I do believe that if they're already dead and available, let's use them for education."
One oil lamp and countless trips to Israel later, Deutsch embarked on his dream to collect, create and teach despite negativity and doubt from the orthodox community. "When I started people said, 'You're crazy. You can't do something like this! The orthodox Jewish community would never tolerate someone building a museum. Why do you think anyone would pay money to see your museum?' " In this albeit strange underdog story, Rabbi Deutsch ignored the criticism and began building his beloved project, located adjacent to his home. He quite literally lives, breathes and teaches in this museum. "You have to follow what your heart tells you."
His interest in using taxidermy animals also began with his innate need to teach. On realizing the important roles specific animals played in the Torah, Rabbi Deutsch wanted to create a multi-sensory approach to teach children about them. Opening a zoo in Borough Park would be complicated at best. He found a loophole. "We did the next best thing using taxidermy animals. We've never killed an animal—I don't believe in killing animals. I do believe that if they're already dead and available, let's use them for education."
Rabbi Deutsch balances his creative needs with philanthropic endeavors. On top of maintaining his magnum opus, Deutsch runs Oneg Shabbos, a food program for the hungry and homeless. The largest food pantry in Brooklyn, located in the basement of the museum, Deutsch with the help of volunteers and sponsors helps feed over 1,100 families on a weekly basis. Regardless of your religious affiliation, this program is for anyone in need. "One of the saddest calls I've ever received was from an 8-year-old boy who said to me, 'I'm hungry.' My heart was broken." He shakes his head with sadness. "We are a lifeline for many people." He also runs a burial program for people who can't afford proper funerals. The first floor of the Living Torah Museum is an actual synagogue where he performs prayer services.
"You want to be a happy person? Help other people," [Rabbi Deutsch] says with conviction. "I want to be a happy person."
There is something poetic about his various enterprises—his connection between life and death. He participates in the cycle of life providing sustenance for those in need while aiding those who have passed to an infinite, peaceful slumber. He breeds life into death, recreating absurd scenarios between unlikely friends of the animal kingdom, as well as redefining lost artifacts that kids merely gloss over in history books. He stares death in the face as a reminder of life. "You want to be a happy person? Help other people," he says with conviction. "I want to be a happy person."
Most museums are cold, bright and almost sterile due to the fragility of art, handled with delicate hands and admired in silence. The Living Torah Museum feels just the opposite. It's like walking inside of your eccentric grandfather's living room. His hands-on approach doesn't only satisfy a historical curiosity, but it forces a new connection to items lost in the vacuum of time. Cradling a perfume bottle excavated from King Tut's tomb cultivates a new sense of understanding—something you could never experience by simply peering through a glass barrier. "Perfume bottle." Rabbi Deutsch inspects a brown withered object and shakes it. "You hear that? Dried perfume! Here, hold it." He says shoving it into my hands.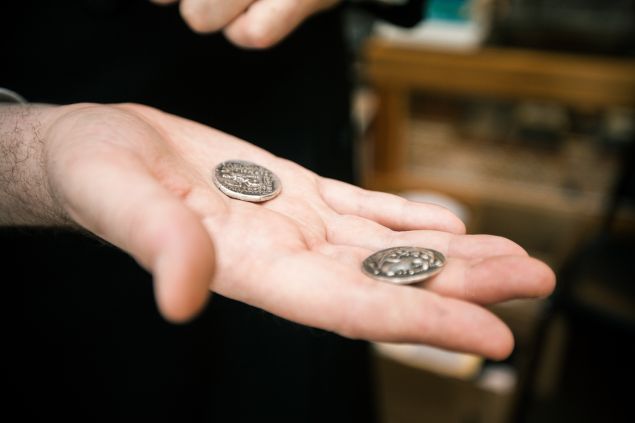 His tours primarily consist of children who naturally test these objects to their limits. Mishaps frequently tend to happen. Rabbi Deutsch holds a silver coin to the light. It has Alexander the Great's face on it with a barely noticeable imperfection, marked by an excitable child who tried to bend it. Next up, another unique item: a 22-karat-gold loop earring from ancient Greece. It was ripped from its back piece by a curious young girl. "This one I love. We are getting it repaired," he says with an indifferent sigh, as if it were a broken zipper or an ordinary button that simply needs mending.
He sets down his prized earring and scurries to the next invaluable object. He turns to me with an omnipotent smile, self-assured in his next choice: "If your name was Cleopatra, you would be wearing this." Without a moment to fully absorb the situation, he gently places Cleopatra's crown atop my head. The gold was so delicate and soft it felt like Hammermill paper from heaven. I felt both like a queen but also undeserving of such a treasure. Anxiety struck because it became entangled in my hair, a priceless item of history of which I thought I would surely break, adding to his list of careless children. However, Rabbi Deutsch said calmly, "It's okay, we'll take it off slowly. It happens all the time."
The Living Torah Museum also creates movies made available for patrons to watch at the end of tours. The films' subjects range from antiquities to animals from different parts of the Torah. Rabbi Deutsch narrates it himself, along with a combination of personal videographers and stock footage, creating an endearing Frankenstein's monster of a movie. I caught the tail end of Animals of the Talmud, an informative and unorthodox take on dangerous animals. "If you show no fear, the animals will not hurt you," a direct quote from the story of Daniel in the den of lions.
Rabbi Deutsch hopes to expand the Living Torah Museum. "Our goal is education, and that's what we try to do here—to bring it to life to people." In addition to using more space for artifacts and animals, he wants to build a biblical plant greenhouse. "Whether you are learning the Torah or not, studying ancient artifacts and ancient ways of curing people, you will get a whole new perspective on it." His lack of funds prevents him from pursuing this goal, and he is currently seeking donations.
At the end of my tour, I ask Rabbi Deutsch which animal of the Torah is his favorite. He stares into my eyes and confidently replies, "The giraffe." Taken aback by his response, I presumed it was the lion. "He was somehow forgotten…I like him because people have so many misconceptions. They think giraffes are so peaceful, but in fact, a giraffe can kill a lion with one kick."
So there we were, the photographer, the rabbi and I trapped in the lion's den, surrounded by some sort of petting zoo on LSD. I opened my eyes and stuck out my hand to touch the lion, paralyzed in time forever. I showed no fear.