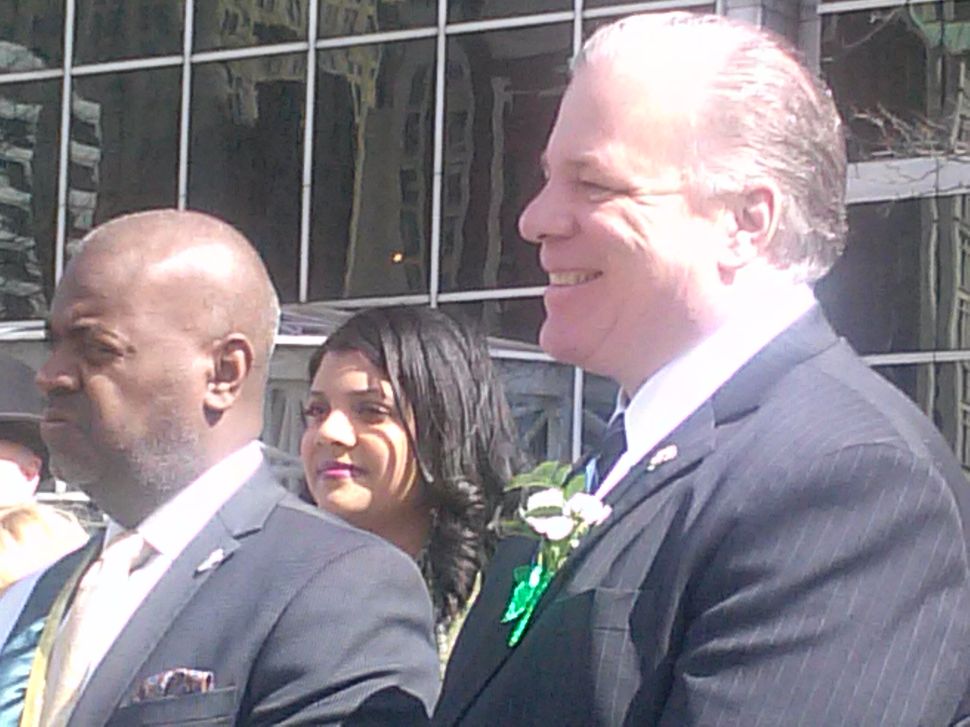 In the end it proved an anti-climax, that meeting tonight of Democratic Party establishment players in Mountainside, as an abbreviated but dedicated brace of insiders gingerly felt out guv 2017 implications.
Two northern chairs attended, to add to the Southern contingent, and some senators, M. Teresa Ruiz, Nick Scutari and Paul Sarlo among them. All three of those lawmakers are short-list establishment candidates to succeed sitting Senate President Steve Sweeney (D-3) on the throne of senate power, incidentally.
All the three of them have to do is back Sweeney for governor, then find a way to be the last man—or woman—standing.
Essex offers the biggest prize by virtue of its size, but it's also arguably the most mangled right now heading toward a 2017 gubernatorial contest.
There was no evidence of state Senator Brian P. Stack in the room, or of state Senator Bob Smith, a pair of reliable power players respectively from Hudson and Middlesex counties.
Middlesex was, in fact, surprisingly poorly represented.
A statement about Middlesex County Democratic Chairman Kevin McCabe's fierce dedication to stay independent for as long as possible?
Maybe.
But those in attendance, if pressed, would also claim independence, and insist that no one's backed anyone yet, as evidenced by the lack of any hard and fast campaign strategy unveiled at the meeting, but those players in the room tonight fulfilled a specific theatrical purpose on the statewide stage.
Sweeney wasn't there, as South Jersey Democratic Party Pooh-bah George Norcross III made dinner remarks devoid of trash talk. Expectation abounded ahead of time that it could be dubbed an "Anybody but Fulop" event given the players involved and the powerful presence of Norcross at the table.
Norcross doesn't like Fulop.
But he didn't dwell on that, as the participants made broad stroke comments about bringing a broader coalition of individuals in, and multi-tasking the gubernatorial with this year's presidential.
Opponents of Sweeney and Norcross delightedly concluded that the absence of a significant number of players from Northern New Jersey spelled uncertainty in the establishment and less than massive steroid body imaging. Insiders on the other side of that divide said those people who needed to be there were there.
The meeting came about after PolitickerNJ reported on Newark Mayor Ras Baraka's (inevitable) endorsement of Jersey City Mayor Steven Fulop for governor.
That outright expression of support for Fulop signified fracture for those Essex and Union county allies of Norcross III. For a long time Essex County Executive Joe DiVincenzo and company have been hearing an "Anybody but Fulop" message out of Norcross world and repeating it in their own conversations, and saw Baraka actually emerging out front as a mildly irritating sign of a disjointed Essex.
In Union County, Democratic Chairman Jerry Green was experiencing similar early signs of a coming civil war.
"They better not come in here, and if they do, I'll be ready for them," Green told PolitickerNJ.
He made clear that his sights are on Fulop, practitioner of an abrasive brand of politics that the chairman said might at some point prompt him to go old school.
But his own backyard under-story bore problems, too, like the fact that Plainfield Mayor Adrian Mapp (up for reelection next year), was now chairman of the local Democratic Party in Green's hometown, controlled the council, and appeared more inclined to go against Green than stand with him. Moreover, Union County Sheriff Joe Cryan appeared to be nursing rebel war wounds from his fights with South Jersey while he was still serving as an assemblyman. Like Baraka, Cryan looked far more inclined to support Fulop over Norcross's first choice, presumably childhood chum Sweeney.
If Green sided with Norcross and DiVincenzo and Sweeney, Cryan and Mapp would presumably be on the other side of that fight with Fulop. So just like DiVincenzo (and maybe Essex County Democratic Chairman Leroy Jones), Green wanted to make sure a rebellion organized by Cryan and sympathetic to Fulop didn't start devouring his county, or at least contributing to a significant split. Former U.S. Ambassador Phil Murphy was also running around and aggressively gobbling up alliances like so much loose change, particularly in Essex.
Things could splinter and fall apart fast without a plan.
Or at least pose operational headaches.
They wanted to get in front of that in those two counties where South Jersey will likely require support for Sweeney, or whomever else ends up being the establishment choice, whether Murphy – or "Anybody but Fulop."
Sweeney's allies are, of course, convinced that Sweeney is cemented as "The Guy."
So Green was also in for a meeting, as one Hudson operative poked fun at DiVincenzo.
"In one week, he's managed to make Tom DeGise [the county executive of Hudson County] look like Joseph Stalin," cracked the source, as the party prepped for tonight's exercise, a mostly mild and understated affair, according to sources in the room.
Taking ownership of the evening, Green and Jones issued a full list of attendees to the soiree, and while the GOP has seldom been weaker in New Jersey than right now, both chairmen went Bob DeNiro on that party a la The Untouchables.
"Republicans sense their opportunity to divide and conquer their way to a third term as governor, and by coming together as a party, we are prepared to do the hard work required to restore our values to the state's highest office, said Jones in a prepared statement. "We have seen our neighboring reliable Democratic states lose gubernatorial elections when victory was seemingly inevitable. That will not happen in New Jersey because we will be unified in the collective effort to elect a Democratic governor and protect the largest Democratic state legislative majorities in nearly four decades."
"The failed economic policies and destructive agenda of Governor Christie should be a wakeup call to every Democrat in the state that the stakes could not be higher next year," said Green. "I felt compelled to jointly organize this meeting to make clear that Democrats must unite together in order to deliver victories next fall, and together this diverse group of party and elected leaders are ready to lead the way."
A full official list of participants appears below:
Congress – Rep. Donald Payne, Jr. (New Jersey's 10th Congressional District)
State Senate – Majority Leader Loretta Weinberg (District 37), Deputy Majority Leader & Budget Chairman Paul Sarlo (District 36), Democratic Conference Chair Robert Gordon (District 38), Assistant Majority Leader Theresa Ruiz (District 29), Majority Whip Sandra Cunningham (District 31), Judiciary Chairman Nicholas Scutari (District 22), Vice-Chair of Higher Education Nellie Pou (District 35) and Vice-Chair of Economic Growth Nilsa Cruz-Perez (District 5)
State Assembly – Speaker Pro Tempore Jerry Green (District 22), Deputy Speaker Wayne DeAngelo (District 14), Vice-Chair of Agricultural and Natural Resources Adam Taliaferro (District 3), Jamel Holley (District 20) and Eric Houghtaling (District 11)
County Officials – Essex County Executive Joseph N. DiVincenzo, Jr. and Essex County Executive Chief of Staff Phil Alagia
Municipal Officials – Lambertville Mayor David Delvecchio, Rahway Mayor Samson Steinman and Trenton Mayor Eric Jackson
Party Officials – Atlantic County Democratic Chairman Michael Suleiman, Burlington County Democratic Chairman Joseph Andl, Essex County Democratic Chairman Leroy Jones, Monmouth County Democratic Vice-Chairman Eric Brophy, Ocean County Democratic Chairman Wyatt Earp and Union County Democratic Chairman Jerry Green
Also Attending – George E. Norcross, III (Executive Chairman, Conner Strong & Buckelew), Paul M. Weiner (Partner, Weiner Lesniak LLP) and Arthur J. Cifelli (Managing Partner, The Venn Group LLC).