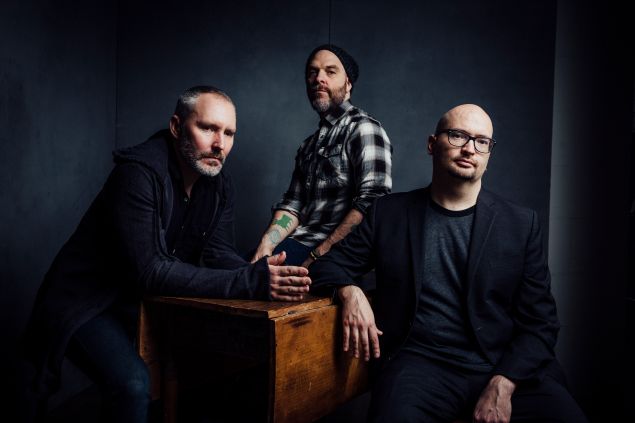 The latest album from The Bad Plus could double as an episode of Name That Tune! Play it for your friends, without revealing the song titles, and minutes could click by before anyone guesses the well-known melody being covered.
"Traditionally, the idea of a cover version is that you emulate the original," said Bad Plus bassist Reid Anderson. "For us, it's more a process of deconstruction. We're thinking, 'What else is there in this song? What can we find in here?' "
On It's Hard, the 11th work by this avant-jazz trio, they discover melodic and rhythmic possibilities you'd never guess in well-known songs by artists like Prince (The Beautiful Ones"), Johnny Cash ("I Walk The Line") and—no lie!—Barry Manilow ("Mandy"). They also provide their own sonic comments on cultish pieces by Yeah Yeah Yeahs and TV on The Radio.
The New York-based trio—which brings together pianist Ethan Iverson, drummer Dave King and Anderson on acoustic bass—has written scores of original pieces since forming in 2000. But they first snagged media attention by releasing transformative takes on songs everyone thought they knew by heart. Their 2001, self-titled debut album opened with a free-jazz creep through ABBA's "Knowing You, Knowing Me." The album also included a fun house mirror reflection of Nirvana's "Smells Like Teen Spirit."
Over the last eight years, the prolific BP has veered from its signature bent for radical reinterpretations. In that time, they released three albums of original work, one exploring synthetic instruments for the first time. Next, they managed to transpose a full orchestral work (Stravinsky's "The Rite of Spring") to just their three instruments, without losing the nuance of the piece. Finally, on their 2015 release, they presented their first full-on collaboration, bonding with another staple of the New York jazz scene, Joshua Redman. There, they used his mellifluous sax as a kind of vocal.
[youtube https://www.youtube.com/watch?v=LKllfSfgB4k&w=420&h=315]
The new album not only represents a return to the trio's stand-out role as interpreters, it intensifies that format's possibilities.
The covers on It's Hard, like their most insightful ones of the past, could be likened to negative images of a photograph. Each inverts shades, and reveals new perspectives, from the original. To achieve that, the musicians often substitute minor chords for major ones. They also get curious about the melody—tinkering, teasing, or testing out its parts, as if looking under the hood of a beautiful machine to discover what makes its central tune, or riff, run. Along the way, they refract the basic composition through their unique perspective.
"We're always searching for layers," Anderson said. "The surface can just be enjoyable but as you go deeper, you find more."
The roots of the group's exploratory spirit date from their high school days. Anderson and King went to high school together in Minneapolis. "We were fans of jazz, but when we'd go to concerts we would fantasize, 'Wouldn't it be great if if the band played a Police tune?'," Anderson recalled. "Then we said, 'Why don't we do that?' "
The bassist and drummer travelled in a variety of modern jazz groups before meeting Iverson in New York in the late '90s. The pianist, who was born in a small town in Wisconsin and, much later, served as the musical director of the Mark Morris Dance Troupe, formed The Bad Plus with the rhythm players in 2000. From the start, they decided they would be "leaderless."
The result shows in their equal split in the writing credits, as well as in their arrangements which, Anderson said, are devised "garage-band style, with everyone throwing in their ideas." Live, their balance is even clearer: The sound they make could only be produced by these three players, interacting in exactly the intuitive way they do.
[youtube https://www.youtube.com/watch?v=q9hOSZGMXlI&w=560&h=315]
The lingering notion that whoever plays most of the melodies (pianist Iverson) must be the leader irks Anderson to no end. "Jazz has had this 'leader-centric' approach for a long time," he said. "To this day, it happens that someone will claim we're Ethan's group. Why? Because of the instrument he plays? We feel strongly that there's a need for group music in jazz. And I think it's important for young bassists and drummers to see it acknowledged that this is their music, too."
Anderson feels just as fervently about the need to reconnect jazz to pop, as it used to before their big split in the late '50s. That's one reason they brought pop and indie-rock songs into their repertoire to begin with. "It's important that jazz have some kind of dialogue with pop," Anderson said. "We don't want to be disconnected."
Past covers by the band have gained the notice of some incredibly popular acts. Black Sabbath bassist Geezer Butler has said that The Bad Plus' corrosive take on "Iron Man" is his favorite cover of the band's songs ever. Wilco, The Police and The Pixies have also warmly greeted the band's versions of their material. The approach they're responding to could be called "audio origami." Essentially, The Bad Plus folds sections of the original tune until they create something unexpectedly beautiful.
The new album represents the band's first entirely composed of covers since 2008's ground-breaking For All I Care, their sole album with a singer—Twin Cities artist Wendy Lewis. That work, which featured takes on songs by Yes, The Flaming Lips, Pink Floyd, The Bee Gees and Heart, offered a highly unusual balance of singer and musician. "We didn't act as a backup band for her," Anderson said. "She had to integrate herself into what we do. I don't think a lot of singers could do that."
Anderson feels that the results were grossly underrated. "We were thinking, 'Don't you see what this is?' We actually did something unique here.' "
The new album features no shortage of unique entry points. It opens with a barely recognizable run at "Maps" by Yeah Yeah Yeahs.
[youtube https://www.youtube.com/watch?v=Ar30KyQFnIc&w=420&h=315]
The interpretation of "Don't Dream It's Over," by Crowded House sounds like it was inspired by Erik Satie. There's also a version of Pete Gabriel's "Games Without Frontiers," that's both funny and sinister, along with a fascinating reworking of Kraftwerk's 'The Robots." The German band's song, earlier defined entirely by its synthetic instrumentation, gains a new humanity in this new interpretation. "We took the exact opposite approach," said Anderson.
It may seem a contrary choice for The Bad Plus to have interpreted the Barry Manilow hit, "Mandy," but Anderson insists that "anybody who thinks that not liking 'Mandy' is a marker of good taste is completely wrong. It's a great song. It's also dark and weird."
There's a nod to jazz in their cover of Cyndi Lauper's "Time After Time," which had been famously, clumsily covered by Miles Davis during an unfortunate period in the '80s. "Our version is better," Anderson acknowledges.
There's also a take on one true jazz track: Ornette Coleman's "Broken Shadows." The Bad Plus has often reinterpreted Coleman. "When we do his work, the point isn't to take it apart," Anderson says. "It's to go deeper into it. Ornette is embedded in the language we speak. We're children of that."
By contrast, their pop and indie-rock songs call for something different. "There's no road map for how a jazz band approaches this music," he said. "The cool thing is, that means we can do anything we want."