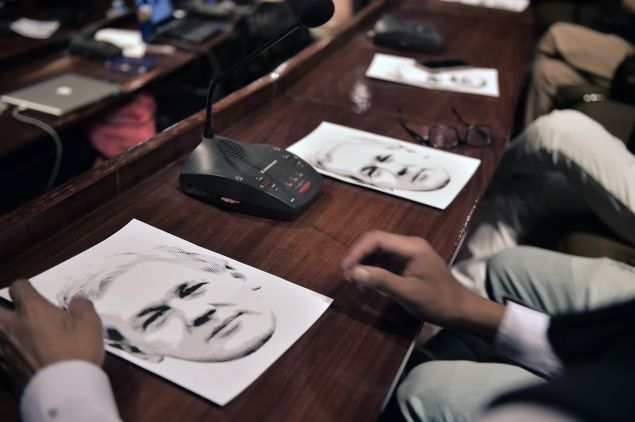 Jonathan Dimbleby's The Battle of the Atlantic: How the Allies Won the War puts the six-year-long Atlantic naval battle fought by England, Canada, and later the United States against Germany front and center. This, Dimbleby argues, was the defining struggle of World War II. The fast-paced universe of U-boats, destroyers, codebreakers, and depth charges in The Battle of the Atlantic are detailed in a way that makes readers feel as if they are truly immersed in the fighting.
Aside from being a magisterial account of the epic battles—both political and physical—that were waged by President Franklin Roosevelt, Prime Minister Winston Churchill and Nazi naval leader Karl Doenitz and his English counterparts, The Battle of the Atlantic unintentionally brings up one of the most compelling issues of today: the role of secrecy in diplomacy. During the book's 458 pages, I kept thinking, "but what if WikiLeaks exposed that?"
The Allied war effort was shrouded in secrecy. Roosevelt and Churchill needed to keep their strategies hidden from basically everyone. That included the Germans, Stalin, and even the United States Congress. Everyone had to be deceived to ensure the success of Roosevelt's master plan to aid England, and to bring the United States into the war on her side.
This goal became so crucial that Roosevelt eluded the press corps for a few days in August of 1941 to secretly meet with Churchill in Placentia Bay, Newfoundland. There they set a course of war aims, known as the Atlantic Charter, which changed world history. For without this joint proclamation, and without Roosevelt's Lend-Lease program—which provided vital assistance to England and other Allied powers —Hitler's U-boats and Luftwaffe (Nazi air force) would have slowly starved England's population by cutting off supplies for the island nation. Great Britain would have been reduced to a wasteland, paving the way for a Nazi conquest of the Western world.
In the context of today's hacking, whistleblowing, and secret-spilling, Dimbleby's intimate detailing of the exchange of classified information between the United States and England leads to a few questions: What if every telegram and every conversation between Roosevelt and Churchill were hacked? What if Congress had learned that the attack on the American destroyer Greer was not the clear-cut assault by Germany against the United States that Roosevelt made it seem to be in his "rattlesnake" fireside chat?
For years, American public opinion was against intervention in World War II. Germany had sympathizers at all levels of government, and among the American public. Hitler, like Vladimir Putin today, had fans who appreciated his firm hand. Roosevelt and his inner circle of advisers were not among these admirers, to put it mildly. FDR had been leaning toward war for a considerable amount of time before the Japanese attack on Pearl Harbor in December, 1941. The ability of the American president and his team to keep communications secret allowed them to slowly change public opinion.
Today, unrestrained press, hackers, and even foreign intelligence agencies have changed the face of diplomacy forever. Those in power do not know how to react or adjust. In the last few weeks, the world has read the emails of the Democratic National Committee (DNC), courtesy of Russian intelligence and WikiLeaks, and learned of a secret pile of cash airlifted to Iran. Compare that to the full 9/11 Commission Report, which took 15 years to see the light of day. The "Instagramming" of diplomacy is going to have far-reaching effects. I doubt world leaders or much of the public are prepared for that.
Diplomacy has always had a cloak and dagger element to it. It is widely accepted that a nation's leaders have the right to conduct sensitive matters of foreign policy in secret. Common wisdom holds that no country could publicly negotiate every aspect of a proposed deal; it would be impossible to conclude anything. Traditional diplomacy requires that only a final agreement be made public.
WikiLeaks and hackers are now policy tools. While the ability to acquire and distribute private communications has always affected world events—the interception of Germany's Zimmermann Telegram by British intelligence in 1917 comes to mind—privacy in all spheres of life is rapidly disappearing in the 21st century. How will those responsible for policy and diplomacy adapt?
Essentially, there are only two avenues. If one assumes that everything written or said is subject to hacking, you can either double down on security or become transparent.
In avenue one, everything is encoded, triple-layered with deep encryption. Everyone is instructed never to put anything into an email that could be an embarrassment. Had these instructions been issued to Debbie Wasserman Schultz, former chairperson of the DNC, she would still have her job, and Bernie Sanders supporters would be less inclined to sit out this election.
A good friend once called emails "evidence mails." He was right. If absolute security cannot be guaranteed, it is logical to not record anything that could trigger a scandal were it to end up on the front page of a newspaper.
The second avenue is total transparency. This is revolutionary, but it may be the only solid defense. Take, for example, the Trans Pacific Partnership (TPP) negotiations. They were fast-tracked and the resulting agreement released to the public. But what if every meeting and negotiation was recorded, and the transcripts released daily? Aside from the Herculean task of wading through millions of pages, what harm could result from everyone knowing the negotiating stance of every other country involved? What secrets might be revealed that were so onerous they should not be exposed?
The days of using diplomatic secrecy to rescue an ally from its solo fight for the Atlantic Ocean—thereby dragging the United States into the greatest war in history—are over. Kissing privacy goodbye may take the teeth out of WikiLeaks, hackers, and government spying agencies. It may prove disruptive, but we live in disruptive times. Radical transparency is the only solution to 7 billion digital prying eyes.
Jonathan Russo has been observing and writing about the Mid-East, domestic politics, and China for decades. In the last 10 years his articles have been published in The Huffington Post, Times of Israel, and his own site JavaJagMorning.com. He's been an executive in the NY media world for over 40 years and resides in Manhattan.