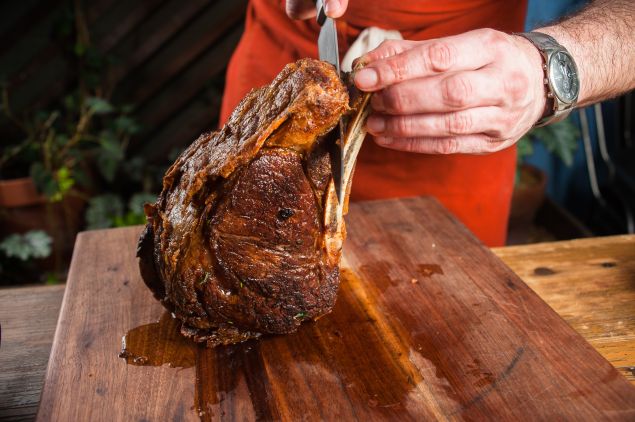 The Cannibal LA is a bigger, badder, buzzier, beefier version of The Cannibal in New York, a prime (heh heh heh) example of what happens when New Yorkers get real estate and resources that match their ambitions. So many people who've moved from New York to Los Angeles have a revelation early on that goes something like this: "Everything is easier now. Why was I doing it the hard way for so long?"
The Cannibal crew, chef Francis Derby and owners Christian Pappanicholas and Cory Lane, have gone from their East 29th Street neighborhood beer bar with a tiny kitchen and cramped counter seating to one of L.A.'s big destination restaurants of 2016. They have a sprawling open kitchen and 120 seats and a bright, airy, bustling dining room (packed on the Wednesday night we visited) that they actually reined in to give it a more intimate feel that guests have said remind them of a New York restaurant. (We have a feeling Lane didn't have this kind of flexibility with cubic square footage back when he was managing the various outposts of the Momofuku empire.) 
The Cannibal LA, an anchor of Culver City's sleek, almost SoHo-like mixed-used Platform development (where salad specialist Sweetgreen has its office and Brooklyn's Van Leeuwen Artisan Ice Cream has a scoop shop) has multiple personalities, and all of them are aggressive.
There's a 400-square-foot butcher shop for sandwiches (including a new fried chicken one that's turned into a bestseller, Lane says), everything pretzels and cook-at-home sausages and steaks.
Come to the restaurant for dinner and there's the kind of carefully-sourced charcuterie and large-format meats (like a $320 96-ounce, 60-day dry-aged rib eye that you need to pre-order and a $90 General Tso's pig head) that The Cannibal is known for slinging. Bringing a big party here also means you can work your way through both the Californian and Belgian selections on cicerone Julian Kurland's sharply curated beer menu and maybe also try some draft cocktails like an aperol spritz made with house-carbonated sauvignon blanc instead of prosecco.
Come for daily happy hour and there's a spread of free cured meats, $3 beers, $5 draft Old Fashioneds, a must-order $8 plate of chicharron nachos topped with pork shoulder and a crowded patio with tables drinking $20 bottles of rose. For the price of a movie ticket, you can easily get buzzed and get the meat sweats.
Its proprietors from New York already understand LA: There's no reason to make things difficult.
After the nachos, we moved on to the dinner menu for assorted cured meats ('nduja over everything, because spreadable sausage is the best kind of sausage) and part of a chicken parm sausage, finishing with a pavlova (excellent, with strawberries, lemon chantilly and honey pistachios) for dessert—largely because we wanted some fruit, and the cherry tart we were also considering came with foie gras.
If you don't feel like you're overwhelmed by meat and fat at some point during dinner at The Cannibal LA, you're probably doing it wrong (although there are plenty of vegetable dishes here too, like fried Brussels sprouts with Calabrian chilies and tomatoes with watermelon, cucumber and a fish sauce vinaigrette).
For lunch, the chicken parm sausage comes in sandwich form because you might as well put your breaded-and-fried chicken sausage between bread, and there are salads with Tuscan kale and summer beans and peas. That sandwich and those salads are also on the weekend brunch menu, which also features strawberry pop tarts with bacon icing, grilled s'mores French toast, the Cannibal Benedict with beef tartare on a crumpet and a 36-ounce dry-aged rib eye for two (also available on the dinner menu).
This restaurant is intense and one of the hotter dinner spots in town. But it's also a welcoming destination where parents bring their kids for $8 happy hour burgers and you can come for a lunch salad and you're free to inquire about substitutions. The Cannibal LA isn't even three months old, but its proprietors from New York clearly already understand Los Angeles: There's no reason to make things difficult when they don't need to be. Who wants some sausage and beer?