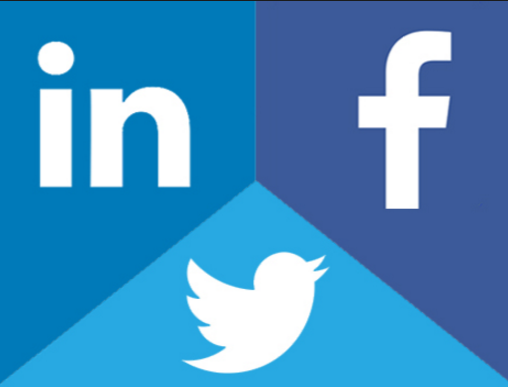 Did you ever wonder why three of the world's biggest social networks emphasize the color blue in their web designs?
Facebook, Twitter and LinkedIn cater to the 36 percent of people who named blue as their favorite color in many marketing surveys—consumers associate the popular hue with peace, tranquility and trust, which they no doubt want from their social media as well. Given that each service has millions (or in Facebook's case, billions) of users, it seems the sites' designers see green when they use blue.
Many principles of web design have their origins in the field of color psychology, which examines how the various tints affect human behavior. While this may sound like pseudoscience, several significant studies have confirmed the importance of color in marketing—and the same principles apply to advertising on the web.
"Hues and colors have psychological reflections and associations in our minds," software developer Nick Babich told the Observer. He pointed to the fact that while younger people associate red with excitement and passion, older people may connote the color with danger because it's used on stop signs.
While these varied meanings must be considered in online marketing, husband-and-wife website builders Jeremy and Connie Wong said color should be only one weapon in a web designer's arsenal.
"At the end of the day, a website's a product," Connie Wong told the Observer. "Color has an effect that you don't want to ignore, but you also don't want to make it the center of everything."
"Using a lot of colors causes distraction," Babich adds. "One bright, eye-catching color gets users' attention."
"One color is really boring and forgettable…A website is only effective if you're able to absorb the content within it." – web designer Connie Wong
While the Wongs agreed that the brand color should be the most dominant hue on the site, they said that subtly using other complementary colors will make the webpage pop more. They compared the process to an interior designer choosing a paint scheme for a home—indeed, Connie Wong worked in interior design before moving to the web.
"One color is really boring and forgettable," she said. "Accents are required for a boost of personality, but when you have an overpowering background you're pulling the focus away from the content. A website is only effective if you're able to absorb the content within it."
"The color scheme helps to bring out the content and communicate knowledge and information to visitors," Jeremy Wong added. "It's not as impossible as people think. It's formulaic—don't try too hard."
While consumers may not be fully aware of web design formulas, studies have shown that they do have visceral reactions to seeing certain colors online, which is why e-commerce sites in particular experiment to find the perfect shade for their "add to cart" buttons.
"You can catch attention using color, but there's no one formula to make it commercial, so you have to test it," Babich said.

Connie Wong agreed that color was a tool "to evoke a certain emotion or attract a certain behavior"—she credited Amazon for its distinctive yellow-orange "add to cart" icon, and said the color was fitting because it's associated with optimism and impulsiveness
"It plays exactly into Amazon's hands and gets action from visitors," she said..
Of course, no color formula is ironclad since every person is different.
"People have their own individual mental associations," Babich said. "That's just human nature."
"There's people who like purple just because they do," Connie Wong added. "Everyone perceives color differently. It's like asking if you prefer a cheeseburger or a hot dog."
Personal preference may be fickle, but companies must take color into account, especially if they have an international presence, because pigments have distinct meanings in different cultures.
For example, in North America white denotes innocence and purity (ie wedding dresses)so many webpages have adopted a pure white background (think Google). In Asia, however, white could also represent death, so the shade is seldom used as a dominant color in web designs there.
Babich put it simply: "Don't use colors that would be offensive."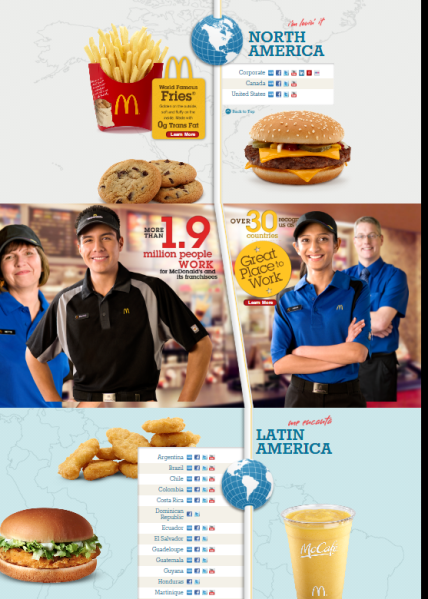 One corporation with a wise use of color online is McDonald's—the fast food empire's corporate website uses a different background color for every region of the world. While each section emphasizes the golden arches, the North American site features a white background. The fast food empire's Latin American site, by contrast, utilizes a light blue backdrop (blue denotes trust and tranquility there) while in Asia the restaurant emphasizes green (desirability and youth).
"At the end of the day you've gotta know your target audience," Jeremy Wong said. "You've gotta be culturally sensitive."
"It's very subtle branding,"Connie Wong concluded, "but it's important."