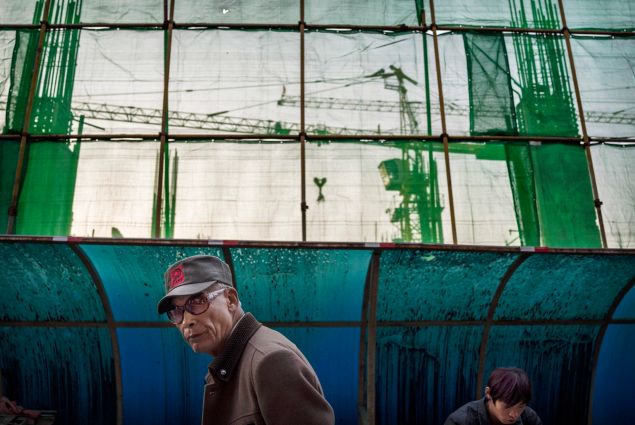 In our last column we discussed the "Brooklynization" of Beijing's hutong neighborhoods, a process that shows parallels with areas like Bushwick. Here we'll dig a bit deeper into the phenomenon, examining how gentrification in Beijing's hutong takes on a distinct local shape, for better and for worse, perhaps as the front line of a transformation in urban Chinese culture.
We begin with an extreme case: Nanluoguxiang, Beijing's best-known hutong. In barely 10 years Nanluoguxiang has been transformed from a sleepy residential alley into a perpetually thronged tourist destination, specializing in throwaway tchotchkes, Tibetan totems and fried food on sticks. It has changed so much that the façade of the inevitable local Starbucks, opened in 2013, manages with brutal irony to be one of the least offensive affronts to the history and culture of the street.
Dominic Johnson-Hill, a British expat who arrived in Beijing in the early '90s, first encountered Nanluoguxiang after moving into an artist friend's apartment there in 2003: "There were xiaomaibu [small bodegas], a couple of restaurants, the kind of stuff you'd find on a normal hutong." After a number of business ventures he opened his Plastered design shop in 2006, which quickly took off. In his shop's early days Johnson-Hill ate dinner with his family in the middle of the street, often stretching out for a game of badminton afterwards. Now he can barely walk on Nanluoguxiang for more than a few yards without bombing a tourist selfie.
Having occupied a rare place as a foreign elected official in the commercial section of the neighborhood government for five years, Johnson-Hill saw the development process firsthand. The 2008 Olympics and subsequent construction of a nearby subway station, complemented by advertisements in public transportation, drove foot traffic to its current peak. By 2010, he says, rent on Nanluoguxiang became prohibitively expensive for most creative businesses. In 2016, its many food stalls optimize small storefront space against massive foot traffic, while the hutongs that branch out along the lane are themselves colonized by tourists searching for a more authentic Beijing.
There are more hopeful examples of hutong development. Wudaoying, a quieter alley located a mile northeast, favors a crowd of 20-something Chinese hipsters. Many of the businesses on Wudaoying were opened by locals who studied in Europe and North America and returned to start their own vintage clothing shop or Western restaurant, says artist Rania Ho, co-founder of nearby gallery Arrow Factory.
"After 2008, Beijing opened up to a lot of things. Tastes have changed, and returning students are a driving force in the more commercial parts of Wudaoying. They saw something that they thought was really interesting, and wanted to bring it back."
Ho, a San Francisco native, opened Arrow Factory in April 2008 with Chinese artist Wang Wei—her husband—and curator Pauline Yao. Several months later, an enterprising Chinese deliveryman opened Chez Gerard a few storefronts down, selling Western staples like cheese and baguettes to the area's growing expat population.
Ho laughs when asked if she thinks Arrow Factory, with its challenging conceptual art program, has influenced the development of the area. "Are you accusing us of gentrifying the neighborhood?" She questions whether Beijing's gentrification is really like that of the West.
"The idea of gentrification is basically that there's cheap housing, and people are getting bought out of a place where they'd like to remain, but can't afford to. Here, the condition is that people are happy to give up their houses if they can go somewhere better. The community around here is becoming much more international, there are a lot of younger people that are not Chinese living here, but I don't know if that counts as the kind of gentrification that happens in the States."
Arrow Factory was a pioneer in the hutong gallery scene, which now includes about 20 players, most of which are grouped under Beijing's fledgling annual Independent Art Spaces festival. Outside of contemporary art, young professionals in other fields have also gravitated to the hutong as the center of Beijing's creative life.
When educated young Chinese, dissatisfied for whatever reason with mainstream culture, left their thousands of cities, towns and villages for places like Beijing, they quickly began to make connections among likeminded peers within dense, networked hutong neighborhoods. These gentrifying hutongs consequently have played a disproportionate role in the rapid development of what has become an alternative and still-unfamiliar urban Chinese culture.
The process has been most evident in music. When D-22—the rock venue we operated in Beijing's far-flung university district—closed, it had become a victim of its own gentrifying success. Its core musicians migrated to the hutongs after the club became a destination for expat English teachers and backpackers from the U.S., Europe and Australia. D-22's experimental and underground music community moved on to our second venue, XP, located in another hutong a mile west of Nanluoguxiang. XP has also since closed, but its crew of experimental artists has only expanded and now draws praise from around the world for work that is deeply informed by uniquely Chinese experiences, even as it dismisses most stereotypes of what Chinese music should be.
Compared to four years ago, when D-22 closed and XP opened, there are now quite a few interesting music venues scattered around the center of the city. One of the most successful is yet another hutong space: Wudaoying's School Bar, currently the best venue in Beijing to catch young punk and indie rock bands.
Wudaoying has long been touted in local media as "the next Nanluoguxiang"—thankfully, this is not yet the case. The still relatively under-developed Wudaoying, with its flavor of individualistic entrepreneurship, shows a positive alternative to snack-street Nanluoguxiang. It allows a rising generation of young creatives is able to self-organize within the historically rich heart of Beijing and create a new brand of culture from within.
After 15 years on Wall Street as a trader and banker, Michael Pettis moved to Beijing in 2002, where he is an economics professor at Peking University, a senior associate at the Carnegie Endowment, and the owner of 20 Percent Picture House, a private art gallery.
Josh Feola moved in 2010 from the US to Beijing, where he is a writer, musician and former booking manager at two of Beijing's leading live music venues. He has written about Chinese music and art for a variety of foreign and Chinese publications, operates the net-label Sinotronics, curates Sally Can't Dance, China's leading experimental and avant garde music festival, and plays drums in Beijing band SUBS.