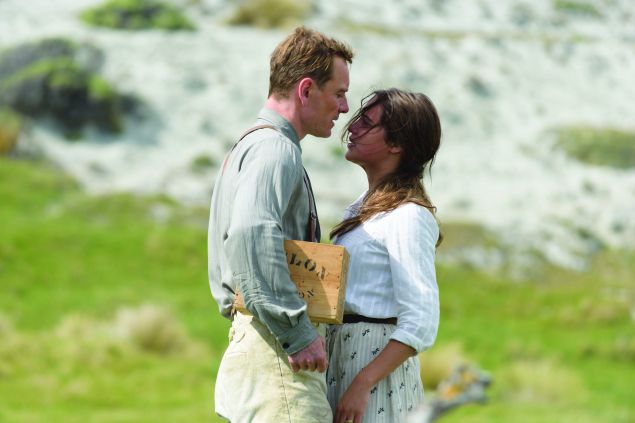 The Light Between Oceans, under the skilled guidance of writer-director Derek Cianfrance, is a mesmerizing, engrossing and beautifully made cinematic experience, rare as a pink unicorn, that enchants for more than two hours and makes you wish for at least one hour more. Among his other accomplishments, Michael Fassbender has played Steve Jobs, a sex addict with full frontal nudity, a savage slave owner, an Irish prisoner starving himself to death in a hunger strike and a mutant. He's a handsome chameleon in Technicolor with Brad Pitt's charisma, Paul Newman's blue eyes, Hugh Jackman's talent and Viggo Mortensen's torso. But I have never seen him riper, more inspired or as simultaneously tender and forceful as he is in this romantic saga about a love that spans time, space and emotional longitude. It's an epic that sprawls but never meanders.
---

THE LIGHT BETWEEN OCEANS ★★★★
(4/4 stars)

Written and directed by: Derek Cianfrance
Starring: Michael Fassbender, Alicia Vikander and Rachel Weisz
Running time: 132 min.

---
Based on the novel by M. L. Stedman, who co-wrote the screenplay with the director, this wrenching drama is about a lonely lighthouse keeper named Tom Sherbourne (Fassbender, at his moodiest) who searches for peace, quiet and time to think after the trenches of France in World War I and finds what he thinks will be the perfect place for reflection on an isolated island off the coast of Western Australia. The year is 1918 and the cold, remote winter proves to be more than Tom expected, but he does such a superb job of guiding ships to safety in the turbulence of the weather that after three months, his contract is extended to three years, and he grows desperate for companionship. A long-distance correspondence with the daughter of one of the owners, a girl named Isabel (played by the remarkable Alicia Vikander), leads to marriage, and by 1921 her first pregnancy ends with a miscarriage while crawling up the stairs of the lighthouse in a violent storm. When every successive attempt to conceive leads to the same failure, the depression and despair that sets in are nearly fatal.
The dramatic shift comes when a dinghy washes ashore carrying a dead man and a baby. Tom feels it's his duty to do the right thing and report the incident. Isabel feels she has a right to keep the baby as her own. After all, who will ever know the truth? Years pass. The tragedy waiting to strike like a snake in the dark finally arrives in the form of a grieving widow (Rachel Weisz at her peak, doing her best work since The Deep Blue Sea) who lost her husband and baby at sea and spends her life in mourning. Torn between guilt and the love for his wife, Tom makes an honorable decision that leads to his arrest, imprisonment for murder and the wreckage of his marriage. The lives of both mothers are fully investigated in the meticulous screenplay with such honesty and balance that it is doubtful that you'll want to condemn either one of them. But like the story of Moses, the mother who loves the child most makes the greatest sacrifice. The film has an epilogue that tells what happened and gives the whole saga an emotional ballast that overwhelms.
The basic outline is deceptively simple, but the 132-minute length fleshes out the human elements with more details than you can imagine. One of the strengths Cianfrance is noted for is telling lengthy stories that leave nothing out of the mix. (He also wrote and directed The Place Beyond the Pines.) His work is admirable here, and it is gorgeously served by a cornucopia of performances that are truly memorable. Through the decades, The Light Between Oceans changes gears as fast as Fassbender changes his appearance, each period of time like a new chapter in a novel you never want to end. The literary quality is undeniable, but the film never seems on rewind. There are tears, and humor, too, but even though in less capable hands the movie might be misconstrued as a sudser, Fassbender and the sound direction of Cianfrance are so perfectly modulated that they defy any suggestion of weakness or cliché.
The Light Between Oceans is so vast and covers so much ground that any feeble attempt to tell you what happens in it only weakens the impact. Clearly it's a work of art that must be experienced, not explained—intelligent, deeply heartfelt and one of the best films of the year.