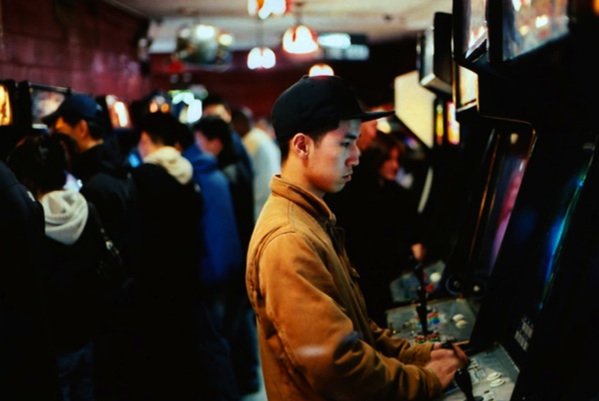 It's no secret that New York's changing cultural and economic landscape has affected whole populations of city dwellers, but a new documentary showing at Metrograph next week takes a look at a particularly niche community: old-school, young adult arcade gamers.
The Lost Arcade, directed by Kurt Vincent, written by Irene Chin, and originally funded on Kickstarter, is a profile of Chinatown Fair, which wound up being the last classic arcade in New York City after the game rooms in Times Square began closing down. With the advent of home consoles like Nintendo, PlayStation, and Xbox starting in the mid-1980s, most young gamers preferred to stick in their basements where the Mountain Dew was cheap and plentiful—and so arcades around the city had to begin unplugging.
Chinatown Fair was the exception, the only old-school, non-corporate arcade left. Located on Mott Street, the loud, dingy, fire engine-red room was a haven for a rabid community of gamers well into the 2000s. They'd come from all over the five boroughs to have tournaments; sometimes champs would post up and take on all challengers. Vincent imbues the place with a mythic quality in his camera work. The diverse clientele are the denizens of a hidden kingdom of flashing lights and beep-boops.
The community aspect of the arcade is the most striking. People in the film describe just showing up on any given night and seeing all their friends already there, no planning necessary. It's dark, raucous, and energetic. The same electricity that powers the machines is palpable in the air. "I'll play anyone," says Henry Cen, a neighborhood kid who swept the floors of Chinatown Fair one day when he was locked out of his house after school and then grew up to be manager, according to the film. "As long as someone wants to play me, I'll play them."
The diverse clientele are the denizens of a hidden kingdom of flashing lights and beep-boops.
But not even a dedicated following could save this social hub. "We were inside Chinatown Fair for only a week before it closed in 2011," Vincent told the Observer. "The movie was going to be a history, a portrait of this place. We were going to try to use this cinéma vérité footage that we got before it closed to tell that story. But we quickly realized there was much more to it."
The film then follows Cen as he takes it upon himself to find a new home for the community. He opened up a gaming shop, currently in Brooklyn, to try and serve the same purpose that his old hangout did. The third act shows how a new owner reopened Chinatown Fair, giving it a new paint job and replacing many of the games. The target demographic changed from teens to the younger "birthday party" crowd, and much of what was beloved about the original arcade was lost. "Are we done here?" a dejected Akuma Hokura, former loyal patron, says after a few disappointing minutes in the new, upgraded Chinatown Fair. "Can we go?"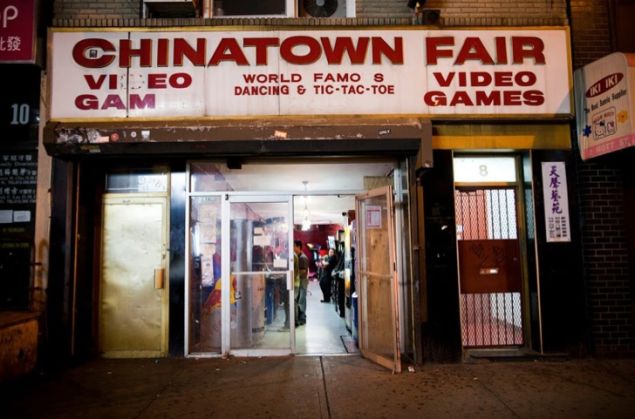 Hokura's story is that of a troubled foster home youth, followed by a stint on the streets, before he was literally offered a couch in the basement of an arcade uptown. Gaming culture is in his DNA, and now he works at Cen's new shop, Next Level. "We found that similar story in so many people. He represented that for us really well" says Vincent, calling Hokura the emotional center of the film. "We can't imagine this story without him."
Emotions do run heavy in The Lost Arcade. There's an elegiac tone as Vincent lovingly traces the outlines of joysticks or captures the looks of glee on players' faces. The retro, 8-bit-inspired score by Gil Talmi swells with nostalgia. "The tone of the score is not digital, but organic—filled with humanity, reflecting the evolution of a community and passage of time," Vincent wrote in the director's note. If Street Fighter hasn't made you cry since that time you got creamed by your older brother back in 1989, start preparing now.
At the end of the day, "nostalgia really isn't all that profitable," as one gamer puts it. But Vincent remains optimistic that the community will keep finding ways to survive. "Bar-cades" have been growing popular, and though the 21+ factor will keep the eager beavers out, Vincent notes that at least many of those establishments are home to old-school games like Galaga and Pac-Man. He believes the key factor is for more new games to be made exclusively for arcades. "In the history of Chinatown Fair, every time business lulled, a new game would come out and save the day," he says, citing rhythm games like Dance Dance Revolution and ReRave as more recent examples that have given a jolt to arcades.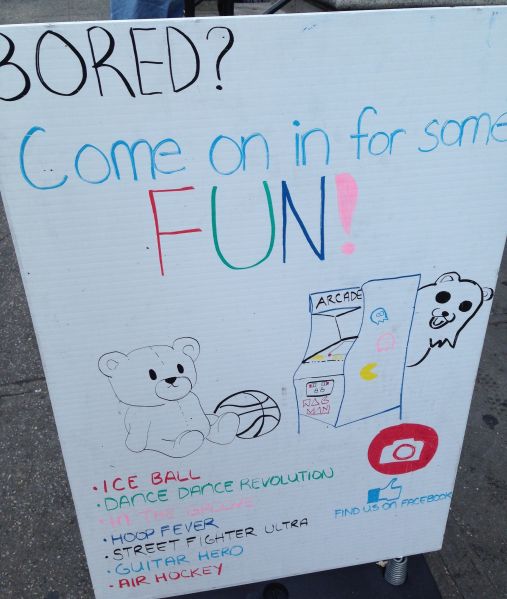 After seeing The Lost Arcade, I stopped by the site of Chinatown Fair to check it out for myself. A sign outside ("BORED? Come on in for some FUN!") featured a highly unfortunate and inexplicable appearance by the creepy 4chan meme Pedobear, lurking behind an arcade cabinet. There was no one inside on this sunny mid-week afternoon, except for two employees who didn't notice I was there. Diagonal pastel-colored blocks had replaced the bright red walls, and many of the fighting and shooting games were now music-related.
But I still spent a few minutes and quarters walking around, reconciling the kid-friendly scene in front of me with the sweaty, riotous place that existed there not six years ago. I tried to envision it. And if I stood in front of a game of Donkey Kong, gripped the controls, squinted my eyes, and imagined the laughter and cheering of a generation of gregarious geeks behind me, I could just about do it.