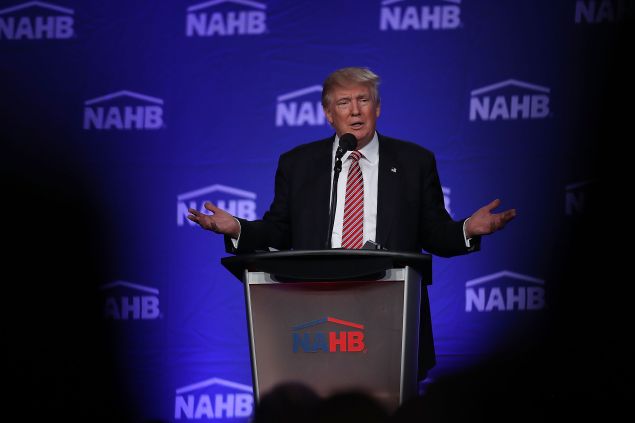 This past week saw two media-created controversies for GOP candidate Donald Trump. As I wrote at the beginning of the week, Trump tried to change course by giving an economic policy speech that proposed ideas other Republicans have been suggesting for years.
Yet even as he did this, he was protested more than a dozen times—and then ignored by the press. Something had to change (for the press, that is). So shortly after I posted that article, the media latched onto an offhand remark by Trump at a different campaign event and used it to smear the candidate (and gun owners, a double bargain for second-amendment haters).
"Hillary wants to abolish—essentially abolish the Second Amendment. By the way, if she gets to pick—if she gets to pick her judges—nothing you can do, folks. Although the Second Amendment people, maybe there is, I don't know," Trump said Tuesday afternoon. "But I tell you what, that will be a horrible day, if Hillary gets to put her judges in, right now we're tied."
Those who advocate gun control (by way of confiscation by any other name) jumped on the comment. Thinkpiece after thinkpiece was written claiming Trump was calling for violence from gun owners. His campaign put out a statement: "It's called the power of unification—2nd Amendment people have amazing spirit and are tremendously unified, which gives them great political power. And this year, they will be voting in record numbers, and it won't be for Hillary Clinton, it will be for Donald Trump."
But that didn't satisfy the media, who just a day or so earlier accepted a campaign statement from Democratic nominee Hillary Clinton as the end to a story. The father of the Orlando terrorist attended one of Clinton's campaign events—and even sat behind her as she gave her speech. He then endorsed Clinton.
The Clinton campaign released a statement after Seddique Mateen was seen at her rally, saying: "This individual wasn't invited as a guest and the campaign was unaware of his attendance until after the event."
And the media moved on. No more questions needed. Case closed. When Trump later questioned why Clinton didn't need to disavow Mateen's endorsement (the way he had to disavow David Duke's endorsement), the Clinton campaign again responded, hours later: "She disagrees with his views and disavows his support."
Story over, back to Trump. CNN quoted an unnamed secret service agent to suggest Trump's comments were being investigated, even though the organization's communications director wouldn't confirm such an investigation.
Those who believe gun owners are violent, and just one suggestion away from murder (or those looking for attention by attacking Trump), believe Trump was calling for violence. Others believe he was talking about non-violent grassroots organizing, like what was done in the wake of the Obamacare contraception mandate, when religious organizations sued the federal government.
The second media-created controversy surrounding Trump came from his claim that President Obama and Hillary Clinton essentially founded the Islamic State. Trump has said this for the past seven months, but, needing to find a new reason to attack him and avoid anything damaging to Clinton, the media just began picking it up.
Only the hyper-literal media decided to take what Trump said as meaning Obama worked with terrorists to create the Islamic State. Trump later said he was being sarcastic with the claim, but that's not the correct word. Unless, the media truly did believe that's what Trump was saying because years earlier, this same media wrote headline after headline saying former President George W. Bush created the Islamic State.
Those articles made similar claims as Trump—that Bush's actions created conditions in which the Islamic State was able to organize. That was obviously what Trump meant when he said Obama founded the Islamic State, but media scolds like Politifact gave Trump's comments a "pants on fire" rating. By comparison, Politifact only gave Clinton a "false" rating for claiming the Islamic State was using Trump comments as a recruiting tool. (This will allow Politifact to claim Trump has far, far more pants-on-fire ratings than Clinton.) This also shows the media's double standard when it comes to candidates accusing each other of helping terrorists.
Trump has said and done terrible things. He's inarticulate and as a businessman he pulled some questionable stunts (Trump University and trying to kick an old woman out of her home come to mind), but the media embarrasses itself when it invents controversies from someone who doesn't need the help.
Disclosure: Donald Trump is the father-in-law of Jared Kushner, the publisher of Observer Media.