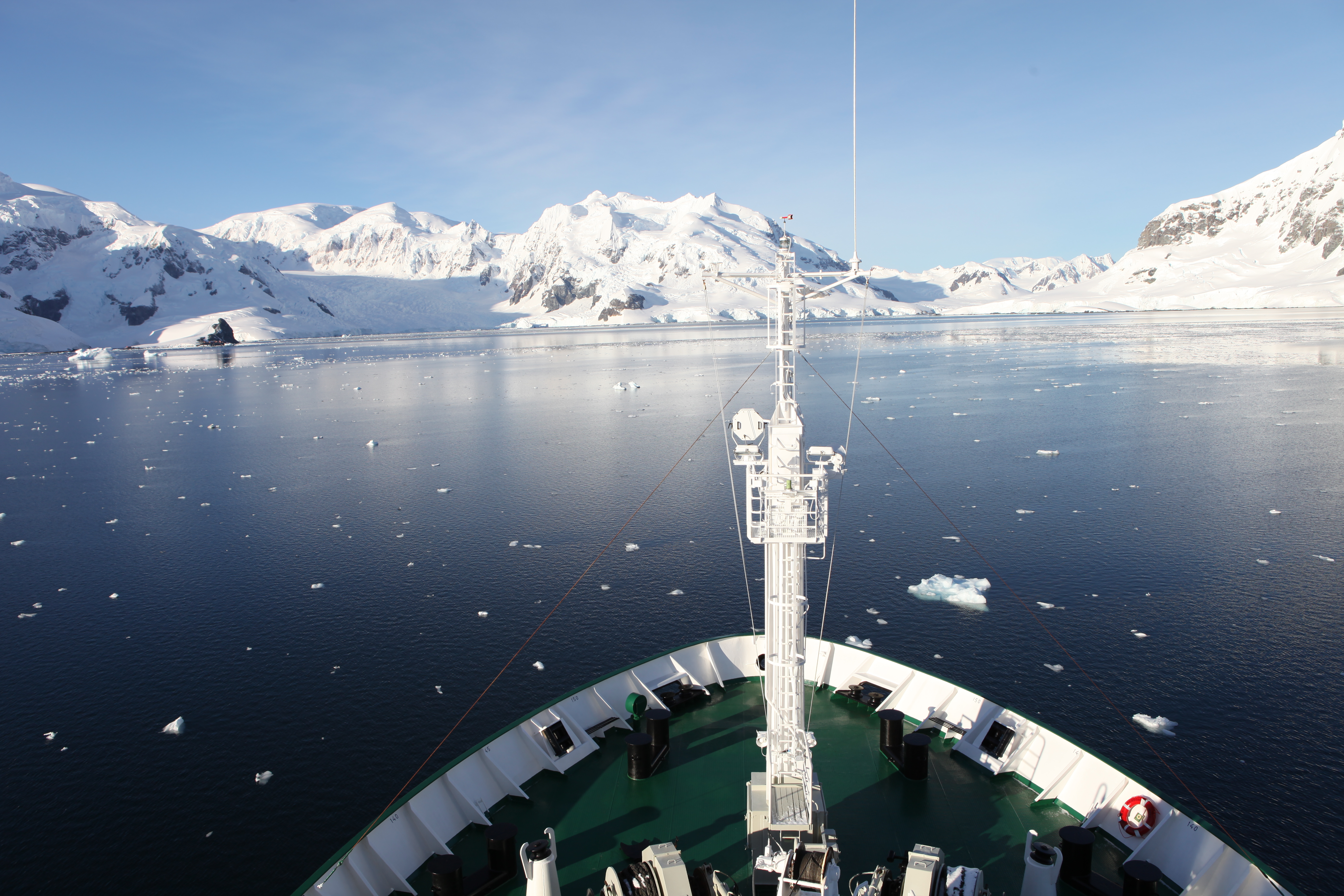 Antarctica, an icy region that's warming fast, is the world's third-largest continent, with vast reserves of water and other natural resources. It remained one of the few places in the world without an art biennial. Until now.
The Antarctic Biennale is gathering steam. There is a departure date, March 27, 2017, for a ship that will carry artists, scientists, patrons and crew to the southern continent for the strange event, the first annual such voyage.
In the plans are stops for installations and performances along the way from Ushuaia in Tierra del Fuego, Argentina, the southernmost city in the world, through the Drake Passage, to the South Shetland Islands, on to Antarctica, and back in a journey of 12 to 14 days.
Fresh from a gala in Newport, R.I., where organizers announced an open call for artists under 35, the project's leaders are discussing new details for the continent's first biennial art exhibition.
The Biennale's rallying cry is Mobilis in Mobile—moving in motion or changing in changes—the motto of Captain Nemo in Jules Verne's adventure novel, 20,000 Leagues Under the Sea. The plan is that nothing created by the artists on the journey will remain there to blight the pure landscape, an approach that has been the rule on land installations by Christo. No work of art left behind? Not exactly. Some of those installations and other works will be reconstituted in museums, not least to promote the next journey.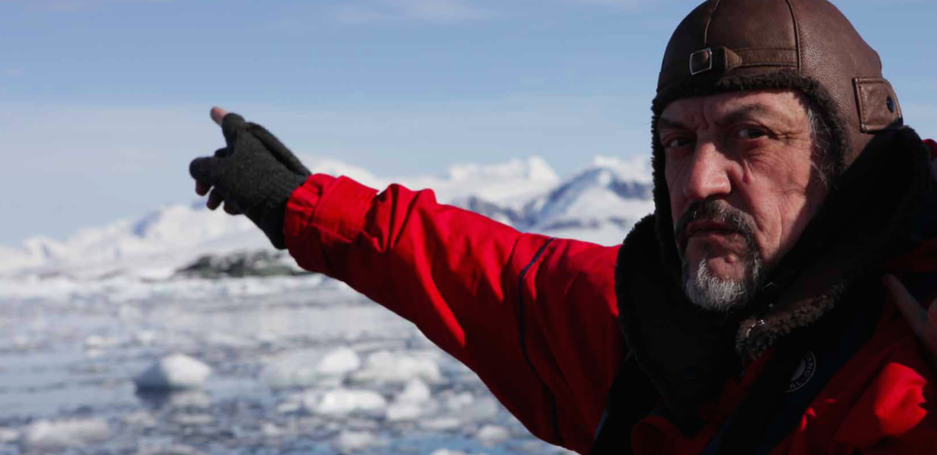 The Antarctic Biennale's self-confident founder and commissioner is Alexander Ponomarev, a nautical engineer and Russian Navy veteran with a bearded face who looks right out of central casting by Sergei Eisenstein. As an artist, Ponomarev has built his work around ships and expeditions, in the desert as well as on water. "I've spent a large part of my life crossing seas in Arctica and Antarctica, I know a lot more about it than many others who sit on a shore," he declared. "And I care for the future of these pristine places. That's why I'm organizing this international biennale—to raise the awareness and to build the platform for the better communication of the future of such places." Ponomarev's latest installation is at the Setouchi Trienniale in Japan this year.
Also on the team that includes artistic and scientific bold-faced names is the architect Hani Rashid (Asymptote Architecture, New York and Vienna). Rashid is presenting an ensemble of futuristic designs by his students at the University of Applied Arts in Vienna for buildings in Antarctica at the Antarctica pavilion of the Venice Architecture Biennale, which runs through November.
Titanic is a term that comes up in connection with the Biennale, whose vessel of choice is Akademik Ioffe, 117 meters long, which flies a Russian flag and sails out of the Baltic port of Kaliningrad. It can carry 96 guests, plus 65 staff and crew, according to one of many online promotions for its trips to the poles. If enough money is raised, Ponomarev says, the ship Akademik Sergey Vavilov of the Russian Academy of Sciences could also make the journey. He estimated the Biennale to cost about S1.5 million.
On the art that might be shown or created en route or in situ, Ponomarev noted that he was getting 20 inquiries a day from artists. The project's far-ranging Mobilis in Mobile theme and its open call to artists under 35 suggests that a spirit of adventure might be necessary.
"It's not a big problem to have artists for this trip," he said, "everybody wants to go." Well, almost everybody.
Some artists have taken to Facebook to denounce the initiative as "age-ist." One of the project's curators has also jumped ship. Defne Ayas, director of the Witte de With Center for Contemporary Art in Rotterdam, announced her departure on Facebook saying, "as my press quote that offered a critical opening to the initial outset and prospect was nowhere used on the promotional materials but rather superseded by those I personally disagree with in content and direction, without any communication with me in person."
"It's not a big problem to have artists for this trip, everybody wants to go," said biennial founder Alexander Ponomarev.
Ponomarev, who's not getting cold feet, admitted that some well-known artists who were invited have passed on the offer to participate, saying that they might join the Biennale in 2019.
No matter who ends up boarding Ponomarev's boat, some of the work is sure to be architectural models or drawings that build on futuristic designs shown in Venice by Rashid's students from Vienna, who imagined what he called "an intelligent and recyclable future"—no doubt a theme for many of the artists who will eventually participate.
"We put meat on the bone, and we give things a seductive and participatory aesthetic that people can sink their teeth in," he said in Venice in late May, noting that an ever-warming Antarctica could have the climate of northern Scandinavia by 2050. "Architects, on the visionary level, have had to serve that kind of goal, to give people a view of the future in some kind of a palpable, consumable way so they can understand it. Without us, it's just a world designed by scientists," he said.
Most biennials are mounted with an audience in mind, yet the paradox of the Antarctic Biennale is that, for all its ambition, it doesn't have viewers, or even a vodka or champagne sponsorship.
Ponomarev promises a film to document the journey for those who won't be on the ship. Off the top of his head, he thought of a director like Werner Herzog (who made one film on the continent) to take the job. Bear in mind that Herzog made his international reputation with Aguirre: The Wrath of God (1972), the chronicle of a vainglorious and tragic Spanish expedition into the Amazon.  The suggestion that the job might also go the Russian director Alexander Sokurov (Russian Ark, Francophonia) was "a good idea," he said.  He'll find someone. It's a rare independent filmmaker who doesn't need the money.
But at the end of the day, there's also a broader context to the Antarctic Biennale. The promise of U.S. and Russian partners (among others) teaming up to further science and culture is encouraging, given the cyber-offensive from Moscow against the Democrats, the worsening war in Syria and Russia's recent alliance with Iran. Ponomarev stressed that the continent is officially military-free.
No armies in Antarctica? A glorious dream, but can it last? Bear in mind that, until now, no one would have imagined having an art biennial there.