The first thing you'll note about Matthew Kenney is the glow. It's unmistakable—even from across a busy room. It's the kind of glow that begs the statement, "I'll have whatever he's having."
And if one thing becomes abundantly clear, it's this: You definitely want whatever Matthew Kenney is having.
At 51 years old, the celebrity vegan chef has quite a bit on his proverbial plate. As the head of Matthew Kenney Cuisine, he oversees a wellness empire that includes restaurants in Los Angeles, Miami, New York, Maine and soon, Bahrain. There's also a raw and vegan culinary academy, a wellness retreat in Thailand and a cadre of best-selling cookbooks aimed at making plant-based cooking and entertainment wholly approachable to the unconverted masses.
We sat down with the classically-trained, two-time James Beard Award nominee to find out what compelled him to embrace veganism in both his personal and professional life, his tips on vegan entertaining for the non-vegan set and how society will be approaching food 20 years from now.
You started as a classically trained chef in French cuisine and went on to open several highly acclaimed non-vegan restaurants in New York City. How did the fascination with and focus on raw food happen? I built a pretty good-sized restaurant company that I started in my 20s. Then, the economy took a turn. It was a typical entrepreneur story–I had to rethink my model. I learned a lot of lessons, but one of the most important ones was this:  I don't like to have a separation between my personal life and my business life. I like to live what I'm passionate about and also work on what I'm passionate about.
I love health, I love yoga, I love dining and wine and food, but at the same time, I like food that makes us feel good. So 12 years ago, I decided to go all in and dedicate my career and my personal life to healthy living, but in a way that was enjoyable. I feel that people can still be in a nice environment, drink good wine, and not do anything that's destructive to their health and the environment's health. It was a leap of faith, because in those days, there weren't any models to prove that it would work.
How did you discover the vegan lifestyle? Through yoga. I was eating what made me feel better and it was becoming more plant-based. I even started telling friends that I felt like I could be vegetarian, and of course, that didn't make any sense because our business wasn't vegetarian. And then a friend said, "well, I'm only eating raw vegan food these days. I want to take you to this raw vegan place." And that sounded kind of weird to me—even though I was open to healthy food.
I left that dinner thinking, okay, I got it. I'm going to do raw vegan food. Because the philosophy behind this restaurant made perfect sense to me. Unprocessed food—not just vegan—but food that wasn't heavily cooked. I could just see it. It took me four years to figure out how to do something like that, but I could envision it. At that point, I stopped eating meat and fish. That was 12 years ago and I haven't had meat since. If I'm traveling, I might taste fish once in a while, but I basically live a plant-based lifestyle.
There is no guilty flavor. This is what my body craves all the time.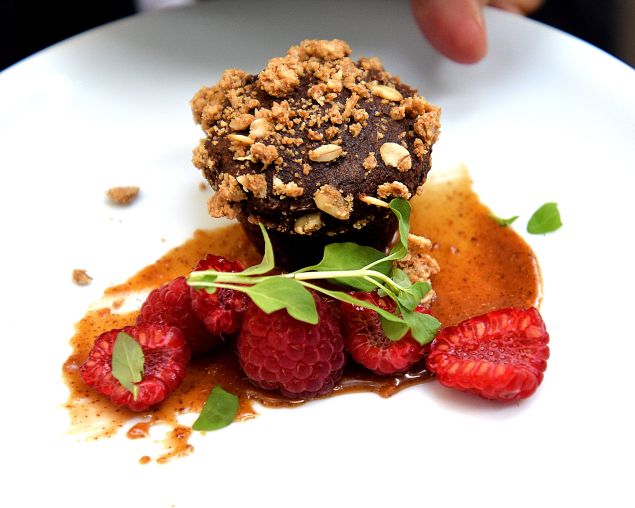 Tell us a bit about your restaurants and the concepts and nuances behind each one. Matthew Kenney is a lifestyle brand. Education is as equally important to us as the restaurants because training the chefs of the future how to cook food that is vibrant and beautiful, but still healthy—and healthy for the planet—is our number one goal. We want to help change the way people eat and improve everyone's health—including the animals and the environment. Our company really has five segments—education, hospitality, media, products and services. We also do a lot of consulting and strategic partnerships.
Plant Food + Wine is our upscale model. That's in Venice and Miami at the moment. And we're not trying to expand it aggressively because it's a very specialized concept. It requires a dedicated team, a lot of training and a very special space. We do hope to do this concept somewhere in Europe, but not right away. And then, we have OO+Co in New York. It's a vegan pizza concept. So, organic wine, vegan pizza, small plates and plant-based desserts. That's in the East Village. It's a really fun place. We use pestos, nut-based cheeses and a ton of fresh vegetables—it's really vibrant. That concept has done really well for us.
We also have Arata, which we launched as an incubator in Maine. It's a plant-based ramen concept. And we're looking at doing the second location of that in LA. It's currently a pop-up in Venice and it's doing great.
We're also opening a restaurant called Plant Cafe in the UAE in October. And we probably have another six to eight projects in development that we haven't announced yet. It's going to be a busy couple of years.
What and how are we eating as a society 15-20 years from now? I think the food landscape will be turned upside down. I think that some of the food that chefs put out there now, with layers and layers of fat, is really hard on peoples' bodies. It's why I have friends my age with heart operations. A lot of the issues people have is due to our diet. And a lot of the issues our environment has is also due to our diet. And I think that some influencers, people who other people listen to, are realizing it and making a change in their life. There's a tipping point, and it's probably not 15 years from now, it's probably only a couple years from now. You would not see a restaurant like [Plant Food + Wine] five years ago in Miami. Maybe not even two years ago. This opens the door for other plant-based businesses. I think this is the way people will eat.
When I started in the restaurant business, there was always a smoking section in the restaurant. I don't think it will be that extreme, where you can't eat heavily fried or cooked animal products in a restaurant. But I do think this will be the norm. It's going to be a big shift. Fast food companies are starting to look at this market. I think it's going to be a complete reversal. I already see it happening. I think there's more opportunity for growth in the plant-based market than there is in any other food sector.
When you choose to indulge, what's your go-to? I indulge every day! That's the beauty of this. I eat dessert every day. If I eat a traditional cake, it doesn't taste like anything to me. But with this food, nothing dilutes the flavor, so it just explodes. There is no guilty flavor. This is what my body craves all the time.
What are your thoughts on wine and liquor being incorporated in to this lifestyle? I love the European lifestyle. I love wine. I think it enhances the flavor of food. I don't personally drink much hard alcohol, but we do use a lot of boutique organic cocktails with fresh juice. Wine is definitely good, though. I don't think anybody's getting ill from a couple of glasses here and there the way they are from eating a 40-ounce carcinogenic steak. Your body doesn't have a hard time digesting wine.
Plant-based can cover every spectrum. And that's what our company is designed to do—create food that can reach anybody at any level.
Do you have any favorite pairings? Lighter, crisper wines go well with this kind of food. Pinot Gris and Grunier, for example. Our food has a lot of citrus, spice and fresh herbs, so those types of white wines go really well. Some of our dishes have more fat, and that would go well with a French burgundy or a Cote du Rhone. But I personally lean more toward red, rosé and Champagne.
You've recently teamed up with Sakara to create dishes for their new national food delivery service. How did that conversation come about? Danielle and Whitney are friends of mine. They're so busy with growing and running their business, they wanted some outside perspective on new menu ideas. Sometimes it's good to reach out and get fresh ideas. And we do that too, by bringing on new people with fresh ideas and travel experiences. We have a lot of strategic partnerships that run the gamut. I've had conversations with some of the largest food conglomerates in the world—they're all sort of dipping their toe into this market. Even though we're known for the high-end, we also do pizza, ramen and juice. I think plant-based can cover every spectrum. And that's what our company is designed to do—create food that can reach anybody at any level.
We're quickly approaching fall and all of the seasonal parties that come with it. How are you entertaining non-vegans in a vegan way? We've actually had good success with that. Thanksgiving was the busiest day in our Venice restaurant last year. Vegan food can be baked sweet potato and roasted squash—there are so many beautiful things you can do. Wild mushrooms and pomegranates. It's really good, because you can keep the food light and sexy like we do in Miami or you can go really hearty and satisfy people in a much earthier way. I think it's really important to adjust the style of cuisine to fit the occasion, and that's what we do.
Jackie Gutierrez-Jones is a freelance editor and writer for UrbanDaddy Miami and Vivala, and a contributor to Eater Miami, Liquor.com, Citizine.tv and OnBoard Media. Follower her on Twitter @jaxiscool